Ballast Point to Move Operations to Miramar
Constellation Brands-owned Ballast Point is consolidating its operations into a new "brewing campus" in Miramar, according to The San Diego Union-Tribune.
The San Diego craft brewery plans to complete the move — relocating about 50 employees along with brewing equipment and a bottling line — from its Scripps Ranch facility by the end of the summer.
Last month, Ballast Point announced plans to open a tasting room and kitchen in Anaheim's downtown Disney district at Disneyland Resort, which is slated to open in the fall.
Epic Brewing Recalls Batch of Big Bad Baptista
After numerous reports of "buttery off-flavors," Utah's Epic Brewing recalled a batch of its Big Bad Baptista that was released in eight states — Colorado, Ohio, Pennsylvania, New Jersey, North Carolina, Idaho, California and Texas. Micro-tests found a bacterial presence in both bottles and kegs of Big Bad Baptista – Release #8 DEN #4799. The bacteria caused the off-flavor but is not harmful.
"Our records indicate that our standard testing protocols simply didn't happen, which was a failure of the system we have in place to prevent these types of issues," Epic Brewing said in a press release.
Epic will replace or refund the beer for retailers. Meanwhile consumers can file a claim by emailing the company their name, shipping address, when and where they purchased the beer and a photo of the stamped information on the side of the label.
Black Star Line Blames White Supremacy for Shutdown
North Carolina's Black Star Line Brewing Co., a black, queer woman-owned brewery, has claimed that attacks from white supremacists forced the company to relocate.
According to the Charlotte Observer, Black Star Line received racist and threatening emails and the company's brewery was vandalized and broken into multiple times. Before getting evicted, Black Star Line founder L.A. McCrae told the outlet that numerous attempts to reach the company's lender were ignored.
"White supremacy shut us down," McCrae told Munchies.com. "Our world has been rocked."
Black Star Line officials said several breweries and beer lovers rallied around the company, and the police response to the threatening emails was "swift and conscientious."
Black Star Line, which participated in Brewbound's Startup Brewery Challenge in 2017, is slated to announce its new location in the coming weeks.
Farmers Protest Construction of Constellation Brands' Mexicali Brewery
Violence erupted in Mexicali, Mexico over the construction of Constellation Brands' new brewery as farmers accused the government of corruption and devoting too much of the city's water supply to the brewery, according to the The San Diego Union Tribune.
Protesters attempted to stop workers from digging a trench earlier this month and a confrontation led to protestors throwing rocks and dirt at police.
Despite the protests, the Mexican government has maintained its support for the project, saying the project will use an inconsequential amount of water and have a positive economic impact.
The new brewery, which is expected to be completed by late 2019 or early 2020, represents a more than $1 billion investment for Constellation Brands, which anticipates hiring 750 workers in the region.
Russian River Prepares for Pliny the Younger Release, Updates Construction Progress
Russian River Brewing Co. owners Vinnie and Natalie Cilurzo were profiled recently in the Santa Rosa Press Democrat as they prepare for the annual release of the popular Pliny the Younger Triple IPA.
Pliny the Younger, which is sold for only two weeks every February, draws hundreds of thousands of customers and provides a significant boost the the Santa Rosa economy.
The Cilurzos also provided an update on the construction of Russian River's new 85,000 sq. ft., $30 million brewing facility in Windsor. The new brewery will be capable of producing up to 35,000 barrels of beer annually and is expected to be completed by the fall.
"We did this the old-fashioned way, with cash and debt," Natalie Cilurzo told the outlet.
Iroquois Beer Poised for a Comeback
Community Beer Works (CBW) along with Bill Pottle III, a descendant of Iroquois Brewery owner William Weigel, are attempting to bring the Iroquois Beer brand back to Buffalo, New York after 47 years.
CBW launched the beer at an event earlier this month but expects a wider release by late spring. In its inaugural year, the resurrected Iroquois Brewery brand will account for at least 20 percent of production at CBW's new $1.5 million brewery in Buffalo.
Given Iroquois' past success, CBW has high hopes for a comeback. In the 1950s, Iroquois beer was wildly popular in Buffalo, accounting for nearly 40 percent of all beer consumed in the city.
"We should be Buffalo's Old Style," Ethan Cox, president of Community Beer Works, told Buffalo News. "We should have that same level of resonance and buy-in. The beer is similar, too. It's a modern, light American lager."
A-B InBev Acquires Israeli Analytics Firm
Anheuser-Busch InBev has made another play for more data with the acquisition of WeissBeerger, a Tel Aviv-based analytics startup that tracks consumers preferences and purchasing habits. Terms of the deal were not disclosed, but the acquisition is estimated to be in the tens of millions of dollars.
"Our partnership will allow us to access existing and new markets to grow our technology platform and analytics capabilities to the benefit of POCs (points-of-connections) and consumers," Ori Fingerer, cofounder of WeissBeerger, told the St. Louis Business Journal. "A-B InBev is committed to identifying disruptive technologies to better serve customer and consumer needs."
Last year, A-B's venture capital arm, ZX Ventures, invested in RateBeer.com.
Cliff Forrest Buys Pittsburgh Brewing
The identity of Pittsburgh Brewing's new owner has been revealed. Cliff Forrest, president of Rosebud Mining, has acquired the brewery from New York-based private equity firm Verus Investment Partners, according to the Pittsburgh Tribune-Review.
As Brewbound previously reported, Pittsburgh Brewing produced an estimated 80,000 barrels in 2016 and maintained partnerships with the the NHL's Penguins and MLB's Pirates.
"During Verus' investment period, PBC returned to positive revenue growth and re-established itself as the beer of choice for the greater Pittsburgh area," Verus said in a news release. "PBC also had considerable success in expanding sales outside of Western Pennsylvania."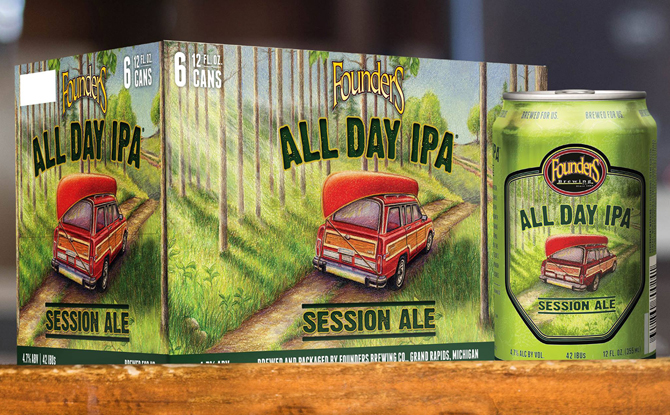 Founders Brewing Launches Social Responsibility Platform
Earlier this week, Michigan's Founders Brewing debuted its social responsibility platform The Big Pitcher. Through partnerships with other charitable organizations, the platform will help aid causes on the local, regional and national level.
"As we have grown over the years to become one of the nation's largest breweries, we've realized that the strength of our brand depends on our commitment to the future," said Dave Engbers, Founding Brewing president and co-founder.
Founders Brewing has agreed to match its employees' donations to local organizations.
Bud Light Unveils 'Dilly Dilly' Super Bowl Ad
Anheuser-Busch has released the Super Bowl installment of its Bud Light "Dilly Dilly" advertising campaign. The 60-second spot introduces the "Bud Knight," a helmeted hero who arrives triumphantly in the midst of a battle, following up on the series' "Ye Olde Pep Talk" ad. Rather than saving the day, the Bud Knight cuts through the skirmish to buy a case of Bud Light at a convenience store. Finally, at the urging of some soldiers, the Bud Knight raises his sword a la He-Man and yells "Bud Knight" to end the battle.