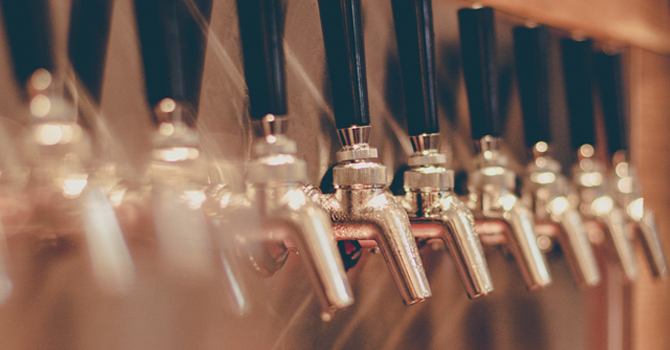 Over the last two years, brewery-owned taprooms and satellite retail outposts have emerged as both lucrative profit centers for emerging craft beer makers and an opportunities to deliver unique experiences to thirsty consumers.
But as the number of taprooms has grown, so too have concerns about their impact on the three-tier system.
The Brewers Association (BA) — a national trade group representing the interests of America's small and independent brewers — contends that taprooms serve as an important marketing tool that gives its members an opportunity to introduce craft beer to a broader set of drinkers.
Although the BA doesn't keep an official count of the number of brewery taprooms currently in operation, it does estimate that as much as 2.7 million barrels of beer were sold directly to consumers from a brewery taproom or retail shop in 2017.
According to the organization's chief economist, Bart Watson, onsite brewery sales grew as much as 19 percent last year, and accounted for about one-third of the craft beer segment's total growth.
For proof that the taproom business is thriving, look no further than Massachusetts' Tree House Brewing Company. In 2016, Tree House sold 13,000 barrels of beer, with the vast majority of its products being sold directly to consumers. Last year, Tree House opened a new production facility and taproom in Charlton, Mass., and co-founder Nate Lanier told Brewbound that his company sold around 30,000 barrels — all of it at the brewery.
Those direct sales have a huge impact on a brewery's bottom line. According to Wormtown Brewery CFO Kary Shumway, who also runs the Beer Business Finance blog, a craft brewery can make up to five times more selling a keg of beer over its own bar instead of selling it to a distributor.
With those kinds of margins, it's not hard to see why U.S. craft breweries are selling an increasing amount of beer directly to consumers every year. In 2015, the BA estimates that U.S. craft breweries sold 1.75 million barrels via their own taprooms and retail outposts.
And as consumers re-allocate their disposable income to taprooms, on-premise businesses are taking a hit.
According to data shared on the MillerCoors blog, an estimated 9 percent of bar traffic has shifted to brewery taprooms and brewpubs. And in cities such as Indianapolis, Minneapolis, Seattle, San Diego, Denver and Portland, Oregon, that figure more than doubles, the company said.
While the growing direct-to-consumer sales have benefited breweries, it's simultaneously had repercussions for independent beer bars and beer-focused chain restaurants across the country.
In Chicago, Hopleaf owner Michael Roper said his sales have declined about 10 percent over the last two years as more breweries have opened on-site bars, satellite taprooms and branded retail establishments.
Roper estimates that there are more than 70 brewery taprooms operating in Chicago alone.
Speaking to Brewbound, Roper said he viewed the craft brewery boom of the last decade as a good thing for Hopleaf. Sales had increased each year since the bar opened in 1992, and the way he saw it, each new brewery offered an opportunity to pour more interesting brews at his bar.
Now, the same companies Roper once viewed as allies have become competitors.
"Unlike a competing beer bar, we were subsidizing the growth of theses competitors because we were buying their beer," he said. "What it's taken away is my more profitable customer."
Roper isn't alone. Several notable craft beer retailers are beginning to view brewery taprooms as competition, and some are even saying that sales are in decline as a result.
Retailers Speak Up
Flying Saucer Draught Emporium co-owner Shannon Wynne blamed the January closure of his Austin location on Texas lawmakers, who legalized on-premise consumption at brewery taprooms in 2013.
"They [breweries] just got to convert to an alcohol sales machine that is competing with the guys that kept them in business for all of these years," he told Brewbound. "We had to, in essence, start competing with all of these brewers."
Several World of Beer locations have also shuttered in the last 14 months, including stores in Georgia, Wisconsin, Florida and Colorado.
Marc Sawyer, director of brewery and distributor relations for World of Beer, said the beer bar chain with more than 70 locations gets "a little bit concerned" when breweries begin opening secondary outposts and adding food service.
"Folks opening solely taprooms, we can work with," he told Brewbound. "But once they start opening multiple locations and adding food and all of these things, I think that's where we start to draw the line."
Sawyer admitted that brewery taprooms have cut into the beer bar chain's status as a "destination" for rare and limited-release beers.
"Some of those elements that they're able to achieve within their own four walls has certainly impacted and chipped into what we as a concept have strived to do," he said.
During the Beer Business Daily Summit earlier this year, Buffalo Wild Wings beverage director Andrea Schwenk called brewery taprooms "a threat" to national chain restaurants and singled out Minneapolis' Surly as initially saying "FU to everybody else" and not doing anything to support its retail partners.
"We pulled all of their handles," she said at the time. "We've since seen a change in their leadership team, and they've worked really hard to rebuild relationships in the marketplace, and they're back on draft at Buffalo Wild Wings."
But it's not just chain retailers that are concerned about the growing number of taprooms sprouting up across the country.
Jamie Walsh, an owner of Vanderbilt Kitchen & Bar and the general manager of Stoddard's Fine Food & Ale in Boston, wrote a series of Twitter posts questioning the fairness of the city allowing Canton-headquartered Trillium Brewing Company to obtain 30-day special event licenses in order to operate a "pop-up" tasting rooms in the city's Roslindale neighborhood.
Walsh, who declined to be interviewed for this story, argued in the posts that the city was allowing Trillium to operate a bar that skirted licensing requirements such as having a full-service kitchen.
"I don't know how that works here in this city," he wrote. "Where people are told you need to follow the rules. You need a kitchen. You need a licenses. And you over there? You don't. You can just open a bar.
"As a Boston bar owner & operator I have to secure licenses, I have to have a kitchen," he continued. "I can't just get a 30 day special event license & let a food truck pull up. Or have someone sell sandwiches inside.
Walsh isn't alone.
Chris Black, owner of Denver's popular Falling Rock Tap House, has also been an outspoken critic of the taproom boom. During last October's NBWA convention in Las Vegas, Black called satellite taprooms "a pretty naked retail grab," and he added that many craft brewers are "addicted to the crack that is the retail dollar."
Black notably stopped carrying Oskar Blues' beer in 2016 after the Colorado-headquartered craft brewery announced plans to open a Denver-based taproom that would serve other breweries' beer. To Black, Oskar Blues was opening a competing bar.
Hopleaf's Roper is also concerned by breweries such as Ballast Point, owned by Constellation Brands, opening taprooms in multiple cities across the country. Ballast Point is in the process of opening a brewpub in Chicago, and it is also planning to open a seventh California pub in Anaheim's downtown Disneyland this fall.
"What happens if all the big breweries decide to build taprooms to plant flags?" he questioned. "I would probably say, I'm not going to carry their beer anymore."
However, leaders of brewery groups that operate multi-state taproom operations say they are sensitive to retailers' concerns and often meet with them prior to opening additional locations.
"We explain our objectives, which are related to educating consumers about our beers and brands and building our brand awareness in the local community," Constellation Brands president Marty Birkel wrote to Brewbound in an email. "We close our tasting rooms around 11 p.m., and encourage our guests to visit other local establishments. We've found in other areas where we have opened tasting rooms, that overall foot traffic has increased, thereby benefiting surrounding businesses."
Regional Brewers Feeling The Pain Too
Restaurant and bar operators aren't the only ones being impacted by the growth of taprooms. Declining sales at those establishments are also trickling down to distribution-focused regional craft brewers who rely on on-premise sales for a significant chunk of business.
While the number of U.S. breweries has risen to more than 6,300, so too has consumer interest in drinking at so-called "third-space" locations such as concert venues, sporting events, brewpubs, and tasting rooms, among other spots. That's led to improved draft beer trends, Watson argues.
In March, he wrote that the amount of beer being packaged in kegs was the highest it had been in two decades.
"I think you can make a strong case that taprooms, along with these other occasions, have played a role in rejuvenating beer's on-premise culture and draught beer volumes," he wrote.
Bolstering Watson's claim is a recent study from on-premise data provider Nielsen CGA, which in January reported that 46 percent of legal-drinking-age consumers visited a taproom or brewpub within the last year. However, that analysis also revealed that 56 percent of brewpub visitors said they went to "experience something different," as opposed to tossing back a couple pints at a more traditional drinking establishment.
But those taproom visits could be cutting into more traditional on-premise sales opportunities.
MillerCoors, the second largest beer company in the U.S., recently reported that on-premise traffic fell 3.6 percent in 2017. The company also found that in five cities — Denver, San Diego, Seattle, Phoenix and Detroit — between 79 percent and 82 percent of consumers didn't visit a bar after going to a taproom.
And even though craft-conscious consumers might be drinking more locally made pints, the beer category as a whole has been in steady decline since 2008, when total industry barrels eclipsed 213 million. The total U.S. beer industry was approximately 204 million barrels in 2017.
That's why Lester Jones, chief economist for the National Beer Wholesalers Association, believes taproom visits aren't creating additional occasions, but instead drawing consumers away from existing drinking establishments.
In a conversation with Brewbound, Jones said "the clearest evidence" that alcoholic beverage consumption is being spread out more thinly is that total ethanol consumption per capita (adding beer, wine and spirits) has remained relatively steady at 2.5 gallons of pure alcohol per consumer.
"There is a gross fallacy in our industry that opening another retail outlet somehow creates more occasions to drink," he said. "You just don't create more outlets and therefore create more drinking. The only way to create more drinking is to have more legal-age drinkers to sell to."
The consumer shift toward locally made beers has taken its toll on some of craft beer's biggest players. In numerous earnings calls, Boston Beer founder Jim Koch has said "new, small and local" brewers are one of the reasons for the continued struggles of his company's flagship Samuel Adams beer brand.
And then there's a company like Sierra Nevada, the nation's third-largest craft brewery, which had a head start on other craft brewers in gaining national distribution and tap handles in bars and restaurants throughout the country. For years, the 38-year-old craft brewery's Pale Ale was craft beer staple in bars and restaurants. But as the number of U.S. breweries have grown — and as the demand for local offerings has increased — Sierra Nevada's on-premise sales have suffered, chief commercial officer Joe Whitney told Brewbound.
"Every year we've seen people chipping away at us," he said.
Whitney added that as bars and restaurants have expanded their beer menus, sales of Pale Ale have declined.
"Now we're one of 20 or 30 or 100 [tap handles]," he said. "Pale Ale is still there, but when there's 50 handles and there used to be two or three, your velocity just goes down."
The on-premise struggles for larger players have been exacerbated by the fact that one in six neighborhood bars have closed since 2004, according to Nielsen CGA.
Nielsen CGA senior vice president Scott Elliott believes that those lost occasions will hurt regional craft players the most.
"Many of the big regionals will dominate that craft beer space in your neighborhood bar," he said. "So that will be hitting their distribution, there's no doubt about it."
Retailers Adjust Their Strategies
In an effort to win back consumers who might be replacing bar visits with brewery visits, some retailers have begun adjusting their beer menus to feature more locally made products.
Jonny Stringer, manager of beer operations for CraftWorks Restaurants, told Brewbound that he made a "fairly controversial decision" to "regionalize" a tap handle once dedicated to national brand at more than 100 of the company's Old Chicago locations.
"It tripled its sales," he said. "You never know when you're looking at our draft lineup — when a beer triples its sales — where it's cannibalizing from elsewhere, but it obviously says these beers are cannibalizing from your national brands."
In a similar move, the Uno Pizzeria chain recently dedicated six draft handles to local, hyper-local and regional craft beer brands at each of its 65 company-owned U.S. stores. Uno chief marketing officer Skip Weldon said the retailer has seen "nothing but positive results" since the switch and noted that some of the changes are coming at the expense of regional breweries' seasonal releases and cider offerings.
"We're less interested in making sure we satisfy our beer vendor partners and more interested in making sure we're satisfying our beer-drinking consumers," Weldon told Brewbound.
But Wynne, who buys beer for 15 Flying Saucer locations, has begun prioritizing beer quality over proximity, even if consumers are thirsting for local products.
"We don't care if you're the flavor of the day and everybody's buying you," he said. "We are going to nothing but quality, nothing but consistency, nothing but the absolute pinnacle of what's brewed out there."
And others, like Roper, are beginning to focus more of their attention on wine or spirits.
"We're selling a lot more wine than we used to," he said.