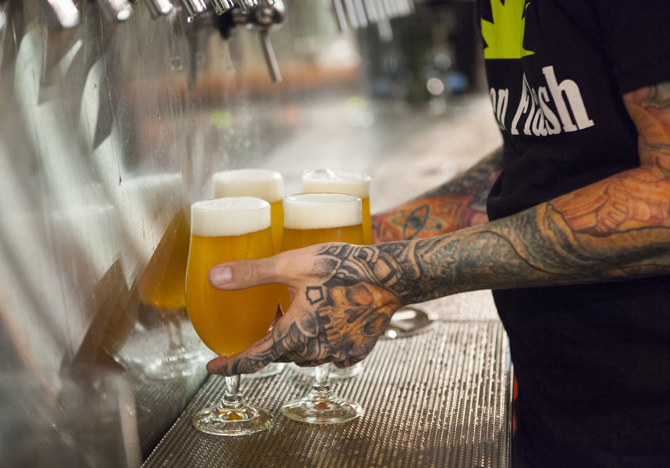 Following weeks of uncertainty about the future of Green Flash Brewing, the San Diego-based craft beer company today announced that it has finalized a sale to a new investor group.
In a note sent to Green Flash Brewing shareholders, posted by various outlets, founder and CEO Mike Hinkley said the brewery's primary lender, Comerica Bank, had "foreclosed on its loans" and sold the company's assets to WC IPA LLC via a foreclosure sale.
The new group, according to California Department of Alcoholic Beverage Control records, includes Hinkley and four other members, one of whom was already a member of Green Flash Brewing's board of directors.
The announcement comes about a week after Green Flash ceased operations at a $20 million production facility in Virginia Beach, Virginia, and shuttered its Cellar 3 barrel-aging facility and taproom in Poway, California.
In his memo to shareholders, Hinkley added that Comerica Bank is "currently conducting a separate process" to sell the Virginia Beach brewery, which is currently listed for sale as part of an online auction run by Heritage Global Partners.
In addition to completing a sale to the newly formed WC IPA LLC, Green Flash Brewing also announced that Dave Mills, the former chief sales officer for Ballast Point Brewing, who departed that company last September, would join the struggling company as its vice president of sales and business development. He supplants former VP of sales Jim Kenny, who had been with Green Flash for eight years.
"Jim's Hungwah-spirit and GSD work ethic pushed us to great heights," Hinkley said via a press release. "I wish Jim all the best and I know he will find a great position in the beer business."
Chris Ross, the former tech executive who joined Green Flash in mid-2015 as its chief operating officer and was later named president, will also depart the company, a release noted.
Those departures follow a pair of notable exits, including former brewmaster Chuck Silva, who resigned in 2015, and former barrel-master Pat Korn, who was laid off in January.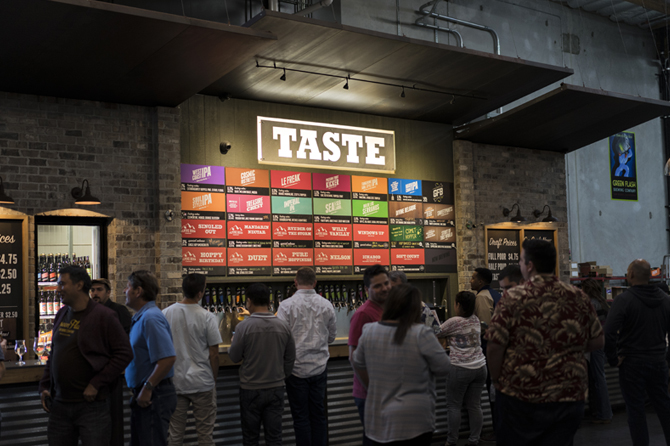 With much of Green Flash's old guard now gone, a new crop of businessmen have been brought on board to help the company emerge from a distressed financial situation that forced the brewery to close two facilities, lay off 76 employees and pull distribution from 42 states.
Richard Lobo, who is named as a president and manager of the new company, is the founding partner at Muirlands Capital and has served on Green Flash Brewing's board of directors since last April, according to his LinkedIn.
Two other managers of the new holding company — Dylan Bates and Joshua Yelsey — currently hold executive positions with ATI Physical Therapy, a nationwide rehab provider with operations in 25 states, according to its website.
Yelsey, currently the vice president of mergers and acquisitions for ATI, previously worked in similar roles with Anheuser-Busch InBev, according to his LinkedIn.
Bates, meanwhile, serves as the CEO of ATI, according to LinkedIn.
In a press release, Green Flash, which also owns the Alpine Beer Company brands, said the new group is "committed to maintaining Green Flash's status as an iconic independent craft-brewing interest."
As a result of the sale to WC IPA LLC, the company believes it has emerged from an over-leveraged financial situation that occurred as a result of taking on "too much debt" to build a $20 million secondary production facility in Virginia Beach in 2015.
In February, Brewbound first reported that Green Flash was looking to recapitalize the business and that it was seeking new investors to continue operating.
"We know that we have too much debt to go forward, and the business itself cannot support the extra debt that we took on to build Virginia Beach," Hinkley said at the time.
Hinkley, who owned 30 percent of Green Flash as of February 20, could not be reached for additional comment.
Speaking to Brewbound in February, Hinkley said a sale of the entire company was not imminent and that "however Green Flash goes forward, I will be here, and I'm not selling."
As of press time, it's unclear what stake Hinkley, or the Green Flash Brewing's nearly 50 other investors, may still own.
According to a teaser document that was sent to potential investors earlier this year, Green Flash had revenue of approximately $27 million in 2017, down from more than $29 million the prior year. It also reported an adjusted EBITDA loss of $112,000 last year, despite earning more than $3.1 million in 2016 and more than $5.2 million in 2015.
A press release with additional information about Green Flash's new ownership is included below.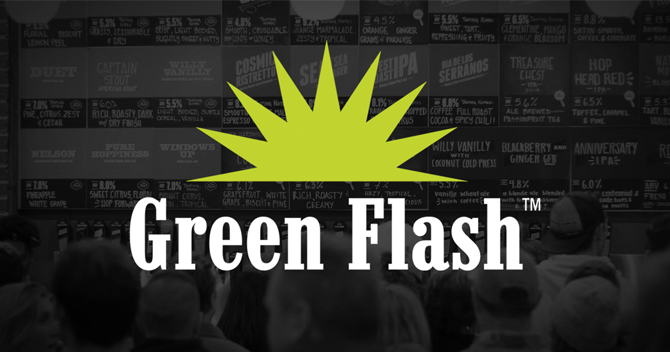 Green Flash Brewing Completes Previously Announced Sale to Investor Group; Announces Addition of Dave Mills as New Vice President of Sales
Award-winning San Diego brewery emerges from the sale with stabilized financial position and streamlined operations
San Diego, CA – April 2, 2018 — San Diego-based Green Flash Brewing Company is excited to announce the completion of the previously-announced sale of its West Coast brewing operations. The new investor group, which includes a number of individuals with extensive experience in both the craft beer and food and beverage industries, is committed to maintaining Green Flash's status as an iconic independent craft-brewing interest. With this new financial backing and focus, Green Flash will return to its Southern California roots, while consolidating distribution of its beers and those of sister-brand Alpine Beer Company to San Diego County and the greater Southwest.
Green Flash Brewing Company emerges from the sale with a stabilized financial position and streamlined operations. Green Flash has ceased operations at its production brewery in Virginia Beach, Va., its barrel-aging facility in Poway, Ca., and completed its transition from national to regional distribution. The company will focus on brewing exceptional beer, connecting with customers, and building the brands in the core markets of California, Arizona, Colorado, Hawaii, Nevada, Texas, Utah, and Nebraska.
The Green Flash and Alpine breweries will continue to operate in San Diego and Alpine, respectively. Meanwhile, the Green Flash Brewhouse & Eatery in Lincoln, Neb. will open in April, and will brew specialty beers serving the state of Nebraska. This brewery will serve as the model for future customer connection points in the Southwestern United States.
Green Flash Brewing Company is also announcing some changes to the management team, led by the announcement of Dave Mills as new Vice President of Sales and Business Development. Dave, who previously served as Chief Sales Officer at Ballast Point Brewing Company, will manage all sales and trade marketing activities. Dave said, "I am stoked to join the Green Flash team in my hometown of San Diego. The Green Flash and Alpine brands are iconic in San Diego beer culture. This opportunity is the dream of a lifetime and I can't wait to begin my new adventure."
Dave will replace Jim Kenny, who served as VP of Sales for the last eight years. Jim leaves a legacy, as he spearheaded growth for Green Flash from 14,000 to over 90,000 barrels per year at its peak. "Jim's Hungwah-spirit and GSD work ethic pushed us to great heights," says Hinkley, who added, "I wish Jim all the best and I know he will find a great position in the beer business."
Mike Hinkley, who started Green Flash 16 years ago, will lead the company. Chris Ross, President, will leave the company. Chris was appointed President in late 2016 and did an outstanding job guiding the company through some difficult times over the past two years. "Chris helped reshape the company, making this transaction possible. We are all very grateful to him for all of his efforts," said Hinkley.
Other key management roles include Erik Jensen – Vice President of Brewing Operations, Dave Adams – Vice President of Hospitality, Nicole Hanlon – Director of Human Resources, and Katie Wolbrink – Controller.
The investor group was represented by Livingstone Partners, an international middle market M&A firm with seven offices located in the United States, Europe and Asia.
About Green Flash Brewing Co.
Green Flash Brewing Co. is headquartered in San Diego, California. Established in 2002 by co-founders Mike and Lisa Hinkley, it has grown into the 43th largest craft brewing company in the country behind iconic brands such as West Coast IPA, an award-winning beer whose wide acceptance helped define one of the most popular style categories of all time. Brewmaster Erik Jensen leads brewing operations for beers within the Green Flash portfolio as well as those of Alpine, Calif.-based Alpine Beer Co., which the company acquired in 2014. For more information, visit: www.greenflashbrew.com.