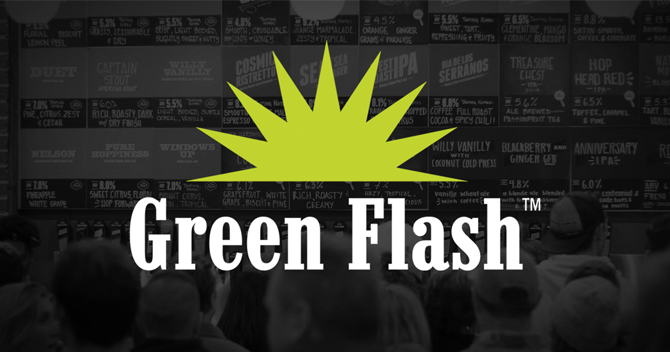 After taking on a "considerable amount of debt" to build a $20 million secondary production facility in Virginia Beach in 2015, Green Flash Brewing founder and CEO Mike Hinkley is on the hunt for new investment.
The San Diego-based craft brewery has retained SSG Capital Advisors — a boutique investment banking firm that specializes in mergers, acquisitions, restructurings and often works with "companies facing complex or challenging situations," according to its website – to help it bring on a new partner.
A teaser document sent to potential investors introducing the opportunity said Green Flash was exploring "strategic alternatives," including a sale of the company.
But Hinkley, who owns 30 percent of the business, told Brewbound that a sale of the entire company was not imminent.
"However Green Flash goes forward, I will be here, and I'm not selling," he said.
Instead, Hinkley said Green Flash is hoping to trade equity to a deep-pocketed investor who can help it pay down debt owed to Comerica Bank.
The company's search for a new partner is being driven by a since-abandoned strategy to expand distribution to 50 states, the construction of the large-scale East Coast production facility, and a desire to acquire smaller breweries – initiatives that tapped the company's financial resources and eventually forced it to retrench back to its core markets.
"We got caught in what everyone is referring to as the squeeze," Hinkley said. "Our direct competitors were getting bigger at the same time as the broad market below was becoming more crowded."
Hinkley described his company's decision to finance a sprawling 58,000 sq. ft. production facility — which is currently underutilized — with debt instead of equity as a "mistake," and he characterized Green Flash's current capital structure as "a bit of a mess."
According to the teaser sheet, Green Flash had revenue of approximately $27 million in 2017, down from more than $29 million the prior year. It also reported an adjusted EBITDA loss of $112,000 last year, despite earning more than $3.1 million in 2016 and more than $5.2 million in 2015.
"The debt drawn to fund the construction of the East Coast facility coupled with a reduction in capacity utilization by adding a second plant has negatively impacted liquidity and profitability," the document states.
Now, in order to continue operating, Green Flash needs outside investment.
"We know that we have too much debt to go forward, and the business itself cannot support the extra debt that we took on to build Virginia Beach," Hinkley said.
This is the second time Green Flash has attempted to recapitalize; a deal that would have brought an influx of cash to the business fell through at the end of last year, Hinkley said.
"We were pretty close in late 2017, but the same faction of our ownership that didn't like the equity dilution to begin with, didn't like it on the second go-round when it was even more obvious that it was the right answer," he told Brewbound.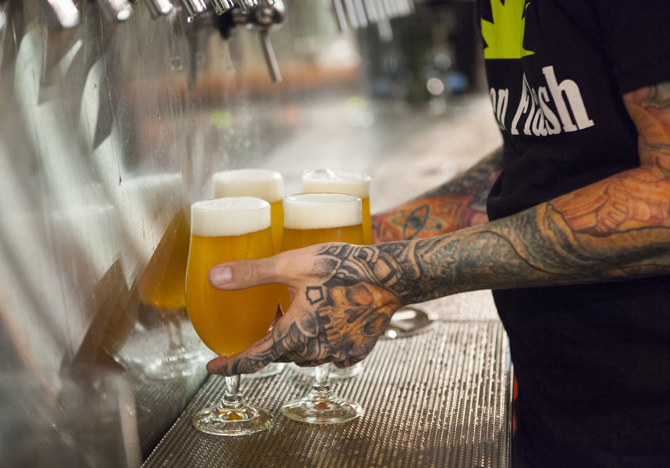 The company has upwards of 50 investors, he added, four of whom – including Hinkley – collectively own about 70 percent of the business.
The other primary stockholders, according to information from the California Department of Alcoholic Beverage Control, include the Palisoul Revocable Trust – which is controlled by Pamela and Philip Palisoul — and Martin Blair, who owns the San Diego-based Kansas City BBQ restaurant that was featured in the movie Top Gun. A third investor, Kent McKinney, is the senior vice president of Community First National Bank in Kerrville, Texas, Hinkley confirmed.
Once last year's deal fell through, Green Flash, which had sold its products in all 50 U.S. states, announced that it would pull distribution from 32 of those markets and terminate 33 employees.
"That was something that needed to be done regardless," Hinkley explained. "The plan to go to 50 states, in the way we did, seemed to be working really well when the industry itself was expanding and Green Flash was growing at 35 percent a year. We recognize now that it wasn't the best decision, and we should have been building our home markets at the time."
Hinkley, who said Green Flash has also previously explored the option of selling the brewery, said he expects the current recapitalization transaction to be a "quick process."
"We are moving forward," he said. "This stuff will get figured out, and Green Flash will continue to live on."