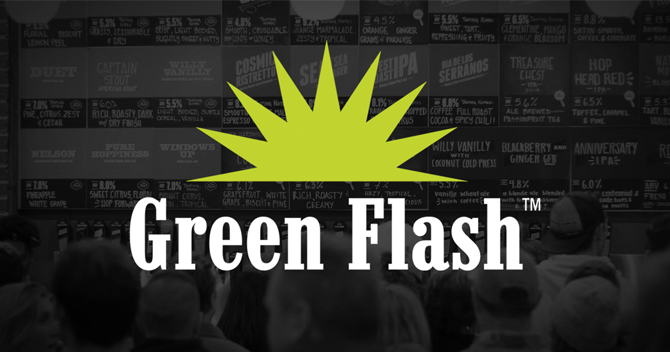 Editor's note: After publishing this story, Green Flash made the decision to maintain distribution in Connecticut. This article has been edited to more accurately reflect the number of states where Green Flash products will continue to be sold.
Facing increased competition from more than 6,000 U.S. craft breweries, Green Flash Brewing today announced plans to pull distribution from 32 states in a move that will also include a 15 percent reduction of its workforce.
Speaking with Brewbound, Green Flash co-founder Mike Hinkley said the 15-year-old San Diego-headquartered craft brewery had initially built a 50-state footprint with aspirations of being a "heritage" brand, but as thousands of startup breweries opened their doors, and chipped into Green Flash sales, the company was forced to alter its strategy.
"We were doing pretty well close to the breweries, and in some strategic markets we had some strongholds, but we had a lot of territory that was in pretty steady decline," he said. "Rather than to continue to fight that battle, we took the resources from out there and brought 'em all into a smaller territory — as much as we could, anyway."
As it retrenches, Green Flash, which also owns Alpine Beer Company, will cede about 18 percent of its wholesale business, Hinkley said.
"We kept about 82 percent of our wholesale trade business," he said. "We were pretty sparse and in decline in that other territory, so reeling it back to strength. Now we can put our sales and marketing resources into a tighter geographic footprint."
To supply the remaining 18 states, Green Flash will source production from its two breweries — located in San Diego and Virginia Beach — and distribute to nearby markets. The San Diego facility will ship beer to Arizona, California, Colorado, Hawaii, Nebraska, Nevada, Texas, and Utah, while the Virginia Beach brewery will ship products to Connecticut, Delaware, Maryland, New Jersey, New York, North Carolina, Ohio, Pennsylvania, Tennessee and Virginia.
Hinkley added that he and Green Flash VP of sales Jim Kenny recently reviewed sales reports from the company's 18-state footprint over the first 11 days of 2018, and they liked the results thus far.
"I loved the big green number next to them," Hinkley said.
However, rationalizing 18 percent of the company's distribution also required the company to cut its operating expenses, Hinkley said. Those cuts amounted to 33 workers across production, operations, sales, marketing and administration. However, the cuts won't impact Green Flash's retail business or Alpine Beer Company, he added.
Hinkley stressed that Green Flash's overall business remains "healthy," and he added that 2017 revenue was "flat" compared to 2016. (In 2016, Green Flash ranked as the 37th largest craft brewery, according to industry trade group the Brewers Association.)
"This isn't an indication that Green Flash is going to be shook out," Hinkley said. "It's just making sure we're strong for the long haul."
Part of Green Flash's long-term strategy includes placing small brewpubs in "earlier-stage markets," starting with in Lincoln, Nebraska. In August, Green Flash acquired the former Ploughshare Brewing Company location as well as an extra 10,000 barrels of capacity. That space is slated to open in the first quarter of 2018.
"If that's successful, that'll be the model for how to go to another city," Hinkley said. "And then the 100-year plan is maybe there'll be 10 Lincolns over the next 20 years of my life. But who knows? I just can't support all of that territory. I don't have the resources to compete on that broad a scale."
Also in 2018, Green Flash will no longer package beer in 22 oz. large-format bottles.
"Really, it was a matter of focusing our resources behind packages that are growing and reducing the number of SKUs to something manageable," Hinkley added. "Our business had gotten a little unwieldy with the number of SKUs, the number of states. Our business became really complex for our size."
An original press release with additional information is below.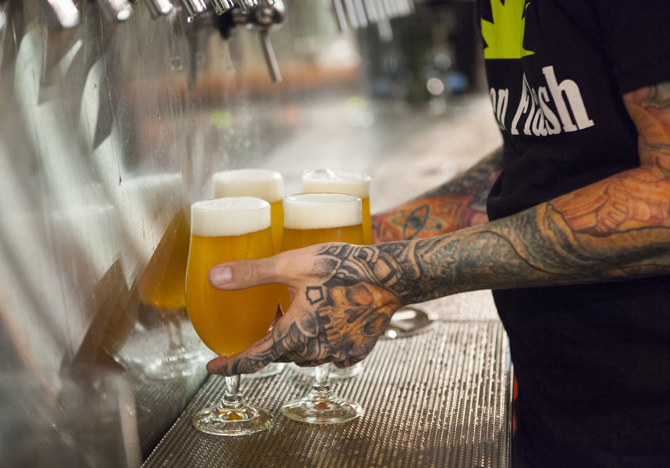 Green Flash to Focus Distribution on Core Markets
San Diego, CA — Green Flash will streamline its distribution reach and focus sales and marketing efforts on core U.S. regions with the most efficient access to the Company's San Diego and Virginia Beach breweries. This strategic re-focus will enhance the Company's operations and provide consumers with the freshest beer possible. Concentrating sales and marketing efforts on a more focused geographic footprint will accelerate sales velocity, increase inventory turnover, and result in more than 90% of all shipped Green Flash and Alpine beer arriving the same day that it is shipped.
Beer brewed and packaged in San Diego will ship to Arizona, California, Colorado, Hawaii, Nebraska, Nevada, Texas, and Utah. Beer brewed and packaged in Virginia Beach will ship to Delaware, Maryland, New Jersey, New York, North Carolina, Ohio, Pennsylvania, Tennessee and Virginia. These East Coast states have collectively become the fastest growing Green Flash region, benefiting greatly from the Virginia Beach brewery's first full year of production in 2017.
The Green Flash Brewhouse & Eatery in Lincoln, Nebraska will open as scheduled in the first quarter of 2018, and will brew beer serving the state of Nebraska. The Company is excited to build the Green Flash and Alpine brands in Nebraska, which will serve as the model for future Green Flash geographic expansions.
This strategic initiative has resulted in 15% of the Company's workforce transitioning out of the Company. No employees working in Green Flash's tasting rooms and no Alpine Beer Company employees were impacted. "We are sorry to lose these valued team members. They are all talented and passionate individuals who have contributed to Green Flash," shared Mike Hinkley.
"Re-focusing our distribution was a difficult decision that we did not arrive at lightly," says Chris Ross, President, "we are grateful to our friends working at the distributors and retailers that made it possible for our fans to enjoy Green Flash beer over the years."
About Green Flash Brewing Co.
Green Flash Brewing Co. is headquartered in San Diego, California, and was established in 2002 by co-founders Mike and Lisa Hinkley. Brewmaster, Erik Jensen, leads brewing operations. Green Flash is an award-winning brewer of fine, craft ales, and specializes in brewing assertive and distinctive beers, such as nationally acclaimed West Coast IPA: an award-winning beer whose wide acceptance has helped define a category. In 2016, Green Flash opened a full-scale brewing facility in Virginia Beach, VA and in 2018 will open a Brewhouse and Eatery in Lincoln, NE. Please visit the Green Flash website www.greenflashbrew.com for more information.