Kalamazoo, Michigan-based Arcadia Brewing Company is facing a December 20 foreclosure auction after falling more than $1.4 million behind on a mortgage for its brewery and restaurant that opened in 2014, television station WWMT reported. Additionally, Arcadia owes more than $150,000 in back taxes, according to WOOD TV.
In a press release posted to the brewery's website, brewery founder Tim Suprise admitted that Arcadia, which opened in 1996, was "in transition" and that the company was close to finalizing a strategic partnership that would help it avert foreclosure.
Speaking to Brewbound Suprise acknowledged that the bank had "filed and reserved the option for a foreclosure proceeding." He added that the beer company had been in communication with the bank over the last 10 months as Arcadia worked to identify a strategic partner. A foreclosure is only a backup plan to protect the bank's assets, Suprise said.
"It's not the plan," he told Brewbound. "It is just that, a contingency."
Suprise said Arcadia is currently in negotiations with a pair of potential partners. He declined to identify those partners but said he expects to narrow it down to one by the end of the week.
"We're at the two-yard line about ready to punch it into the end zone for a strategic partnership that will not only avoid and/or prevent any foreclosure proceeding," he said, "but will put the company's financial footing on very solid ground, enable the Kalamazoo riverfront pub, brewery and beer garden to thrive and really to fulfill our potential as a destination and purveyor of craft beer and food throughout the state."
So how did Arcadia get to this point? Suprise told a similar story to other distressed beer companies that expanded with new brewing facilities during periods of double-digit growth, only to see a slowdown in recent years. For Arcadia, the buildout of a $6.2 million Kalamazoo facility coupled with increasing competition from smaller breweries and consolidation amongst wholesalers, as well as craft acquisitions by big beer companies, contributed to the company's current situation.
"We were a little bit behind the eight ball in terms of what we built and our extra capacity when we established this place in 2014," he said. "Once we got over our skis in 2014 when the new facility opened, it's hard to really fulfill your potential when you're playing catch up."
Suprise said Arcadia began to pivot about three years ago as it pulled out of faraway markets. Outside of Michigan, the company's beer is available in Pennsylvania and it also distributes in the Great Lakes region as well as parts of the Midwest.
Deschutes Delays Virginia Brewery Project
Bend, Oregon-headquartered Deschutes Brewery won't break ground in 2019 on a planned $95 million production facility in Roanoke, Virginia, according to the Roanoke Times.
Under the original project timeline, Deschutes was slated to begin construction in June 2019. The company had originally planned to start brewing test batches of beer in 2020, and begin shipping beer from the facility in 2021. However, brewery president Michael Lalonde told the outlet that slowing growth has forced the company to re-evaluate the scope of the project, as well as the timeline.
"We don't foresee breaking ground in 2019 as originally planned, but we will meet a commitment next spring to let the city of Roanoke know our updated plans," he told the outlet.
Earlier this year, Deschutes pumped the brakes on the Virginia project, renegotiating an incentive package in order to maintain "flexibility" on the timeline, size and scale of the project. As part of the altered arrangement, Deschutes agreed to buy the plot of land for $3.2 million to free itself from a string of performance-based incentives that the original deal would have triggered.
Deschutes is now under a new timeline, with a March 31, 2019, deadline for submission of a revised proposal to the city, along with an August 31, 2020, deadline for design plans and drawings and a construction deadline of June 30, 2021, the Roanoke Times reported.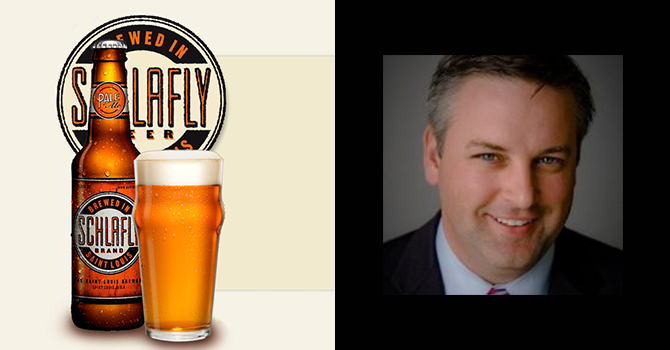 Schlafly CEO to Depart
James Pendegraft, the CEO of The St. Louis Brewery, which makes Schlafly beers, has stepped down, according to the St. Louis Post-Dispatch.
A spokesperson for the company wrote that Pendegraft "has resigned effective upon the hiring of a successor."
"We have already begun the search process for that position," the spokesperson wrote.
Pendegraft, a Saint Louis native and the former vice president of sales and marketing for North American Breweries, was hired in early 2015 to take over as CEO from brewery co-founder Dan Kopman, who departed the company after 25 years at end of 2016.
The St. Louis Brewery founders Kopman and Tom Schlafly sold a 60 percent stake in the brewery to local private equity firm Sage Capital in 2012. As part of that deal, Kopman retained a 10 percent stake in the business, while Schlafly maintained a 20 percent stake.
Sage Capital co-founder John Lemkemeier did not return a message from Brewbound.
Sales of Schlafly's products declined 13 percent in both 2016 and 2017, according to estimates from the industry trade group the Brewers Association. Last year, Schlafly sold about 45,000 barrels of beer, down from 52,000 barrels in 2016 and 60,000 barrels in 2015.
Benchmark Brewing Seeks Buyer
San Diego-based Benchmark Brewing Company is in search of a buyer, according to the West Coaster.
Benchmark co-founder Rachael Akin took to her personal Facebook page to solicit potential investors "to buy us out." She wrote that the company is in need of a fast cash infusion due to a decline in sales via distribution and a "dispute" with its landlord that could result in the loss of its home base in San Diego's Grantville neighborhood.
"The only solution at this point is cash," she wrote. "So if you or anyone you know might be interested in a brewery please direct them to me. rachael@benchmarkbrewing.com."
Benchmark sold 917 barrels of beer in 2017, according to the BA.
Great Waters Brewing Closes After Two Decades
After 21 years, Great Waters Brewing Co. closed its doors in downtown St. Paul, Minnesota, for the final time on November 18.
The brewpub — which sold about 475 barrels of beer in 2017, according to the BA — announced the closure in a Facebook post, which noted that 145 breweries would be operating in the state by the end of 2018.
Great Waters founder Sean O'Byrne told the Minneapolis Star Tribune that increased competition as well as a downturn in sales when sporting events, concerts and plays weren't taking place downtown played a role the brewery's closure.
"It's great for a destination, but everyday, casual customers who want to stop in for a beer – now there's one in their neighborhood," he told the outlet, adding that when there aren't events in the city, "there's no one out on the streets because it's so darn cold, you still have to pay the bills on those days."