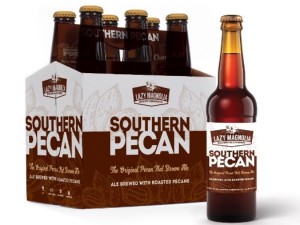 Kiln, MS — Lazy Magnolia Brewing Company just completed the installation of a state-of-the-art packaging line. This is an investment in our promise to our fans: to take the best possible care of the beer they love. The new packaging line will improve our customers' experience with our packaged beers by providing a fresh-from-the-tank flavor and aroma many months after packaging.
To mark this turning point in Lazy Magnolia's growth, we are updating and modernizing our packaging. Long time customers will recognize our signature logo and branding, and everyone will have an easier time finding Lazy Magnolia beers among the growing selection of craft in the marketplace.
The new packaging will be released gradually over the next year. Updated bottle labels will be phased in for our flagship beers Southern Pecan, Southern Hops'pitality IPA, and Jeff Stout over the next few months. Newly designed 6-pack carriers will come out shortly after the labels change.
"A slow release lets our customers adjust to our new designs, while still being able to find and enjoy their favorite Lazy Magnolia brews," said Lazy Magnolia owner, Mark Henderson. Operations Manager, Travis Lemco, adds, "The soft rollout minimizes potential disruptions to our operations and supply chain. It's also an opportunity to train up employees on the new equipment as we go."
"The craft beer market has seen unprecedented growth in the last 18 months. Our graphics, now nearly a decade old, were created in a time before craft breweries and craft beer was popular. The breweries that have opened in the last year have built on the successes of the pioneers. This is an opportunity to bring our image into alignment with the modern craft beer market," says Michelle Robinson, Marketing and PR Director. As a customer recently told us, "Just because it says 'hops' on the label doesn't mean it is an IPA."
Our new branding will focus on telling our story in ways that quickly reach the modern craft beer fan.