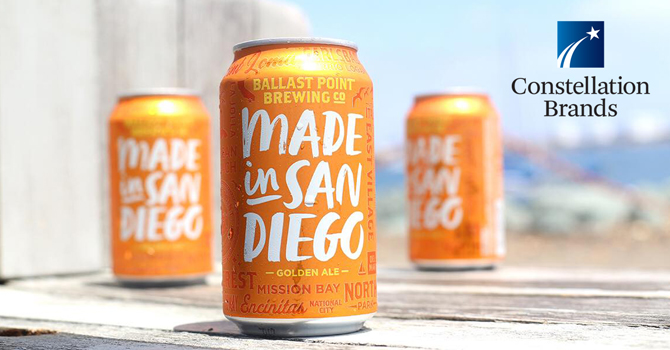 On the same day that it announced a $4 billion investment into Canada's Canopy Growth Corporation, Constellation Brands also laid off dozens of employees tasked with selling the company's craft and specialty beers throughout the U.S.
Constellation — whose craft portfolio includes Ballast Point in California, Funky Buddha in Florida and Four Corners Brewery in Texas as well as Mexican import brands Corona, Modelo and Pacifico — terminated around 60 of its 100 or so craft and specialty reps, a source familiar with the situation told Brewbound.
Beer enthusiast website beerstreetjournal.com first reported the cuts.
In an email to Brewbound, Constellation Brands spokeswoman Jamie Stein declined to comment on the exact number of employees that were impacted, and instead described the layoffs as a "right-sizing" as the company reorganizes its craft sales teams within its import division.
"To realize our full potential of our craft and specialty platform, we must drive tighter alignment with our core imported beer business and this will better position us for long term growth," Stein wrote.
According to Stein, some roles and responsibilities "shifted" as the company worked through the integration.
"This new sales structure will ensure [the] right level of organizational emphasis, create efficiency and bring tighter alignment for short and long-term success," she said.
The job cuts are the latest shakeup at Constellation, which has made a number of executive changes this year. Last month, the company promoted John Alvarado to the role of senior vice president of brand marketing for its beer division. That came just two months after Jim Sabia, who had been serving as the CMO of Constellation's beer division, took over as the executive vice president and CMO of the entire company.
When Constellation promoted Sabia, it also announced that craft and specialty president Marty Birkel would leave the company in late February 2019. Long-time Constellation executive Ben Dollard, who was named as Birkel's replacement, has already taken on the craft and specialty title. Also in May, beer division chief commercial officer Bruce Jacobsen assumed responsibility for the craft and specialty brands.
And in February, Constellation announced that CEO Rob Sands had relinquished his role as "president." The company appointed chief operating officer Bill Newlands to that position.
Despite the executive shuffle, and the recent layoffs, Stein maintained that Constellation's craft and specialty division is "one of the keys" to its "high-end growth strategy."
"With our broadening portfolio of brands within craft and specialty, now is the time to implement a holistic commercial strategy for how we go to market with our entire portfolio and integrating our sales teams is part of our evolving approach," she wrote. "Through these changes, we are establishing the foundation for a future where we can deliver on our growth goals and have success in the long-term."
As its has reorganized, Constellation has also continued to invest behind an own-premise retail strategy for Ballast Point. Earlier this week, the company confirmed plans to build its eighth California location, and tenth nationwide, in San Francisco.
Through July 15, Constellation Brands' year-to-date beer dollar sales are up 14.2 percent, to nearly $2.4 billion in multi-outlet and convenience store off-premise channels, according to market research firm IRI Worldwide.
Constellation Brands is the latest notable beer company to make cuts, joining Ninkasi, Avery Brewing, Green Flash, New Belgium, Craft Brew Alliance and Pabst Brewing Company, among others. Also last year, Anheuser-Busch InBev eliminated as many as 350 sales positions, many within its High End craft division.