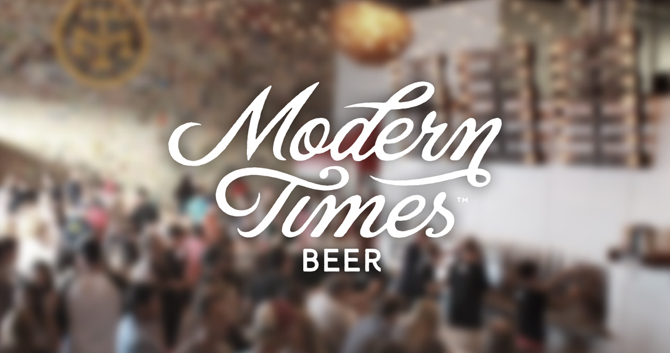 Modern Times Director Brewing Ops Changes, Company Lays Off Taproom Employees
After a year as director of brewing operations at San Diego's Modern Times Beer Company, Rick Blankemeier has left for a position as the quality assurance manager at the Belching Beaver Brewery in Vista, California.
"I'm definitely looking forward to the opportunity to be closer to home and my family," Blankemeier told Brewbound, "and definitely want to thank Modern Times for the amazing opportunity and appreciate their support."
Blankemeier will be supplanted by Modern Times head brewer Tim Kamolz, who has been with the company for four years.
The craft brewery, which recently opened outposts in Los Angeles and Portland, has also made several staff cuts at those locations, a Modern Times spokesperson confirmed, adding that the layoffs were "deeply regrettable" but "not in any way a reflection on the overall health of our business, or any of our other current or future tasting rooms, breweries, or restaurants."
In an email to Brewbound, the spokesperson cited "inexperience" in running a restaurant and overstaffing in order to meet initial traffic as reasons for the layoffs — two in Portland and 16 in Los Angeles.
"Combined with lower-than-expected employee turnover, this led to us having to adjust both our staffing and our hours in order to reflect a more realistic picture," the spokesperson said.
"What we can do going forward is make sure we learn from these situations, and use them to inform the staffing decisions we make in the future," they added.
Modern Times, which gave a minority ownership stake to its employees last year as part of an employee stock option plan (ESOP), said no share buybacks were triggered by the cuts.
North Carolina Guild Seeking New Executive Director
The North Carolina Craft Brewers Guild is looking for a new executive director following the departure of Andrew Lemley.
Lemley, who was hired last October, told Brewbound that he has moved back to Colorado after his wife was offered a job that she couldn't pass up.
Lemley previously worked at Fort Collins-headquartered New Belgium Brewing Company, where he served as government affairs representative — a role he is credited with creating — for the last four years.
According to North Carolina guild job listing, the not-for-profit group's required skills include "extensive legal, legislative and lobbying knowledge," "top-notch marketing and communication skills," "significant nonprofit/board experience," "proven fundraising abilities" and "creative and tactical event planning experience."
Constellation Brands Makes Beer Division Marketing Promotion
Constellation Brands has promoted John Alvarado to the role of senior vice president of brand marketing for its beer division.
Alvarado, who joined Constellation in 2007, has served in a number of leadership roles, including vice president of brand marketing for the company's beer division. Alvarado will report directly to executive vice president and chief marketing officer Jim Sabia.
In a press release, Constellation, the No. 3 beer company in the U.S., said Alvarado would be tasked with "providing leadership and strategic direction" to its beer brand marketing teams, and supporting Mexican import labels (Corona, Modelo and Pacifico) as well as the company's craft brands (Ballast Point, Funky Buddha, Four Corners and Svedka Spiked Seltzer).
"Brand building is an essential part of Constellation's growth and our industry leadership," Sabia said, via the release. "Our Marketing team is relentlessly focused on creating consumer demand for our iconic beer brands, and I know that John is the right person to help us continue building on the momentum we've gained in the marketplace."
Canarchy Adds West Coast National Account Manager
Canarchy Craft Brewery Collective has hired former Yard House beverage director Greg Howard as its national key accounts manager for the West Coast, according to LinkedIn. The hire comes as the Fireman Capital-back brewery rollup has acquired two breweries — Los Angeles' Three Weavers and Dallas' Deep Ellum Brewing — in the past two months.
Prior to joining Canarchy, Howard worked spent 12 years with the Yard House restaurant chain, serving as the director of beverage strategy where he oversaw purchasing and helped develop the company's beer, spirits, cocktail and wine programs.
Ex-Green Flash Sales Chief Joins iSellBeer
Jim Kenny, Green Flash Brewing Co.'s former vice president of sales, has joined iSellBeer as the vice president of business development. iSellBeer, a sales rep software company for beer wholesalers, is a division of CPG Data.
Kenny spent eight years at Green Flash, and was replaced earlier this year by Dave Mills, the former chief sales officer for Ballast Point Brewing, after Green Flash sold to a new investor group.
Wine & Spirits Wholesalers of America Appoints New CEO, President
The Wine & Spirits Wholesalers of America (WSWA) has named Michelle L. Korsmo as its next president and CEO, according to a press release.
In mid-September, Korsmo, who currently serves as CEO of the American Land Title Association, will take over the post with the Washington, D.C.-based trade group that works to advance the interests of distributors and brokers of wine and spirits.
Earlier this month, the WSWA became the first beverage alcohol trade association to support ending a federal ban on recreational marijuana in order to allow individual states to move forward with establishing "a legal, well-regulated, adult-use cannabis marketplace."