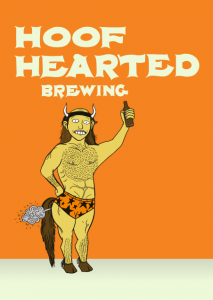 Portland, ME — The team at Vacationland Distributors, LLC. proudly announce the Maine launch of Hoof Hearted Brewing, a craft brewery in Marengo, Ohio. Hoof Hearted cans will make their debut at 5:30pm on Thursday, October 22nd at Portland's Bier Cellar on Forest Avenue. Hoof Hearted Brewing's draft products will launch during Portland Beer Week at a Hoof Hearted Brewing tap takeover at 5:00pm on Friday, November 6th at Nosh Kitchen Bar in Portland.
"Hoof Hearted Brewing is precisely the kind of craft brewery we want to work with," says Jim O'Brien, Co-Founder and President of Vacationland Distributors, LLC. "The Hoof Hearted guys are making truly world-class beer simply for the love of the craft. Their ethos and approach are truly unique in the craft beer world, and while they don't take themselves too seriously, they are laser-focused on brewing the best beer on the planet."
"We have been pretty adventurous craft beer drinkers since the mid 90's, and four years ago we thought we could bring some personality to the Central Ohio scene," said Trevor Williams, one of the founders of Hoof Hearted Brewing. "The three of us have complimentary skill sets and, like Voltron, we came together and somehow built something literally out of nothing in a barn out in rural Marengo, Ohio."
When asked about his decision to bring his beer to Maine (which until now was only available in Ohio), Williams said: "We jumped on with Vacationland because we had a great relationship with Vacationland Distributors' Sales and Business Development Manager John Squadrito. He sold us our brewhouse and fermenters. John and Jarrod Bichon (another member of the Hoof Hearted team) stayed in touch after he joined Vacationland, and I had been following the beers they were bringing to Maine. Then I believe John had a creepy dream about selling our beer, and the rest is history."
Hoof Hearted Brewing has some of the most unique names and label designs in the industry, and the first cans released in Maine will be their "Roller Blabe" – an Imperial IPA.
From the Hoof Hearted Brewing website (www.hoofheartedbrewing.com):
ROLLER BLABE – Imperial IPA, 8% ABV, 103.3 IBU
Slurp up the neon! One sniff and you'll be painted in animal print spandex and sporting a side pony tail – and that's just the guys. Ready yourself for the taste of your fanny pack getting sucked into the tape deck. Bodaciously dry-hopped with the Dank n' Fruity combo of Mosaic, Simcoe, and Galaxy hops. Brewed under the watchful eye of A.C. Slater and Lisa Turtle – I mean John and Cindy from The Daily Growler."