The United States Department of Agriculture has issued a special report detailing differences between craft and non-craft beer products and their impact on malt barley production.
After analyzing average barley usage rates of U.S. craft breweries and examining growth trends across a range of industries, the USDA said it believes traditional forecasting methods have not provided the most precise estimates of domestic barley needs.
In its report, the USDA said that previous methods of estimating barley use for malting and brewing purposes had relied on "lager-style" beer and not accurately accounted for the growth of craft beer and spirits, homebrewed beer and even demand for exported U.S. malt barley.
"On average, craft-style beers use between three and seven times the amount of malt per barrels as is required to brew a comparable volume of the ubiquitous, American light lager or 'noncraft' beer," the report stated.
And with more than 3,150 craft breweries now operating in the U.S., the organization is now beginning to question what impact, if any, the evolving craft segment will have on barley production.
Using information supplied by Brewers Association and the Beer Institute, as well as the Alcohol Tax & Trade Bureau and U.S. Census, the USDA concluded that continued growth in the craft beer space could "have a greater impact on malt demand than a similar-sized decrease in noncraft volume."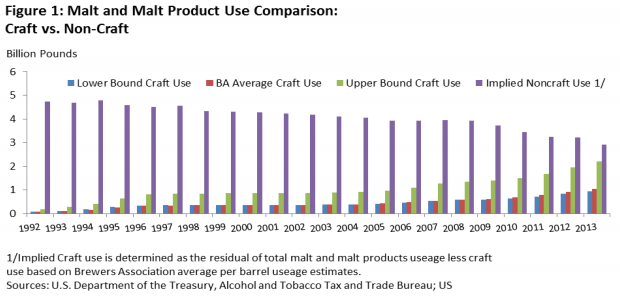 According to the report, beer volumes from craft brewers increased ninefold between 1993 and 2013, with craft volumes are growing at an average rate of 14 percent annually Meanwhile production volumes of more mainstream domestic lagers continue to decline – to the tune of about 0.6 percent per year since 1993.
The report, which cites a Brewers Association survey of more than 2,000 craft breweries, also indicates that, on average, craft companies use about four times the amount of malted barley per barrel than their noncraft counterparts.
So the question is – does a changing landscape mean the USDA's current barley seed and food estimates are inaccurate?
Not quite. The USDA's revised figures are "very comparable" with previous demand estimates and, according to the organization, a more accurate representation of the current business climate.
"The component parts of industrial use are now estimated with greater precision and will better reflect changes in the contributing markets, including exports, imports, spirits, homebrewing and the craft sector," the report states.
A full copy of the report can be found on the USDA website.