BrewDog Releases Annual Report, Acquires Draft House Pub
Scottish craft brewery BrewDog has released its 2017 annual report, which was highlighted by 55 percent revenue growth, to more than $155 million dollars.
"We are forecasting further strong revenue growth for 2018 as we take advantage of a full years production from our Columbus brewery, continued international expansion and further strong UK revenue growth in both the on-trade and off-trade channels," the company said in the report.
According to BrewDog, the brewery has averaged 63 percent annual growth over the last six years while its average annual operating profits have grown by 76 percent during the same period.
BrewDog said Punk IPA now accounts for 60 percent of sales, followed by Dead Pony Club (11 percent of sales) and Elvis Juice (9 percent).
The company also listed other 2017 highlights, including the opening of its first U.S. brewery in Columbus, Ohio and raising $7 million in an Equity for Punks USA crowdfunding campaign.
In other BrewDog news, the company acquired the Draft House pub chain, according to the Telegraph. In addition to the the 33 pubs it currently operates in the U.K., and its 17 worldwide locations, the acquisition gives BrewDog 14 Draft House locations in London and South East England.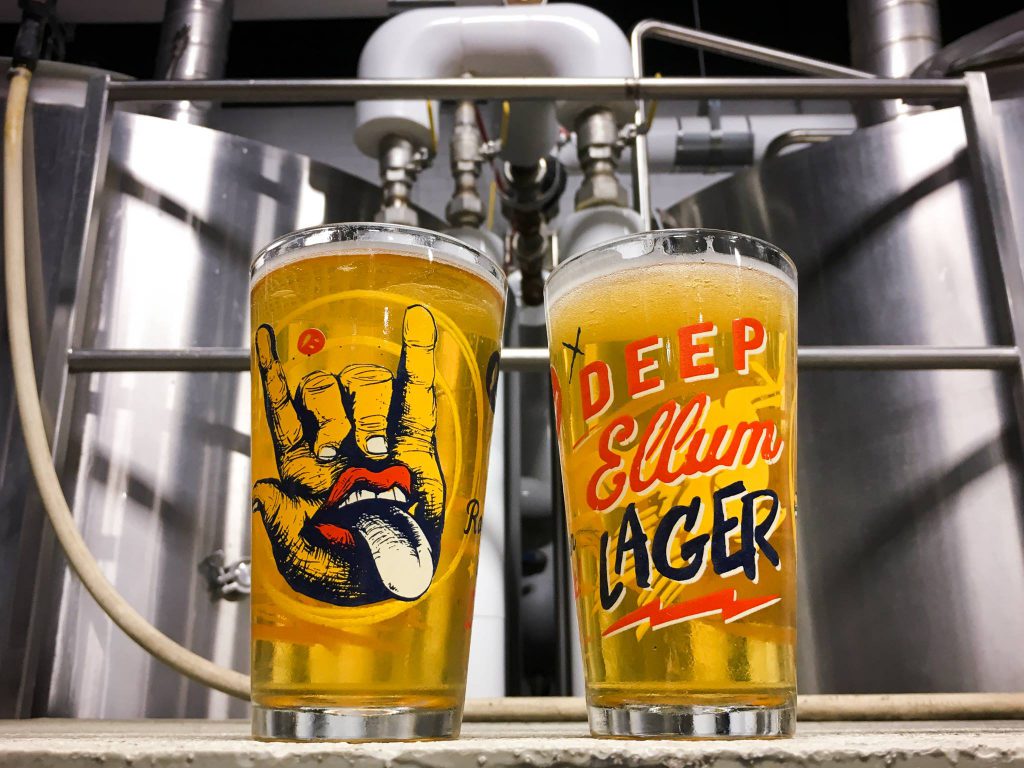 Judge Rules Against Off-Site Brewery Sales in Texas
A federal judge ruled last week that the Texas Alcoholic Beverage Commission's (TABC) decision to not allow the state's production breweries to sell alcoholic beverages for off-site consumption is "rational."
U.S. District Judge Robert Pitman granted a request by the TABC for summary judgment on March 20 after ruling that Deep Ellum Brewing and Grapevine Craft Brewery failed to prove that the state's law preventing production breweries from selling to-go beer was irrational. Pitman wrote that "legitimate state interests are rationally related to the challenged regulatory scheme."
Deep Ellum and Grapevine filed the lawsuit in September 2015 after failing to persuade the state's Legislature into changing the laws to give breweries similar privileges to the state's other alcoholic beverage producers, including brewpubs.
In the lawsuit, the brewers claimed the state had no rational basis for treating their businesses differently than other alcoholic beverage producers. The brewers also claimed the law impedes their ability to grow their businesses.
In a win for the brewers, Pitman determined that the TABC failed to show that breweries are not similarly situated entities to brewpubs, wineries and distilleries. However, he wrote, "whether it was good governance for the Legislature to grant that exemption to wineries and distilleries but not beer producers is not the question before this Court."
Nevertheless, Pitman said the TABC's argument for denying off-premise sales privileges to production breweries was rational for three reasons: preserving the three-tier system, promoting responsible consumption and ensuring fair competition.
"While the Legislature has allowed other alcohol producers to sell alcohol for off-site consumption, making one exception and not another exception in this context is not irrational," Pitman wrote. "Drawing those lines fits squarely within the goal of reducing the number and volume of alcoholic beverages sold by manufacturers directly to consumers."
Pitman also found that allowing brewers to sell more beer directly to consumers could negatively affect the three-tier system. He wrote that preventing an additional 190 alcohol producers from off-site sales privileges was rational in "promoting temperance."
Finally, the judge ruled that the Legislature was rational in its concern for protecting other members of the three-tier system.
"While the brewers may have a liberty interest in pursuing their chosen occupation of brewing and selling beer, the actions of TABC in enforcing or attempting to enforce the challenged statutes have not deprived the brewers of their liberty interest in operating their businesses," Pitman wrote. "A state may impose reasonable government regulation."
A-B High End Brands Release Yankees and Nationals Branded Beers
Blue Point Brewing and Devils Backbone Brewing, owned by Anheuser-Busch InBev, have released beers branded for the New York Yankees and Washington Nationals, respectively.
Blue Point's NY Pinstripe Pilsner is exclusively available on draft at Yankee Stadium, according to the New York Daily News. The release party for the beer, however, caused an uproar with Major League Baseball due to the images of players Aaron Judge, Giancarlo Stanton, Gary Sanchez and Aroldis Chapman being created within foam of the beer, Newsday reported. Major League Baseball doesn't allow active players to take part in the advertising or promotion of alcoholic beverages. The club has since said it has no plans of using the images in concession items.
Meanwhile, Virginia-based Devils Backbone Brewing Co. has released Earned Run Ale, a pale ale that will be available in 4-packs of 16 oz. cans in the Washington, D.C., metro area. The beer was previously a draft-only release at Nationals Park. The 4.2 percent ABV beer will also be available in the park's Left Field Lodge bar this season.
Those releases follow another A-B craft brewery, Goose Island, producing a draft-only ballpark release — 1060 Wit — for Chicago Cubs games and exclusive to Wrigley Field.
Stone Scraps Plans to Renovate Warehouse for Richmond Restaurant
In a 10-minute YouTube video, Stone Brewing co-founder Greg Koch announced that a dilapidated 1930s warehouse near the company's Virginia production facility was too structurally unsound to transform into a restaurant and taproom. However, Koch reinterred plans to put a restaurant and pub on Stone's Richmond campus.
"The next thing you hear may be that this building is coming down, and a new one is coming up," Koch said in the video. "But the goal remains Stone World Bistro and Gardens will be an awesome place."
Indiana A-B Wholesalers Consolidate
Two Indiana Anheuser-Busch distributors are consolidating. Indianapolis-headquartered Zink Distributing Company has acquired Dever Distributing Co. in Terre Haute., according to the Tribune Star.
Specific financial terms of the deal were not disclosed, however, A-B has reportedly given approval to the sale.
"We have tremendous respect for the owners and employees at Dever Distributing Company and we look forward to an opportunity to continue to provide excellent service to customers in the Terre Haute area," Zink Distributing president Jim Zink Jr. said via a press release.
Zink, which opened in 2001, is one of the largest beer wholesalers in the state of Indiana, selling A-B products along with craft brands (Dogfish Head, Crooked Stave, Rhinegeist, and others) and non-alcoholic sodas (Dad's and Fitz's root beers) in Marion, Hendricks, Morgan, Owen and northern Johnson counties. Dever sold beer in eight Indiana counties.
NBWA Beer Purchasers' Index Contracts in February
The National Beer Wholesalers (NBWA) Beer Purchaser's Index — which gives a glimpse into U.S. beer distributors' monthly purchasing behavior — contracted slightly in February with a reading of 49.
The NBWA says "a reading greater than 50 indicates the segment is expanding," while "a reading below 50 indicates the segment is contracting."
Even though the overall index dipped, the reading for import labels hit a six-month high of 70 while craft brands continued to expand with a reading of 56.
"This is still an indication of expansion in the volume of craft beer purchased, it's just slower than in previous years," NBWA chief economist Lester Jones said via a press release. "Premium Lights and regular premium both posted relatively lower readings, compared to February 2017. The below premium index remains in the mid-30s range, which is slightly lower relative to previous months' readings."