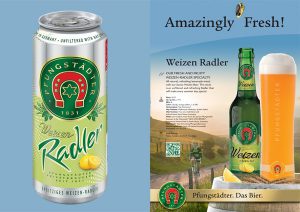 North America – Pfungstädter Privatbrauerei has announced that its popular Weizen Radler, formerly only available in bottles and kegs, is now being canned and is available in the U.S. for the first time. Pfungstädter Weizen Radler is a classic, authentic take on the Weizen style, and is a thirst-quenching blend of all-natural lemonade and Pfungstädter's famous unfiltered Weizen.
"There are a lot of radlers out there," says Lanny Hoff, SVP-Brands Manager for Artisanal Imports, "but we feel Pfungstädter's has a place due to the excellent quality of the beer as well as the lemonade. It's a real lemonade, not a flavoring or essence, but lemon juice. This gives it a refreshing, not-too-sweet character which really sets it apart from the competition."
Radler (German for "cyclist") has a long history in Germany with cyclists demanding a refreshing, less-alcoholic post-ride beverage. It typically consists of a 50:50 mixture of beer and sparkling lemonade. Legend has it that a German innkeeper who couldn't keep up with demand blended his remaining beer with a fresh citrus lemonade. The regulars were impressed and refreshed, and the Radler style was born!
Pfungstädter Weizen Radler is crafted utilizing top-fermenting house yeast, Hallertauer Herkules and Spalter Select hops, two-row malt blend, local malted wheat and low-sodium water from the private Pfungstädter fountain which lies within a protected nature park in the region. The result is a perfectly light yet flavorful and exceedingly drinkable beverage, not too sweet and ultra-crisp – perfect for any occasion.
Profile
ABV: 2.7%
IBU's: 5
Appearance: Cloudy, pale golden.
Aroma: Fresh, sweet lemon.
Mouthfeel: Sparkling, crisp.
Taste: Sweet, lemony citrusy.
Food Pairing: Tapas, seafood, asparagus.
ABOUT ARTISANAL IMPORTS
Artisanal Imports is an importer of specialty beers from England, Germany, Belgium and beyond. Our portfolio of fine ales and lagers is broad and represents a wide range of beer styles, but it is not our mission to collect every small brewery across Europe. We believe in working in full partnership with our breweries and are careful to select beers that are high quality and interesting but that do not overlap one to the next.
The company also represents a growing portfolio of U.S. based breweries and cideries to assist with national sales growth.
For more information on Artisanal Imports, please visit artisanalimports.com, or the company's social media sites: Facebook and Twitter.