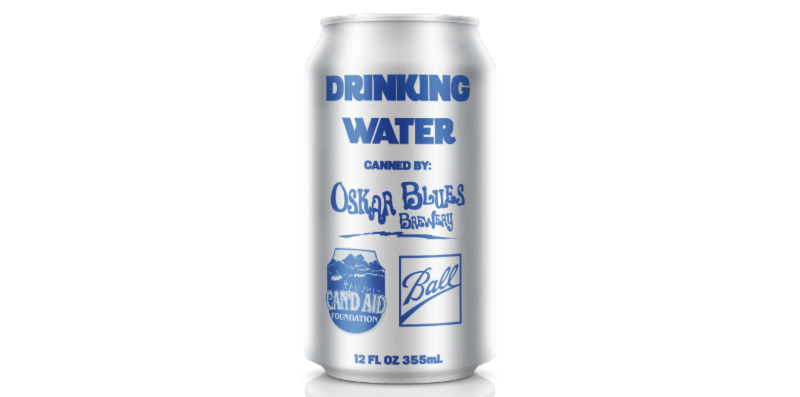 Brevard, NC — Oskar Blues Brewery and Ball Corp, through the CAN'd Aid foundation, can and ship clean drinking water to victims of the flood ravaged state of South Carolina. The initial shipment of more than 1,600 cases, totaling over 38,000 cans of water, arrived at the epicenter of flooding in Columbia, South Carolina on Monday, October 12, 2015 with more arriving in the coming days.
Canned water production began Friday, October 9th in the Brevard, North Carolina brewery and will continue as needed to help the citizens of South Carolina. Deliveries of the first drinking water arrived on Monday, Oct. 12, 2015.
Columbia, South Carolina: Epicenter of flooding and where clean water will be delivered. On-the-ground NGO All Hands is assisting in the delivery of the much needed fresh drinking water. Freight was donated by Justus Truck Lines.
Brevard, North Carolina: Oskar Blues Brewery full service canning production and the closest to the South Carolina region. Cans provided by Ball Corporation filled and canned with fresh drinking water to get out to national disaster area.
Denver, Colorado: Home of Oskar Blues Brewery, Ball Corporation and CAN'd Aid.
CAN'd Aid is a 501c3 started by Dale Katechis, soul founder of Oskar Blues Brewery, in 2013 following the Colorado flooding that devastated the hometown of Oskar Blues Brewery, Lyons, Colorado. What started as a response to the 2013 floods in ColoRADo has now raised and distributed more than $1,000,000 to support small businesses and families in need all across the country. The foundation is the non-profit arm of Oskar Blues Brewery and has evolved into an irreverent nonprofit focused on nation-wide "do-goodery."
About Oskar Blues Brewery
Founded by Dale Katechis in 1997 in Lyons, Colorado, Oskar Blues Brewery launched the craft beer-in-a-can apocalypse with hand-canned, flagship brew Dale's Pale Ale. Today, Oskar Blues is one of the fastest growing breweries in the country and operates breweries in Longmont, Colorado and Brevard, North Carolina, while approaching 200,000 barrels in 2015. The original canned craft brewery continues to stay innovative with releases like The Crowler. Oskar Blues Brewery currently distributes to 44 U.S. states and Washington, D.C., as well as parts of Canada, Sweden and the U.K. To keep up with all things Oskar Blues, visit http://www.oskarblues.com.
In 2013, Oskar Blues founded the CAN'd Aid Foundation, a 501(c)(3) nonprofit public charity that community puts its spin on doin' good by supporting Tunes, Treads + Trails and Love Yur Mama programs in communities around the US.