Pabst Brewing's Lawsuit Against MillerCoors Inches Toward Trial
Pabst Brewing's $400 million lawsuit against MillerCoors is moving toward a November 12 trial, according to CNBC.
The case stems from Pabst's contract brewing arrangement with MillerCoors, which brews Pabst Blue Ribbon, Old Milwaukee and other Pabst brands. That deal is slated to expire in 2020, however, Pabst holds options to renew the contract. If the deal dissolved, Pabst would be left searching for brewing capacity for its largest volume brands.
Despite the renewal options, MillerCoors has argued that the company may not have the brewing capacity required to extend the contract. As the company's volumes continue to decline, it may be forced to shutter its production facility in Irwindale, California.
MillerCoors has attempted to avoid a trial, but a Milwaukee judge in April denied the company's motion for summary judgement, according to the Milwaukee Business Journal.
For its part, MillerCoors, via a spokesperson, told CNBC that the company "routinely" evaluates its footprint, capacity and efficiently but has no plans to close Irwindale or any other brewery "at this time."
Alcohol Delivery Via Amazon Prime Now Available in Texas
After adding beer and wine delivery in Miami and Orlando last month for Prime Now account members, Amazon is extending the service to five Texas cities, according to the Dallas Morning News.
Amazon is now offering 1- and 2-hour alcohol deliveries to Prime Now members in Dallas, Fort Worth, Austin, Houston and San Antonio. The service will be available between 8 a.m. and 10 p.m. Monday through Saturday, and from noon to 10 p.m. on Sunday.
Amazon was able to offer the service after obtaining off-premise beer licenses and wine only package store permits for five of its Texas warehouses, according to the report. Those permits allow Amazon Logistics to deliver beer, ale and wine in the counties where its warehouses are located.
Delivery drivers are required to check IDs and obtain a signature from an adult when dropping off alcoholic beverages.
Meanwhile, 7-Eleven has extended its alcohol delivery service to 68 Dallas-Fort Worth stores and plans to roll out the program to the rest of the country later this year, the Morning News reported.
Florida Guild Claims Big Beer Pushed Small Brands Out of Publix
In a recent Tampa Bay Times article, the Florida Brewers Guild claims at least 12 of its members have lost shelf space in the Publix grocery store chain to craft brands acquired by Anheuser-Busch.
"They're blatantly removing Florida craft ones and replacing them with beers purchased by these big guys," Joshua Aubuchon, an attorney and lobbyist with the Florida Brewers Guild, told the outlet.
However, Publix denied it was squeezing out craft breweries. In a statement to the Times, Publix spokesman Brenda Reid pointed to craft's smaller share of the beer category.
"Customers continue to purchase a higher percentage of traditional beers as opposed to the craft beers," she said.
As such, Publix has cut its craft beer section in half, from 16 feet to 8 feet, and added spaced for more domestic beer brands, such as A-B's Budweiser and Bud Light offerings, as well as Constellation Brands' Corona products. The extra space is coming at the expense of Florida beer brands such as Swamp Head, Motorworks and 3 Daughters, who either lost their placements or had space cut in half.
The outlet also cites a Publix display map, apparently put together by A-B, that shows the chain added products from its craft division, including Goose Island, Elysian, Golden Road and Karbach.
Beer Institute Releases Domestic Tax Paid Estimate for May
U.S. breweries shipped nearly 2.4 million fewer barrels of beer through the first five months of 2018 compared to this time last year, the Beer Institute (BI), which cited unofficial estimates of domestic tax paid shipments from the TTB, reported.
Through the first five months of 2018, U.S. brewers have shipped more than 67.7 million barrels of beer, down 3.5 percent compared to 2017 levels.
After year-over-year beer shipments increased for the first time this year in April, May shipments declined 6.4 percent, to about 15.3 million barrels.
BI chief economist Michael Uhrich cited "very cold weather conditions in April" as a reason for the "above average distributor inventory levels at the end of the month." However, he said weather conditions improved in May, leading to reduced wholesaler inventories. Still, some suppliers reported a shortage of truck drivers affecting their ability to respond to increased demand in May.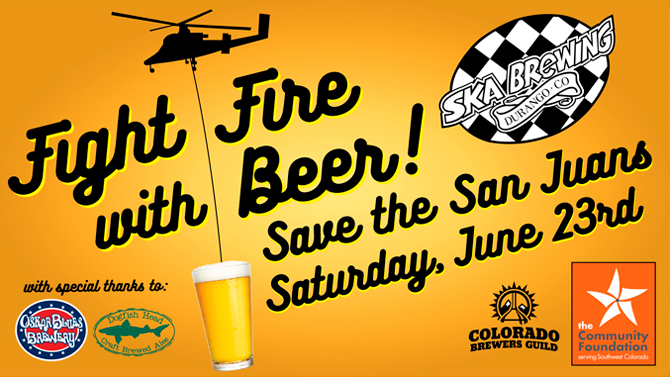 Colorado Breweries to Raise Money for Durango Wildfire Relief Efforts
More than 25 Colorado breweries, bars and restaurants will donate money from pint sales for Save the San Juans on Saturday, June 23. Led by Ska Brewing, the initiative looks to raise $500,000 to support relief efforts for the 416 wildfire that ignited on June 1 and is still burning.
Ska, Odell Brewing, Oskar Blue and New Belgium are each donating either $1 per pint sold, or matching tips and donations. For more information on the fundraiser, click here.
$80,000 Raised for Contractor Injured at Trillium
A GoFundMe crowdfunding campaign has raised more than $80,000 for the medical expenses of an electrical contractor who was severely burned earlier this month while repairing equipment at Massachusetts-based Trillium Brewing Company.
Matt Brown, a 55-year-old self-employed electrician from Foxboro, suffered burns on more than half of his body after being exposed to boiling liquid at Trillium's Canton production facility. Thus far, 810 people have given $80,600, surpassing the campaign's $75,000 goal.
"This will be a long road for Matt and we would like him and Andrea to be able to focus solely on his recovery," the campaign page says.