Constellation Brands reported its first-quarter fiscal 2019 earnings today, which were highlighted by 8.9 percent growth in beer depletions (sales-to-retailers) and an 8.6 percent increase in shipments compared to the three-month period in 2017.
Net sales of Constellation Brands' beer portfolio — which includes Mexican import labels Corona, Modelo and Pacifico, as well as craft offerings from Ballast Point and Funky Buddha — increased 11 percent for the quarter, ending May 31.
In a press release, the company credited the Modelo and Corona brand families along with the "successful" launches of line extensions Corona Premier and Corona Familiar — the brand's first major innovations in more than 25 years — for driving nearly 9 percent depletions growth.
In a call with analysts and investors, Constellation Brands CEO Rob Sands said the Q1 results were "in line with our expectations and reflect significant investment across the business designed to ensure that we maintain our growth momentum well into the future."
Sands called the company's increase in marketing spend — with a focus on the Corona line extensions — the company's "most significant investment" of the quarter. And the company expects the marketing push to continue with a planned investment across Constellation's beer portfolio of up to 11 percent of net sales in Q2.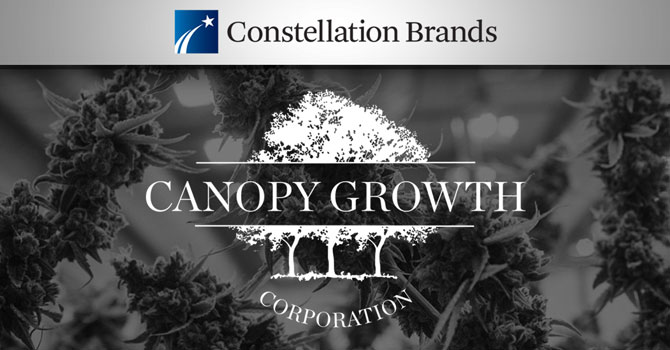 Although beer was a major focus of today's call, Sands spent a great deal of time discussing and answering questions about Constellation Brands' $191 million investment into Canadian cannabis company, Canopy Growth Corporation.
"Our investment in Canopy is certainly paying off," he said. "We've recognized gains of more than $700 million in our reported results since we've made this investment last year."
Sands said the company has devoted a "significant team of people" to developing and building cannabis brands "for the world market, including the U.S."
Sands added that Constellation is aware of Heineken-owned Lagunitas Brewing Company's announcement from earlier this week that it would partner with vape-cartridge producer CannaCraft to launch a line of cannabis-infused sparkling water products to be sold at California dispensaries on July 30.
"We're pretty interested in what they're doing and how they're doing it," he said. "We don't intend to get caught and be coming from behind."
However, Sands reiterated that the company won't do anything to violate federal law.
"That said, we're looking closely at precisely that issue and making sure that we understand what we can do and what we can't do," he said. "We're looking at it pretty carefully and if we see that opportunity within the confines of what we can legally do, we will do it."
When one analyst asked about Constellation forcing a wholesaler change in northern San Diego County, Sands, without naming the wholesalers involved, said the move from Markstein Beverage to Reyes Beverage Group was not indicative of a change in philosophy.
"The change made a lot of sense because we were able in that particular market to give that territory to another one of our very important distributor partners," he said.
According to Sands, a "more significant change," which he said was "glossed over" by the trade press, was the move of the company's wine and spirits portfolio to its beer distributor, Columbia Distributing, in the Pacific Northwest. He added that both moves aren't indicative of future changes on the horizon.
"We have a great relationship with our wholesalers," Sands said. "We're the company that's really providing 100 percent of their growth in many cases now, especially as you've seen craft having slowed down a bit."
Sands added that Constellation has " better relationships than anybody" with its wholesalers, the so-called "Gold Network."
Other Notes:
Increased trucking and logistics costs led to a 70 basis points drag, according to executive vice president and CFO David Klein. The company has "internalized" those costs.
Constellation is currently evaluating its pricing, which will go into effect in October, Klein said. He expects it will be in the 1 to 2 percent range.
Constellation is targeting high-single digit volume growth and between 9 and 11 percent net sales growth for its beer business in fiscal 2019.