A pair of beer brands have inked sponsorship agreements with Major League Soccer's LA Galaxy.
Craft Brew Alliance today announced a "multi-year partnership" with the Galaxy for its Kona brand to become the club's official craft beer. Specific financial terms of the sponsorship were not disclosed.
That announcement followed one last week in which Constellation Brands expanded its partnership with the Galaxy, making Modelo Especial the club's official import beer, according to Sports Business Daily.
The two companies join Heineken, which earlier this month renewed its sponsorship deal of MLS for five years.
As part of CBA's agreement with the Galaxy, a Kona-branded bar will be featured inside StubHub Center in Carson, California. The "Lanai-style" bar will sell three year-round Kona products — Big Wave Golden Ale, Longboard Island Lager and Hanalei Island IPA — as well as a rotation of seasonal and small-batch offerings. The bar is slated to open on March 31, in time for the Galaxy's match with crosstown rival Los Angeles FC. The space will remain open for the club's home matches throughout the season, as well as other events held at the stadium.
"There's just a great community feel, similar to when you're in Hawaii and everyone is just outside hanging out," Cindy Wang, CBA senior director of brand marketing for Kona and Omission, told Brewbound. "That's part of the experience that really drew us to the Galaxy as a partner."
The sponsorship furthers CBA's presence in a competitive California market, where Kona currently holds a five share of the state's craft segment and is a top five craft brand, according to Ken Kunze, the company's CMO.
"This partnership will help us reach a lot more consumers in Southern California than we were before and from an experiential standpoint," Wang said.
She added that the sponsorship gives the beer company the right to use the Galaxy's logo in consumer promotions, and Kona will be featured on digital billboards throughout the stadium.
"For this first year, we're focused on just retail promotion, both off-premise and on-premise," she said. "But that's not to say anything is off the table for coming years."
Wang said there are no plans to brew an official beer for the club this season, but "again, nothing is off the table for future seasons."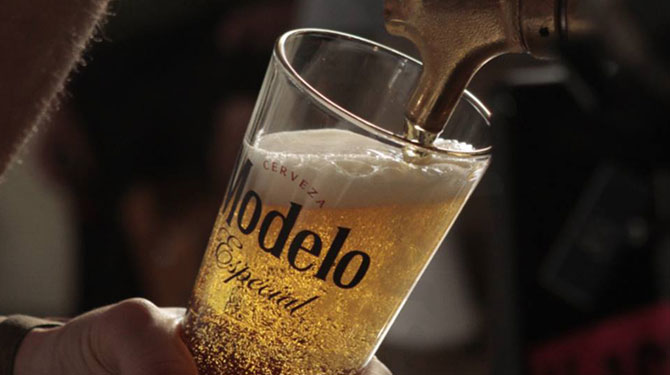 Meanwhile, Constellation Brands' multi-year sponsorship with the club will include a Modelo-branded space atop the stadium's west terrace, Sports Business Daily reported.
During today's fiscal year 2018 earnings call, Constellation Brands CEO Rob Sands said Modelo Especial was the No. 1 beer in the state of California in 2017. It also holds a top position in the Los Angeles and San Francisco markets.
In recent years, Constellation Brands has inked numerous sports sponsorships, including a deal last year to make Modelo the official beer of the Ultimate Fighting Championship, replacing Anheuser-Busch's Bud Light brand. The company also sponsors numerous global soccer events, and has agreements with various Major League Baseball and National Basketball Association franchises. It also recently signed an agreement for ite Corona label to become the official import beer of the Kentucky Derby.
A variety of beer companies have signed sporting sponsorships in recent months. Last week, Chicago's Revolution Brewing inked a multi-year deal with the Chicago White Sox for increased exposure throughout the ballpark. That deal followed several arrangements between craft brewers and baseball teams, including Boston Beer's Samuel Adams brand and the Boston Red Sox, Boulevard and the Kansas City Royals and Mikkeller and the New York Mets.
A press release with additional details is included below.
Goal! Kona Brewing Company Signs Multi-Year Partnership with LA Galaxy as the Official Craft Beer Sponsor
Hawaii's favorite craft brewery is bringing the Aloha Spirit to the LA Galaxy with the new Kona Lanai Bar at the StubHub Center
KAILUA-KONA, HI (March 29, 2018) – Today, Kona Brewing Company announced it has entered into a multi-year partnership as the official craft beer of the LA Galaxy. As part of the partnership, brokered by AEG Global Partnerships, Kona Brewing Co. will bring the island spirit to Southern California with a Lanai-style bar at StubHub Center, the Galaxy's home stadium in sunny Carson, CA. The "Kona Lanai" at StubHub Center will feature Kona's core year-round portfolio on tap, including Big Wave Golden Ale, Longboard Island Lager and Hanalei Island IPA, as well as exclusive rotating seasonal beers throughout the year. The Kona Lanai officially opens on March 31, 2018, for the much-anticipated LA Galaxy game against LAFC.
"Kona Brewing Co. is all about getting outside in the sun and having fun with friends and family," said Widaliz Quinones, brand manager, Kona Brewing Co. "This new partnership with the LA Galaxy is a perfect opportunity for us to share the aloha spirit with soccer fans in Southern California, and we couldn't think of a better teammate on the mainland."
Inspired by a traditional Hawaiian Lanai, the new open-sided bar is located on the south end of the main concourse of the stadium and will be a place where fans can enjoy a refreshing taste of Kona's Liquid Aloha or take a relaxing moment to unplug, Hawaii style.
"We look forward to working with Kona Brewing Co. to give our fans a taste of the island life," said Robert Vartan, senior director, AEG Global Partnerships. "Our partnership will allow us to offer our fans even more options to enhance their game-day experience."
The Kona Lanai will be open through the entire LA Galaxy season and during most publicly ticketed StubHub Center events, providing guests ample opportunities to experience some of Kona's Liquid Aloha during their favorite events.
For more details about Kona Brewing Company, please visit https://konabrewingco.com/.
For more information about the LA Galaxy, please visit https://www.lagalaxy.com/
About Kona Brewing Co.
Kona Brewing Company was started in Kailua-Kona on the Island of Hawaii in the spring of 1994 by father and son team Cameron Healy and Spoon Khalsa, who had a dream to create fresh, local island brews made with spirit, passion and quality. Today, Kona is Hawaii's largest and favorite craft brewery, known for top-selling flagship beers Longboard Island Lager and Big Wave Golden Ale and award-winning innovative small-batch beers available across the Islands. From the beginning, Kona has remained committed to brewing the freshest beer of exceptional quality closest to market, which helps to minimize its carbon footprint by reducing shipping of raw materials, finished beer and packaging materials.
Kona Brewing Co. has become one of the top craft beer brands in the world, while remaining steadfastly committed to its home through a strong focus on innovation, sustainability and community outreach. As part of Craft Brew Alliance, an independent craft brewing company that brews and distributes a variety of award-winning craft beer and cider brands, Kona is available in all 50 U.S. states and 30 countries worldwide. For more information call 808-334-BREW (2739) or visit www.KonaBrewingCo.com. Talk with us via Facebook, Instagram, and Twitter: @KonaBrewingCo
About LA Galaxy
The LA Galaxy is an American professional soccer club, based in Los Angeles that competes in Major League Soccer (MLS). It is one of the league's most-decorated clubs, having won the MLS Cup a record five times (2002, 2005, 2011, 2012, 2014)—the Supporters' Shield four times (1998, 2002, 2010, 2011), the Lamar Hunt U.S. Open Cup twice (2001, 2005), and is one of just two MLS teams to win the  CONCACAF Champions' Cup (2000).