Scottish craft beer maker BrewDog has tapped an industry outsider to lead the company's U.S. operations.
BrewDog last week announced the hiring of Tanisha Robinson as managing director. She will be tasked with "establishing the BrewDog brand, sales strategy, operational growth, and developing its American bar division" as the company prepares to begin delivering beer from its new 100,000 sq. ft. production brewery in Columbus, Ohio, according to a company press release.
Robinson comes from the tech industry, where she co-founded two companies: Print Syndicate, an e-commerce business that turns memes into print-to-order T-shirts, and TicketFire, an app that digitizes paper event tickets.
"The killer combination of her astute business instinct, huge passion for craft beer, and her love of our new hometown, Columbus made her the perfect fit," BrewDog co-founder James Watt said via a press release. "Our USA launch and expansion is one of the most exciting and ambitious ventures we've dreamt up yet, and with Tanisha at the helm, the sky is the limit."
Initial shipments of BrewDog beer, brewed in the U.S., are slated to hit Ohio retailers this week.
"Our biggest priority right now is getting our beer into people's hands," Robinson said via a press release.
After establishing itself in Ohio, BrewDog plans to expand distribution into neighboring states, it said. Other plans call for opening two BrewDog-branded craft beer bars in Columbus before the end of the year.
"Within the next 12 months, we'll be hiring across every aspect of the business," Robinson said via a release, "and with our Franklinton location opening in October and the Short North bar launching before the end of the year, we'll be more than doubling the size of our U.S. team, and we're always on the hunt for talented brewers as we expand capacity. "
A blog post also highlighted the addition of several U.S. staff members, including key account activator Emily Yax, who will be working with off-premise accounts, and Ohio market manager Mark Frame, a former sales rep with Columbus' Heidelberg Distributing.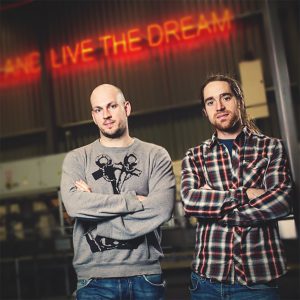 Earlier this year, BrewDog sold a 22 percent stake (worth $263 million) to TSG Consumer Partners, a San Francisco private equity firm that has investments in Pabst Brewing Company and Sweetwater Brewing.
In March, BrewDog raised more than $324,000 via IndieGoGo to build the "world's first crowdfunded craft beer hotel" and sour brewing facility.
Last year, BrewDog embarked on an Equity for Punks fundraising campaign that has generated more than $6 million from about 7,000 investors since its launch. That campaign will close on July 28.