The self-proclaimed "punks" behind Scottish craft beer maker BrewDog have sold a 22 percent stake to TSG Consumer Partners, a San Francisco-based private equity firm with existing investments in Pabst and Sweetwater Brewing.
The roughly $265 million deal, which values the company at more than $1.2 billion, according to BrewDog founder James Watt, will include $124 million of reinvestment into continued expansions in the U.S. and abroad. The remaining proceeds will be allocated for "early shareholder liquidity," Watt wrote on the company's blog.
Watt, along with co-founder Martin Dickie, are said to have netted more than $100 million from the deal, according to The Sunday Times. Following the transaction, Watt, who will remain the company's largest shareholder, will own about 25 percent of BrewDog, according to The Telegraph. Dickie, meanwhile, will continue to own about 22 percent of the business, the outlet reported.
BrewDog, founded in 2007, has built its reputation as an outspoken, corporate-bashing craft brewery. Over the years, the company has raised more than $33 million from more than 46,000 investors via four "equity for punks" crowdfunding campaigns.
"Our new partnership with TSG is a launch pad for us to turbocharge our mission to make the world as passionate about craft beer as we are, but it's also a validation of our crowdfunding model," Watt wrote. "Crowdfunding can no longer be viewed as alternative finance; this is the democratisation of finance."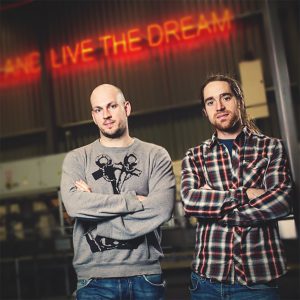 BrewDog's "equity punks" will be allowed to sell up to 15 percent of their shares, capped at 40 total shares, the company said. The earliest investors – those who contributed to the first round of Equity for Punks in 2010 — will see a 2,765 percent return on their investment.
That's a pretty nice payday for drinkers who bankrolled a BrewDog business built mostly on bravado and a carefully crafted image as the most rebellious, anti-as-they-come business in craft brewing.
"Assumptions might be made about BrewDog 'selling out', but this couldn't be further from the truth," Watt wrote. "We have taken on a minority investment partner, just like we did with The Griffin Group back in 2009."
In addition to its investment in BrewDog, the Griffin Group, founded in 2007 by former Skyy Vodka executive Keith Greggor, also owns the iconic Anchor Brewing Company in San Francisco, Calif., as well as Preiss Imports.
On top of nearly 50,000 "punk" investors, BrewDog has the financial backing of two investment firms already deeply entrenched in the beverage alcohol business.
The long-term plan, according to Watt, is to file for an initial public offering.
"We're looking to go public in four or five years," he told The Telegraph.
The company would most likely consider a public offering in the U.K., but Watt said the company is "open to considering options" as it continues to build out an ambitious $50 million brewery and taproom in Columbus, Ohio, that will eventually capable of producing 1.5 million barrels of beer annually.
The TSG investment is "designed to deliver long-term capital with 10 year time horizon," Watt said.
BrewDog revenues eclipsed $88 million in 2016, according to The Guardian. In 2015, BrewDog generated $47 million in revenues, according to a document released at the time the company launched its U.S. Equity for Punks crowdfunding campaign. The company, which produced more than 114,000 barrels in 2015, also operates 44 bars internationally, according to its website.