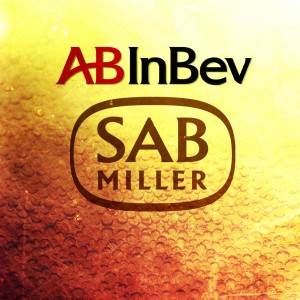 SABMiller Shareholders Approve MegaBrew
The saga of MegaBrew is almost MegaThrough.
On Wednesday, SABMiller shareholders backed Anheuser-Busch InBev's $100 billion-plus takeover by an overwhelming margin.
In a press statement, SABMiller, the world's second-largest beer company, said its shareholders had "passed both of the resolutions at the UK Scheme Court Meeting and the SABMiller General Meeting," despite objections from some of the company's investors.
The $103 billion transaction is expected to close on October 10, A-B InBev said in a press release. Once finalized, the combined entity would control nearly one-third of the world's beer supply.
In order to move forward with the tie-up, A-B InBev needed at least 75 percent of shareholders' votes; it secured approval from investors that represented more than 95 percent of share value.
The MegaBrew merger is more than one year in the making. Last September, A-B InBev confirmed that it had approached SABMiller about a takeover. After two months of negotiations, SABMiller executives accepted a deal that, at the time, was valued at approximately $106 billion.
That set off a chain reaction of international antitrust investigations, required divestiture agreements, and months of deal-making to bring things to the finish line.
A timeline of expected events leading up to the official October 10 merger is listed in SABMiller's press statement.
Drizly Launches Online Marketplace
Fresh off a $15 million Series B funding round led by venture capital firm Polaris Partners, on-demand booze delivery service Drizly yesterday announced the launch of its new "marketplace," that the company promises will "transform the way consumers shop for beer wine and spirits."
In a press release, Drizly touted the new marketplace as a tool that will make it easier for consumers to shop for alcohol online.
Drinkers can now simultaneously browse retailer inventories and compare prices side-by-side, which takes Drizly from being just booze delivery app, and turns it into a more robust Amazon-style marketplace.
"Analysts predict that close to 40 percent of online spend will be owned by marketplace retailers by 2020," co-founder and CEO Nick Rellas said in a release. "Our shift to the marketplace model was the natural progression for our business and having that vision early on has allowed us to excel at each stage as we streamline the alcohol shopping experience for consumers."
The new format will likely mean stiffer competition amongst retailers, who could be forced to match lower priced offered by other retailers in their area, but Drizly claims the move will also provider liquor store owners with "additional customers, modern inventory management tools and improved local market insights."
Southern Oregon Brewing to Pour its Final Pints
Southern Oregon Brewing will close its doors today, owner Tom Hammond announced via the company's Facebook page last week.
"I am very proud of everything that we have accomplished as we pursued our mission," he wrote. "We created the finest hand-crafted local ales and lagers without compromising our standards of quality or personal integrity. We created good jobs, championed other local businesses and supported/sponsored local philanthropic, cultural and sporting organizations whenever we could and most importantly we created a place for friends to meet and share their lives while they enjoyed a pint or two."
In an interview with the Mail Tribune, Hammond cited increasing competition, declining sales and a lack of resources as reasons for shuttering the business.
"Timing and opportunity are so important in ventures like this, and I guess ours wasn't the best," he told the outlet. "We started before the current growth spurt, but we also started at the beginning of the recession."
According to Brewers Association records, Southern Oregon brewing produced 2,103 barrels of beer in 2011, an amount the dipped to just 1,395 barrels last year.
The declining sales were a setback, and altering the distribution strategy wasn't an option, Hammond said.
"The idea of scaling back to be just a local brewery was not a possibility," he told the Tribune. "Our fixed expense was not compatible with that. We needed to have distribution around the state and the western United States."
Hammond had tried selling the business last year and, despite some initial interest from potential buyers, a deal never materialized.
BrewDog Adjusts Opening Timeline
Originally slated to go live in late 2016, BrewDog USA has pushed back the official opening date for its new Ohio brewing facility until next January, the Columbus Business Journal reports.
At an event for investors held last weekend at the company's unfinished 100,000 sq. ft. brewery, BrewDog USA co-founder and CEO James Watt toured investors around the facility and shared his initial U.S. plans.
The company will distribute to five or 10 states initially, according to the report, and a separate brewpub, located in the Franklinton area of Columbus is also planned for 2018.
Although BrewDog has ambitious plans for its U.S. brewery launch, the company has only been able to raise $2.5 million of a $50 million crowdfunding campaign that is intended to help finance the new facility, Watt shared. It's also been forced to delay early production runs because of equipment delivery delays.
"It's not ideal, but we're dealing with it," he told the outlet.
Majority of Congress Now Supports Reduction in Beer Tax
The majority of U.S. senators support now beer tax reform, according to a jointly produced press release from the Brewers Association and the Beer Institute.
Senators Joni Ernst (R-IA) and Heidi Heitkamp (D-N.D.) became the 50th and 51st senators to officially endorse the Craft Beverage Modernization and Tax Reform Act, the two groups said.
"It's been 40 years since excise tax has been reformed for American brewers. Now is the time for change," Brewers Association CEO Bob Pease said via the release.
As a refresher, the craft-friendly legislation would lower excise taxes on all brewers, importers, distillers, cider producers and winemakers, and is jointly backed by the BI and the BA. As written, CBMTRA reduces the federal excise tax to $3.50 per barrel on the first 60,000 barrels for domestic brewers producing fewer than 2 million barrels annually. It also reduces the federal excise tax to $16 per barrel on the first 6 million barrels for all other brewers and all beer importers.
Earlier this year, a house companion bill reached more than 200 co-sponsors.
"Now that a majority of both the House and the Senate support the legislation, we look forward to Congress taking up the bill and moving it to President Obama's desk to become law," Beer Institute CEO Jim McGreevy said via the release.
Abita Launches Louisiana Exclusive
Beginning next month, Abita Brewing will begin selling "The Boot," a new 4.8 percent ABV beer sold only within Louisiana.
The new offering — brewed with white wheat, oats, and barley, hopped with Hallertau Blanc and fermented with German Kolsch yeast — was created to show the company's "appreciation" to its home state.
"The Boot is a single beer that can fit in at every occasion and is a brew for every type of beer drinker. It's easy drinking, crisp and smooth, and a perfect go-to beer," the company wrote in an email.
Check out the artwork below.