Covington, KY – You will soon be able to enjoy Braxton Brewing Co.'s canned beers in Cincinnati. After initially launching Storm Golden Cream Ale 12 oz. cans in Northern Kentucky retailers in November, the Covington-based brewery is now expanding distribution into the Cincinnati market.

In addition, Crank Shaft IPA will be available in cans in both Northern Kentucky and Cincinnati. Crank Shaft cans and expanded distribution will launch in late February.

"There hasn't been a day that goes by where someone doesn't ask me what our second can is going to be and when we'll be launching it." Said Jake Rouse, Braxton Brewing Company's Co-Founder and CEO. "I think the second most asked question I've heard is when will people be able to grab a six pack in Cincinnati. With that in mind, I'm beyond thrilled to share the news on both fronts! Not only will Crank Shaft truly complement the momentum we have seen with our Storm can, but our fans will soon be able to grab them on both sides of the river!"

Braxton Brewing Company will continue to partner with Stagnaro Distributing to deliver Storm and Crank Shaft cans to Northern Kentucky and Cincinnati retailers. Crank Shaft, like Storm, will be packaged in 12 oz. cans and sold in 6-packs for $9.99.

"The reception to Storm cans in Kentucky has been incredible," said Mike Stagnaro, CEO, Stagnaro Distributing. "The velocity per point of distribution is one of the highest in the market and Crank Shaft is one of the most balanced and approachable IPA's I have ever tried."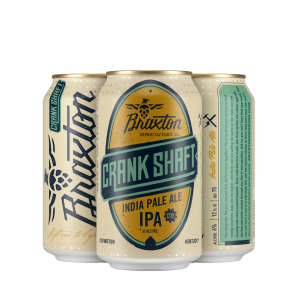 Since launching in March of 2015, Crank Shaft has been one of Braxton Brewing Co.'s most popular offerings. Brewed with Amarillo, Chinook, and Simcoe hop varieties, the IPA features notes of citrus fruit, mangoes, and pine. The bitterness is more rounded than most, due to primarily late hop additions, as well as dry hopping. The use of three different types of malts give this brew a more balanced body and slight amber/light Caramel color.

In May, Crank Shaft received a Gold Medal at the Commonwealth Cup in the IPA Category.

"Crank Shaft is a more balanced approach to the IPA category," said Head Brewer, Evan Rouse. "We wanted an end product that wouldn't make you want to run away from hops, rather towards another Crank Shaft. At 6% ABV and 75 IBU, this balanced IPA will do just that!"

Helping bring this brand to life, Braxton Brewing Co. has continued its work with Neltner Small Batch.

Crank Shaft cans will become available in the Braxton Brewing Company taproom on Tuesday, February 16th.