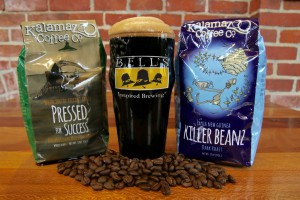 Comstock, Mich. – Bell's Brewery, Inc. and the Kalamazoo Coffee Co. have come together to create a brand new specialty stout.
Bell's Milchkaffee (5.5% ABV) is a sweet, milk stout brewed with a blend of two coffee beans, Pressed for Success, a medium roasted Nicaraguan coffee and Killer Beanz, a dark roasted Papua New Guinea coffee, roasted just a block away from Bell's original brewery, next to the Eccentric Café, in downtown Kalamazoo.
"It's exciting to work with another local Kalamazoo business and create something new that combines both of our passions," said Bell's Vice President, Laura Bell.
"This collaboration is another great example of what makes our hometown special and unique," she added.
Milchkaffee is a German phrase which translates to "milk coffee" and refers to a drink similar to a Café au lait.
The coffee used in the brewing process was made using a cold brewing technique which extracts the coffee aroma and flavor without any acidic or acrid notes. Combined with lactose, this technique gives the beer a smooth, gentle coffee character. Lactose also lends a silky, slightly sweet note to Milchkaffee.
"We are proud to work with Bell's. There is nothing better than to have local businesses working together to create something special for their community, that in itself is what helps create community," Garrett Krugh, owner of the Kalamazoo Coffee Co. said.
Only available on draught, this beer will be part of a special celebration at Bell's Eccentric Café, 355 E. Kalamazoo Ave., on Nov. 11 featuring live performances from Kalamazoo's Ghost Bunnies and Saxsquatch & Bridge Band. Coffee samples from the beans used to brew this stout will also be available to taste alongside the beer.
Doors will open at 7 p.m. and music will start at 8 p.m. There is no cover (this event is 21 and up with valid ID).
A limited amount of this collaborative beer will also head to some events outside of Kalamazoo later this year. Details will be announced at bellsbeer.com as they become available.
About Bell's Brewery, Inc.
Bell's Brewery, Inc. began in 1985 with a quest for better beer and a 15 gallon soup kettle. Since then, we've grown into a regional craft brewery that employs more than 440 people over a 22 state area, in addition to Puerto Rico and Washington DC. The dedication to brewing flavorful, unfiltered, quality craft beers that started in 1985 is still with us today. We currently brew over 20 beers for distribution as well as many other small batch beers that are served at our pub in Kalamazoo, the Eccentric Cafe. Our ongoing goal is to brew thoughtfully, creatively and artistically. We strive to bring an authentic and pleasant experience to all of our customers through our unique ales and beers. For more information, please visit bellsbeer.com.
You can also find Bell's on Facebook, Twitter, Google+, Instagram, Pinterest, Flickr and foursquare.
About Kalamazoo Coffee Co.
Kalamazoo Coffee Co. set out in late 2008 with one simple goal- to provide quality roasted coffee. This goal has not changed. From humble beginnings to our current capacity, producing an excellent cup of coffee has been our main focus. Our coffees are carefully sourced from around the world, then hand roasted on our pair of Probat roasters. Our coffees are sold locally and through distribution across the Midwest in over 200 grocery locations. Every step of the process is carried out by our small, dedicated workforce.
From roasting, to packaging and even hand painted artwork featured on the front of every bag, our enthusiasm for great coffee prevails and is something we're proud to share. We are located at 414 Walbridge St. in downtown Kalamazoo, MI. Featured at the same location as our roasting operation is our award winning coffee shop, Black Owl Cafe. For more information, please visit: www.kalamazoocoffeecompany.com.