E-commerce retail sales are approaching $400 billion dollars, but a mere 0.2 percent of beer — or about 3.5 million cases — was purchased online last year, according to Heineken CEO Ronald den Elzen.
Den Elzen, presenting to more than 200 beer industry professionals attending yesterday's Beer Marketer's Insights seminar in New York City, called the shift away from brick-and-mortar purchases a "retail revolution." By 2021, den Elzen projected that online beer sales will grow to 2.4 percent, to 53 million cases.
"Which is still nothing," he said. "But it's growing 70 percent per year. And that 70 percent will keep on rising."
According to den Elzen's, 10 percent of all off-premise beer sales could occur online as early as 2025. And as online beer sales continue to grow, so too will the power of e-tailers, such as Amazon, who help drive consumer choice, den Elzen said.
"They have the power to drive choice more than we've ever seen before," he said, demonstrating a voice-powered Amazon Alexa only offering a consumer the retailer's private label battery brand.
Den Elzen added that Amazon is working to disrupt the way the three-tier system operates by hiring "multiple lawyers" to figure out how the company can "sell directly to consumers and retailers and order from one or two warehouses in the neighborhood."
"There's going to be a big push by them to make their life simple, and to order as simple as they can, to stock as simple as they can, and to distribute in one trip to the distributor," he said.
Later in the day, during a panel discussion featuring three U.S. beer wholesalers, Chris Steffanci, the president of Columbia Distributing in Washington, said he's witnessing Amazon's strategy of competing in all three tiers unfold.
"Amazon is here to stay, and they absolutely want to be in beverage alcohol," he said. "I believe, if anything, they are going to fundamentally change the way the three-tier system looks over the next 10 years."
Columbia — which is projecting about $1.5 million in revenue generated by selling to Amazon this year — currently works with 14 buyers and three category specialists to supply the retailer's various verticals, including Prime, Prime Now, Go, Fresh, Kitchen, and Pantry, Steffanci said. He added that the company holds weekly conference calls with the e-commerce goliath and meets with its buyers monthly.
Steffanci said Columbia is attempting to work proactively with Amazon. To help facilitate the relationship, the wholesaler has created an e-commerce team within its chain department and dedicated several employees to working full-time on the Amazon account, he said.
"For distributors to only look at this as a chance to hunker down and make your franchise laws tougher and not get proactive in dealing with Amazon, arguably, for the second tier of our industry, is going to be a huge mistake," he said.
Meanwhile, marijuana continued to be on the minds of many executives following Constellation Brands' $191 million investment in Canada's Canopy Growth Corporation — the world's largest publicly traded cannabis company.
In a conversation with Beer Marketer's Insights publisher Benj Steinman, Constellation Brands CEO Rob Sands said his company is making a future play into marijuana, which he believes will "inevitably" reach full legalization in the United States.
However, Constellation Brands won't be selling any products containing cannabis within the U.S. until it is "100 percent legal to do so, either federally or otherwise," Sands said.
Those potential products will likely be non-alcoholic due to legal concerns, Sands added.
"In terms of our developing something, if we do, we'll probably be a little more thoughtful," he said of cannabis-infused beverage offerings containing alcohol. "It may not be necessary to combine it."
From a distributor's point of view, Steffanci said marijuana sales in Washington haven't helped Columbia's business in the last 18 months. In fact, he pointed to a 3 percent decline in beer consumption in the state.
"How much is it hurting?" he asked. "I just look at pure economics, and people only have so much disposable income, especially millennials."
"It's a social lubricant just like beer," added Manhattan Beer Distributing COO Ed McBrien. "I see it as a competitor."
Anheuser-Busch InBev Launching Michelob Ultra Line Extension Next Year
Also at the meeting, Anheuser-Busch InBev vice president of sales Alex Medicis revealed plans to launch a Michelob Ultra a line extension, called Ultra Pure Gold, during the second quarter of 2018.
Ultra Pure Gold is brewed with organic grains and has lower calories and lower carbs than Michelob Ultra, Medicis said.
In other A-B news, Medicis said the layoffs that impacted hundreds of employees earlier this year would provide cost savings and allow the company to reinvest behind its brands in other ways, including a Super Bowl ad for Stella Artois.
"Maybe a few of those dollars are going there," he said.
Firestone Walker, Founders and Dogfish Head Give Business Updates
Firestone Walker flagship brand 805 now accounts for about 60 percent of the company's volume, according to co-founder David Walker.
"About 90 percent of that 60 percent is in California," he said. "It's still very much the ultimate local brand as far as we're concerned."
Firestone Walker is anticipating a 15 percent increase in revenues as the company projects selling about 400,000 barrels of beer by the end of the year, Walker added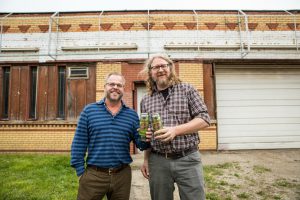 Meanwhile, Founders Brewing's All Day IPA has grown to become 63 percent of the company's volume, co-founder Mike Stevens said.
"We've created this momentum — that's a reason for us to throw the accelerator down on it," he said of the brand.
Founders, which is on pace to sell 450,000 barrels of beer this year, is now focused on building a second major SKU by launching seasonal 15-packs of cans.
"That's the next challenge for '18," Stevens said. "Let's get that seasonal SKU in, and let's bring that volume up to a significant level, and then we'll have our one-two punch."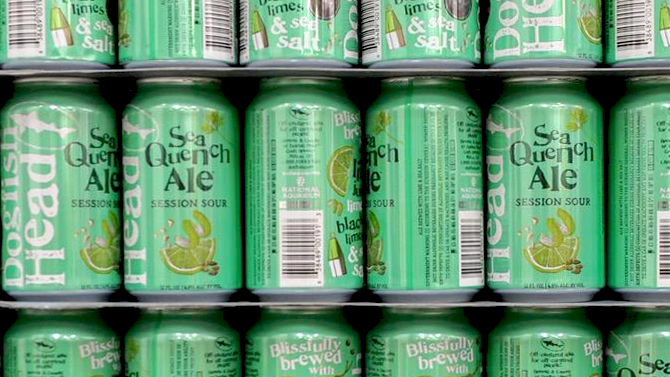 Meanwhile, Dogfish Head founder Sam Calagione said the company's sales are up 21 percent year-to-date, with 30 percent of the growth coming from new markets.
Sales of the Delaware craft brewery's beer are up about 20 percent in its Mid-Atlantic markets, Calagione said, which he credited to innovation and packaging beer in cans.
Dogfish Head is on pace to sell about 280,000 barrels by the end of 2017. Newer brands such as SeaQuench sour ale and Flesh and Blood IPA are now on pace to eclipse 90 Minute IPA as the company's second and third best-selling offerings.