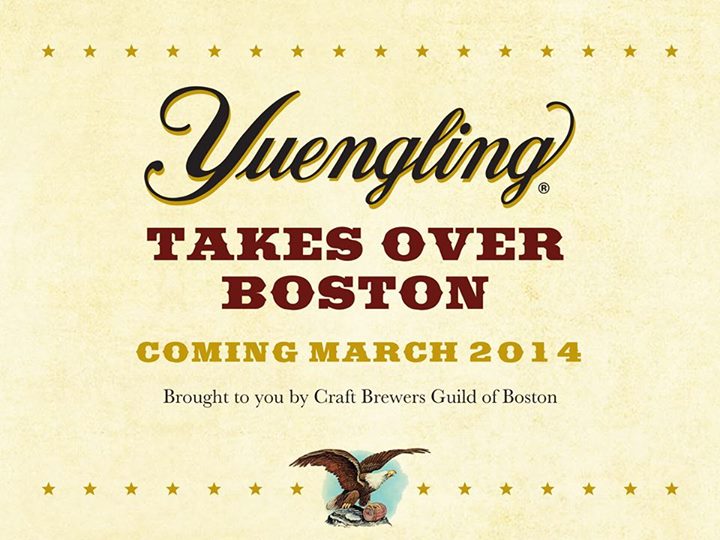 Yuengling's planned mid-March rollout in Massachusetts is the most anticipated brewery launch in the last decade — or at least that's what the Pottsville, Penn.-based company thinks.
"Not since Coors or Corona has a brand come along that will have as much impact as Yuengling will in Massachusetts," Yuengling COO Dave Casinelli told Brewbound. "If we were below a five share, I would tell you that we'd be very disappointed and didn't do a good enough job of executing our rollout."
Much of the responsibility to execute will fall to Yuengling's seven distributors: L. Knife & Son Inc., Seaboard Products, Craft Brewers Guild of Boston, ABI House of Quality, Girardi, Williams and Atlas Distributing.
"When you go into a new market, you always want to set benchmarks and hold people accountable for those expectations," Casinelli said. "There is nothing etched in stone, but there is an expectation to hit big in Massachusetts."
The move into Massachusetts would seem to come with the brand at something of a crossroads: after several years of strong growth, Yuengling slowed last year, selling 2,721,000 barrels in 14 states — 68,000 barrels fewer than in 2012. The company's best-selling brands — Lager, Light Lager and Black and Tan — accounted for roughly 97 percent of volume last year, 65 percent of which is sold off-premise. IRI pegged total dollar sales for Yuengling at more than $315 million last year.
To recapture the momentum, the famously slow-to-expand company is finally moving into new territory, and if things go well, Casinelli has hinted, it may end up using Massachusetts as strategic springboard into the rest of the Northeast. The company is currently finalizing its own go-to-market strategies and execution plans, but Casinelli believes Yuengling is poised to recover some of those lost barrels and capture a "high single-digit" share during its first year of distribution in Mass..
"We've put a lot of time and energy into doing our homework," he said. "We spend a lot of time physically going into the market, understanding it, meeting with retailers and getting a sense of the dynamics across the state. Retailers are excited to sell the brand."
To help build on that excitement and drive consumer trial, the company is planning to invest in a phased advertising campaign that will likely include billboard placements, radio and television commercials as well as digital and social advertisements, Casinelli said. The company is also currently in the process of hiring two in-state sales representatives.
"We will start with teaser campaigns to let the market know who we are and what we are all about," he said. "We will also have consistent campaigns that will run throughout the year."
Casinelli couldn't comment on how big Yuengling's initial shipment would be, but did say that a "significant amount" of trailers will begin bringing beer into the state in mid-March.
But to capture 5 percent of the market, Yuengling will need more than billboards. In fact, in order to hit its numbers, the company will need to sell roughly 180,000 barrels of beer in the state.
That means other suppliers will be impacted.
"Those with the most have the most to lose," said Casinelli.
Jamie Walsh, the bar manager at Boston's Stoddard's Fine Food and Ale, said he will likely drop Pabst Blue Ribbon to make room for Yuengling and thinks other bars might do the same.
"In our market, Yuengling has been this forbidden fruit, almost like the cache of a mysterious Vermont brewery," he said. "I see PBR taking a hit in this area as well as maybe Bud and Miller High Life. Will it dent into Boston Lager or Sam Light? I don't know. I think for the most part, the Sam Adams drinkers are indebted to their beer."
Casinelli said Yuengling isn't targeting any specific brands but knows other breweries will undoubtedly lose shelf space and tap handles.
"Yuengling is going to disrupt the market, take spigots and floor space," he said. "I'm sure as we are putting our offensive strategies together, other breweries are putting their defensive strategies together."
The state's top five suppliers — Anheuser-Busch, MillerCoors, Crown Imports, Boston Beer Company and Heineken USA — collectively made 80 percent of the beer sold in Massachusetts through the first six months of 2013.