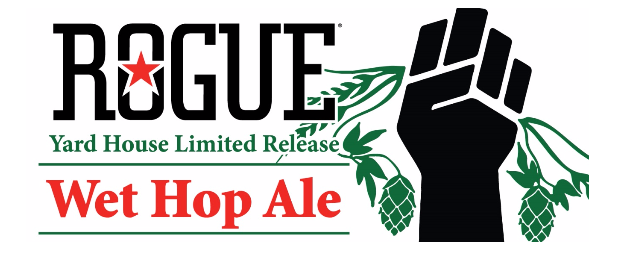 Irvine, Calif.– Since launching its Chalkboard Series nearly five years ago, beer enthusiasts have looked to Yard House for the latest seasonal beers and small batch brews. This November the digital chalkboard that hangs above the restaurant's signature island bar will proudly display Rogue Wet Hop Ale, brewed specially for Yard House.
"This is an extremely limited wet hop ale," said Gregory Howard, director of Beverage Strategy for Yard House. "It's made with more than a thousand pounds of fresh Yaquina Hops, which is triple the amount of hops used for a regular batch of beer. We're very excited to be the only restaurant to carry this beer during the month of November."
Rogue Ales & Spirits, located in Newport, Oregon, grows the proprietary and one-of-a-kind hops on their farm in nearby Independence. Brewmaster John Maier and his team at Rogue Ales & Spirits made the pilgrimage to the farm in late August to hand select the hops needed for this particular brew. They immediately returned to the brewery, pitched the hops directly into the kettle which went from bine to brew in two hours flat. The result is a masterful India Pale Ale made with exclusive Pac-man Yeast, a signature ingredient that sets Rogue apart from its competitors.
"I think this particular beer will tap out quicker than usual," added Howard. "Yard House will be the only place to offer it, at least during the month of November, and beer enthusiasts won't want to miss the opportunity to have a pint. We're expecting it to last on our beer head 2-3 weeks at the most."
From the first day Yard House opened its doors on December 7, 1996, along the Long Beach waterfront in California, Rogue has had at least one tap handle (usually more) at the bar. The longstanding relationship between Rogue and Yard House continues to strengthen with each passing year.
In addition to Rogue Wet Hop Ale, which will be available at all 65 Yard House locations, the restaurant will also highlight a handful of fall beers as part of its November Chalkboard Series. Guests can expect seasonal and small batch brews with flavor profiles that include pumpkin, allspice and other hints of autumn. Selections will vary from location to location, and guests can peruse Yard House's website by location to see what's available in real time.
Yard House is open daily for lunch, dinner and late-night dining. For more information, visit yardhouse.com or follow on Facebook at facebook.com/yardhouse or on Twitter @yardhouse
About Yard House
When Yard House opened in 1996 in Long Beach, California, it revolutionized the restaurant industry by creating a 250-tap draft beer system. Its lofty design, warm wood accents, and industrial vibe with the use of steel and chrome, made it a dining destination from the start.
Nearly 20 years and 65 restaurants later, Yard House still leads the way with great food, classic rock and a vast selection of draft beer while evolving into an award-winning dining destination known for its menu of American favorites, crafted cocktails and endless fleet of tap handles featuring the best American craft beer and imports. The exhibition kitchen creates more than 100 items made from scratch daily with quality ingredients and globally inspired flavors. The menu reads like a road trip across America and guests can select from an array of items, including grilled burgers, gourmet salads, street tacos, steaks, seafood and house favorites.
Each Yard House has its own distinct beer list with a handful of taps reserved for local and regional brewers along with an offering of seasonal and small-batch selections as part of the rotating "Chalkboard Series." The glass-enclosed keg room showcases hundreds of steel barrels containing as much as 4,000 gallons of beer that flow to the center-island bar through an extensive network of tubing positioned overhead. From there the beer is fed to the taps where it's served ice-cold by the pint, 9-ounce shorty, goblet or half-yard glass container. Yard House is also well-known for its classic rock boasting a library of 10,000 songs with each location having its own distinct playlist. Yard House is open daily for lunch, dinner and late-night dining.