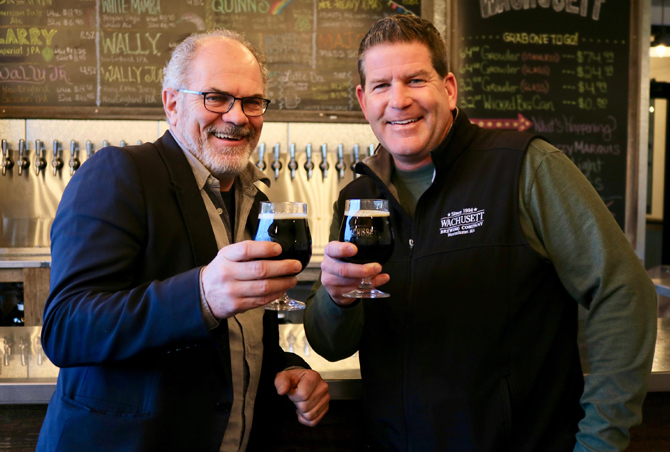 Massachusetts' Wachusett Brewing has partnered with former Guinness brewmaster Fergal Murray to kick off a new set of collaboration brews that the company has dubbed the "1794 series."
Set to debut on February 23, "The Fergal Project" is a 4.5 percent stout that combines Irish malts with the same American hops used in Wachusett's "Wally" New England IPA.
"I've known Fergal for about 15 years," Wachusett president Christian McMahan told Brewbound. "He had heard about Wally, and the success we were having with a New England IPA, and his idea was to take the Irish malts that he knows and is familiar with and combine them with the hop bill of Wally."
McMahan said he hopes to collaborate with Murray on future offerings, taking "classic global styles and putting a U.S. craft spin on them."
Future 1794 series offerings, set to roll out later this year, will include an IPA infused with pickle brine – called Willy Dilly – and a coffee stout called Latte Da.
Beyond the 1794 series, Wachusett is planning to introduce a number of new launches in 2018, including a lower ABV Wally New England IPA line extension called Wally Jr.
"Session was a natural progression for us," McMahan said, noting the company also made a blood orange-infused version of the hazy IPA called Wally Juiced last year.
"We think there is a strong session opportunity in the New England IPA category, and we want to establish a mainstream leadership position with the Wally platform," he added.
The hazy IPA trend isn't the only opportunity the company is trying to capitalize on in 2018. It's also drawing inspiration from the wine category and launching two rosé-flavored products – a hard rosé seltzer under the Nauti label, which it owns, and a rosé wheat beer under the Wachusett label.
"Rosé transcends wine," McMahan said. "It has become a symbol of fun and flavor. We are trying to extend those rosé occasions into non-wine occasions."
Both products are set to hit the market in late March, he added.
The company also plans to introduce a tropical-style IPA, called Mass Soul, and convert its Nauti 12-packs to 15-packs.
Wachusett produced approximately 70,000 barrels in 2017, and is looking to grow by more than 14 percent this year, McMahan said.
"We just had a record January, and that's before any of the innovation has even come out," he said. "We've received a lot of positive feedback about the new products from wholesalers and retailers."
A press release with additional information about "The Fergal Project" is below.
Wachusett Brewing Partners with Legendary Irish Master Brewer Fergal Murray For His 1st US Craft Beer Collaboration
WESTMINSTER, Mass. — Wachusett Brewing Company is kicking off a new line of limited edition beers with a major bang. The first beer in its new 1794 Series will feature a collaboration with renowned Irish Master Brewer Fergal Murray. The beer, appropriately titled "The Fergal Project," is being billed as a New England Stout, an exciting new interpretation of the style. The stout combines classic Irish malts with American hops Wachusett has featured in its well-regarded New England IPA Wally.
"I've known Fergal for almost 15 years," said Christian McMahan, President of Wachusett Brewing Company. "When we talked about the launch of this new collaboration series, there was no one else I wanted us to work more than Fergal. His knowledge of the stout category is second to none. We are honored he chose Wachusett as his first U.S. craft beer partner." McMahan concluded.
"I've been watching and keeping an eye on Wachusett, so I got on the phone with my buddy Christian and here we are," said Fergal Murray. "I love working with people that are passionate about making great beer and certainly found that with everyone I met at their brewery, the whole creative process was a pleasure," Murray concluded.
The collaboration themed 1794 Series is a homage to the year that the iconic symbol of the Wachusett brand, the barn at October Farm was built. The quality, craftsmanship, and collaboration that went into the construction of the barn over 200 years ago — and still stands strong today — is symbolic of the newest extension of the Wachusett Brewing family.
"The Fergal Project" will be released on draft and in 4-pack 16oz. cans February 23rd. "The Fergal Project" is 4.5% ABV and 40 IBUs.
For more information about Wachusett Brewing Company, visit www.wachusettbrew.com.
About Wachusett Brewing Company
The company produces a diverse, award-winning line of beers ranging from their best-selling Blueberry Ale to their recent introduction, the highly-rated Wally, a New England IPA. WBC is the largest brewer in Central Massachusetts and was one of the top 10 fastest growing craft breweries in the US in 2016.