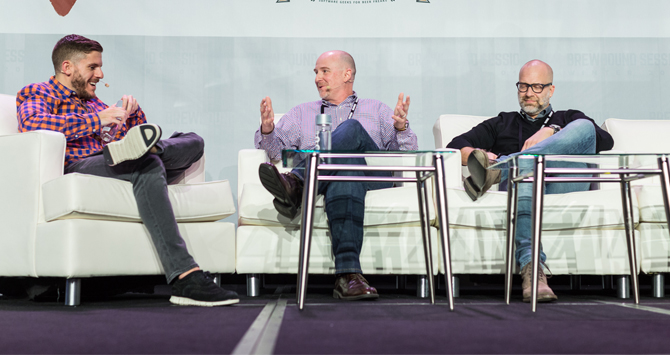 More than 200 beer industry professionals met in Santa Monica for the annual winter Brewbound Session business conference in early December. Videos from the all-day event are now available online.
The theme of this year's conference, held at the Loews Santa Monica Beach Hotel, was the future of the beer business, with leaders from all three industry tiers discussing ways to grow the category and reach future consumers. The event also featured the annual Brewbound awards and Startup Brewery Challenge 9 business pitch competition.
If you missed the live stream or would like to rewatch presentations from the day's program, the videos have been posted to the Brewbound YouTube channel as well as below.
Ninkasi Brewing Company co-founder Nikos Ridge and CEO Cheryl Collins opened the day with an analysis of their evolving approach to product innovation, including a more rigorous vetting of potential beer releases. The duo also discussed how to maintain a brewery's culture during and after a leadership change.
"We'll brew a lot of things, and try a lot of things, but part of our process is not expecting every one of them to make it to market," Ridge said. "Your sales and marketing dollars become much, much more effective when the foundation of the beer that you're putting out is much stronger."
Drizly co-founder Justin Robinson and vice president of strategic partnerships Taylor Burton provided a window into the growth of their ecommerce platform.
"We're helping our partners go out and meet consumers where they are and on their terms," Burton said.
This year alone, 12 million consumers — or 5 percent of the legal drinking age population — have visited Drizly's website. The company is on track to process 1 million transactions, and overall ecommerce alcohol sales are projected to continue growing. Robison said alcohol ecommerce could account for between 8 and 15 percent of industry sales in the next five to seven years.
The morning session wrapped up with a presentation on Generation Z (aka Centennials) — the first members of which will turn the legal drinking age on January 1. Kantar Futures vice president Lindsay Kunkle and Tropos Brand Consulting founder Mike Kallenberger explained the differences between centennials and the millennial generation that preceded them.
Centennials are the first generation to have grown up with the Internet and social media from Day One and to come of age in an era of economic volatility and terrorism, Kunkle explained.
"Change is the one constant of Centennials' lives," she said.
The afternoon session resumed with Total Wine & More senior manager Matt Bardill and spirits category director Amanda Batchelet giving an overview of beer sales at the retail level. Beer sales at the liquor store chain have been flat this year, accounting for about 15 percent of the company's business, they said.
From Bardill's perspective, innovations such as hard seltzers are one way in which the beer category can "steal some share back from spirits and wine" and reach female consumers.
"It's more approachable," he said. "That's one of the things that we have to work on as an industry — how do we talk to more than just the young male customer?"
Also joining the afternoon program were Uinta Brewing Company chief marketing officer Jeremy Ragonese and Omnicom Media Group managing director Darrell Jursa, who examined the future of beer marketing, highlighting digital marketing strategies.
The talks concluded with Constellation Brands chief marketing officer Jim Sabia and Craft & Specialty division president Marty Birkel giving insights into their strategy for the high end — defined as products priced at $25 per case and above. According to Sabia, the high end segment could add about 500 million more cases of beer in the next decade.
"We believe it's all about premiumization," he said.
Keep an eye on this space for updates on the 2018 Brewbound Session and registration.