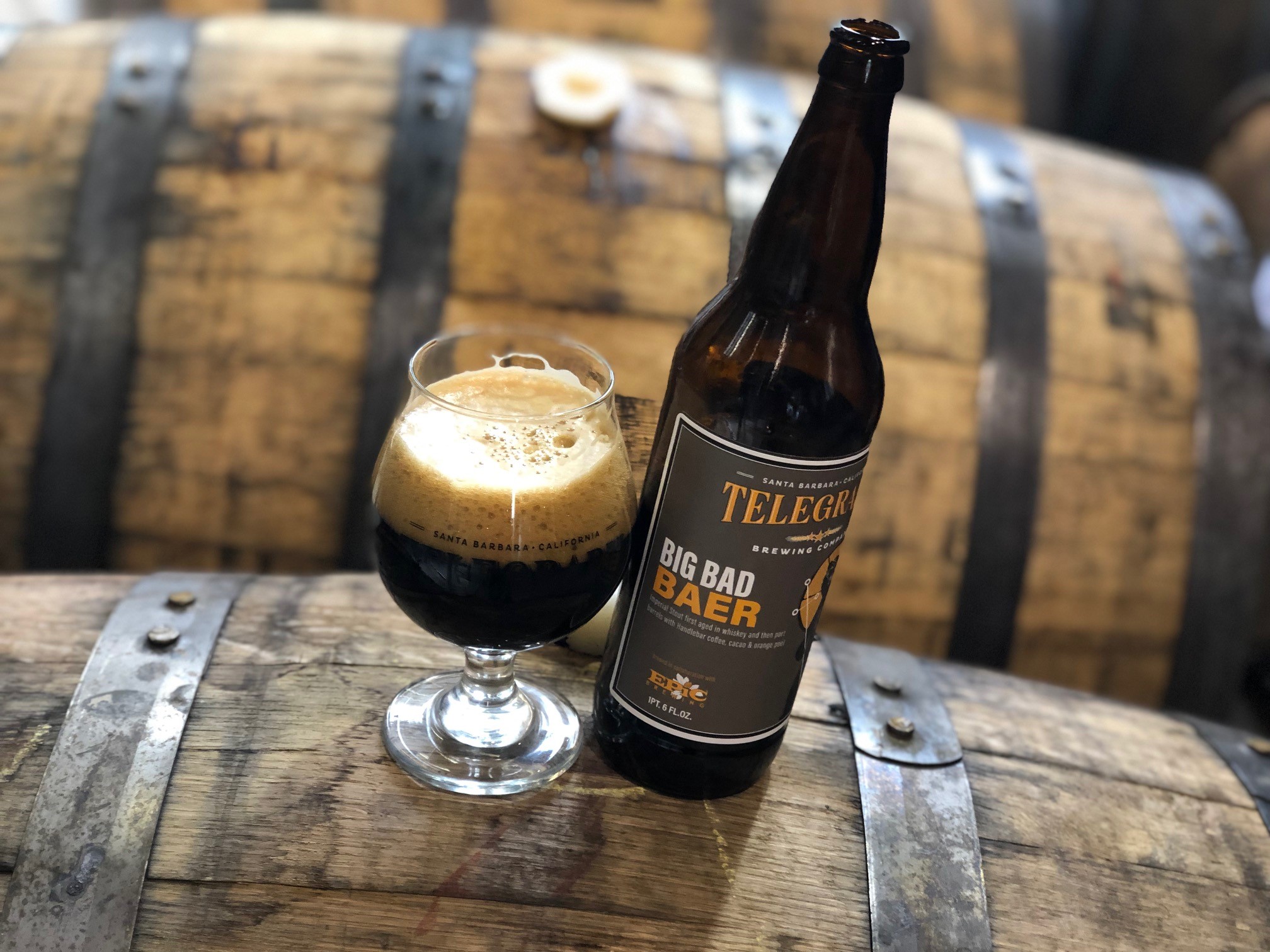 SANTA BARBARA, Calif. — The Big Bad Baer, Telegraph Brewing's first double-barrel-aged, imperial stout has emerged from its long slumber in both Whiskey and Port Wine barrels and will roar into the California market just in time for the holidays. This massive beer was brewed as a collaboration with Epic Brewing, inspired by their well-known Big Bad Baptist and named after Telegraph's Head Brewer, Peter Baer.
"I've been working with Epic's brewing team for the past year while developing our new IPA's and sours. It's been a lot of fun tossing ideas back and forth and when the opportunity came up to do a Big Bad Baptist inspired barrel-aged stout I immediately started thinking of ways to infuse it with a Santa Barbara flavor." explains Peter Baer, Telegraphs Head Brewer. "The addition of orange peel really compliments the cacao nibs in the beer and the use of Port barrels adds new depth and complexity not often seen in this style of beer and definitely makes it Uniquely Californian."
Big Bad Baer, 13% ABV, is aged in first-use whiskey barrels for nine months then finished in freshly drained Port Barrels for an additional few months before being blended with Handlebar Coffee's Honduras Marcala beans, cacao nibs and sweet orange peel. The result is a luxuriously rich and decadent Stout that transitions from roasted coffee and chocolate sweetness to ripe fruit and a hint of citrus.
"We selected Handlebar's Honduras beans because it highlights the coffee berry with hints of apricot and is very lightly roasted. These beans compliment the flavors from the port barrels and allows them to shine through rather than get buried in overly robust roasted flavors." says Jordan Schupbach, Epic's Director of Brewing Operations.
Big Bad Baer will be exclusively released at the Telegraph taproom on December 7th at 5:00 pm. Unwaxed bottles will be available for customers to dip themselves as well as a special desert pairing from Beefhearts Restaurant Pop-up and music by DJ Val-Mar. The beer will be distributed across California in craft beer bars and select stores in the weeks before Christmas. Only 325 cases were produced, and supply is limited.
Peter Baer joined the Telegraph team in 2009 washing kegs and scrubbing tanks. He worked his way up to brewer in 2011 and head brewer in 2014.  Baer brings his passion and creativity to brewing along with an exceptional technical ability. His favorite part of brewing is knowing that the beer he produces is unique and brings people together.