Beers from Indiana's Sun King Brewery will make their first appearance on out-of-state retail shelves next month when the company begins distributing to Chicago and Louisville, Kentucky.
The Indianapolis-headquartered brewery this week announced plans to expand distribution beyond Indiana borders for the first time since it was founded in 2009.
Sun King has signed agreements with a pair of beer wholesalers — Lakeshore Beverage in Chicago and River City Distributing in Louisville — that will enable the company to ship its kegged and canned beers to bars, restaurants, grocery and liquor stores throughout the two cities.
Brewery co-owner and head brewer Dave Colt told Brewbound that retailers have just begun submitting orders. The company's core offerings (Sunlight Cream Ale, Wee Mac Scottish Ale and Osiris Pale Ale), seasonal releases (Pachanga Mexican-style lager, Fistful of Hops IPA and Oktoberfest), a rotating IPA series and King's Reserve series will be distributed outside of Indiana.
Sun King doesn't plan to distribute its beers statewide in Illinois and Kentucky, however. The company will instead focus its efforts on "sustainable growth" in Chicago and Louisville, Colt said.
Sun King's owners had previously subscribed to a single state distribution model — a la Wisconsin's New Glarus — but a capacity expansion and changes to state a state law that restricted how much beer it was allowed to produce and sell enabled the company to consider a move outside of the state.
"For a really long time, those things precluded us from being anything but an Indianapolis brewery," said Colt, who co-founded Sun King with Clay Robinson.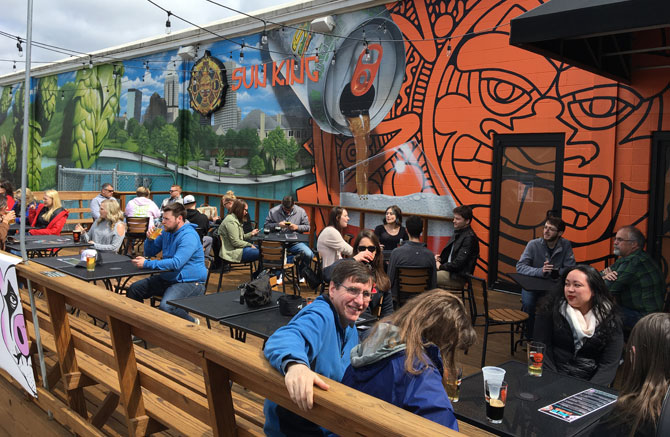 In fact, Sun King didn't begin statewide distribution in Indiana until March 2016. An increase in state's production cap (to 90,000 barrels) led to a $2 million expansion of the company's downtown Indianapolis production facility, which was completed in June 2016, and will now allow the brewery to scale up to 50,000 barrels annually.
After the expansion was completed, Colt said the company was in a position to better supply in-state wholesalers without running into out-of-stock issues.
Sales of Sun King beer increased 20 percent last year, to more than 35,000 barrels, according to Brewers Association (BA) records. This year, the company expects that its new market expansions will help bump sales to about 38,000 barrels, and Colt is projecting 8-to-10 percent growth in 2018.
The brewery is already off to a strong start in 2017. Sales of its flagship offering, Sunlight Cream Ale, are up 17 percent over last year. And orders of Pachanga Mexican-style lager are exceeding expectations, Colt added.
"We continue to get a lot of reorders on that bad boy — more than we thought and more than our distributor thought," he said.
Despite Pachanga's success, the beer will remain a seasonal release in hopes of sustaining demand, Colt added.
"We're sticking to having the beer run its course through August as Oktoberfest comes on," he said.
Sun King is also projecting strong fall sales for Oktoberfest, which will be sold for the first time in grocery stores, Colt said, adding that initial orders "have been very solid."
Due to an Indiana law that only allows warm beer to be sold in grocery stores, Sun King had not sold product in the channel until late July 2016.
In an effort to enter that space, Sun King invested "heavily" in its quality control program, added a centrifuge and a rotary canning line, giving its owners confidence that core beers Sunlight and Wee Mac could maintain a 90-day level of freshness, even without refrigeration. (Sun King's hoppy beers are sold in liquor stores, which can sell cold beer, Colt added.)
Since delivery to grocery stores began, Sun King's off-premise sales are now 60 percent of the company business via four SKUs: 6- and 12-pack cans of Sunlight Cream Ale, Wee Mac and a rotating 6-pack seasonal.
Sales in Kroger and Meijer grocery stores are particularly strong, Colt added, and the company recently started selling beer in Costco chain stores. It will also expand into Aldi grocery stores in August, he added.
For the remainder of the year, Sun King will work to develop a year-round IPA, which Colt described as a "missing component" in the company's portfolio. For several years, due to a difficulty in securing long-term hop contracts, the brewery has released a rotating series of IPAs, on a quarterly basis, he added.
Sun King is also entertaining the idea of building additional tasting rooms throughout Indiana — the company runs one in Fishers and at its downtown Indianapolis brewery — although no set timeline or location exist, Colt said.
The company will also break ground on a $5 million, 15,000 sq. ft. distillery in Carmel, Ind. later this year, and Colt hopes that project will be operational next March.