Escondido, CA – In 2009, Stone President & co-founder Steve Wagner made a research trip to England to learn more about the confusing and often contradictory history of IPAs. That epic trip resulted in an epic ale that years later makes its encore reign – the last in the series of Stone's 20th Anniversary celebratory re-brews. 20th Anniversary Encore Series: Stone 14th Anniversary Emperial IPA will begin arriving in bars and restaurants where Stone beers are sold this week.
British brewers in the 1800s made their IPAs big and as light in color and as dry as possible. That became Stone's inspiration for this royally Emperial IPA. It's brewed using all British malt, hops and yeast. Even the water was adjusted with mineral salts to more accurately reflect the renowned brewing water chemistry of Burton-on-Trent. The famed town of East Staffordshire, England, is known as the birthplace of the IPA. The water from the River Trent is fabled for its healing powers and, coincidentally, is known as the best brewing water in the world. It boasts the highest sulfate, calcium and magnesium contents of any other major brewing center in the world, and low levels of sodium and bicarbonate.
"That trip to England was inspiring to say the least," said Stone Brewing President & co-founder, Steve Wagner. "At the time, we were researching IPAs and we poured over 150-year-old brewer's logs handwritten in ink. We were inspired to come home and try our hand at the most authentic British IPA we could possibly brew in the US. To re-release this beer is a trip back in time to one of the most inspiring times in my brewing history."
20th Anniversary Encore Series: Stone 14th Anniversary Emperial IPA is a dry-bodied ale that's powerfully spicy with an earthy aroma. On the palate, peppery hops assert themselves early and often, with malt sweetness and a light biscuit flavor making a brief appearance before a long, complex and decisively bitter finish. There is one thing decidedly San Diego about this beer, and that's its aggressive dose of hops. 20th Anniversary Encore Series: Stone 14th Anniversary Emperial IPA is brewed to enjoy fresh but true to its origin, ages especially well on a six-month long ocean voyage.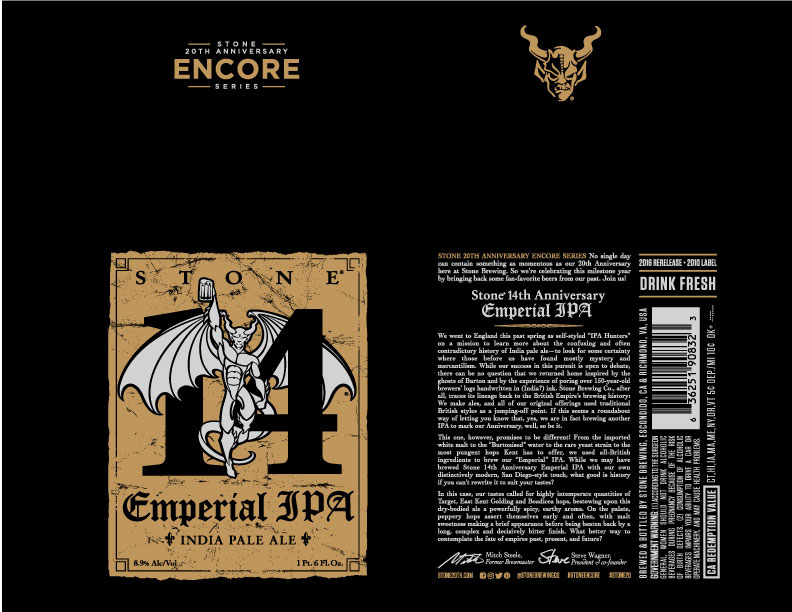 QUICK FACTS

Name: 20th Anniversary Encore Series: Stone 14th Anniversary Emperial IPA
Stats: 8.9% ABV, 100 IBUs
Availability: 22-ounce bottles and draft, beginning October 17
Hop Varieties: UK Target, Boadicea & East Kent Golding
National Distribution: AK, AL, AR, AZ, CA, CO, CT, DC, DE, FL, GA, HI, IA, ID, IL, IN, KS, KY, LA, MA, MD, ME, MI, MN, MO, MT, NC, NE, NH, NJ, NM, NV, NY, OH, OR, PA, RI, SC, TN, TX, VA, VT, WA, WI and Puerto Rico
International Distribution: Costa Rica; Germany; Hong Kong; Japan; Singapore; Taiwan and Thailand
TASTING NOTES
Appearance: Pours golden with a creamy head of foam. It is very pale in color, with a slight haze.
Aroma: Strongly hoppy, a blend of peaches, light citrus and earthy/herbal flavors. It's a bit of a departure from the classic American citrusy and piney IPA hop profile, but it is unmistakably hoppy.
Taste: The classic pale malt character becomes apparent with a touch of sweetness and a light biscuity flavor, yet this beer remains incredibly hop focused. Resiny, fruit flavored hops dominate the palate upfront and through the middle. Yeast esters are blended into the flavor mix in the middle palate, and the beer finishes very bitter and dry, with just a tiny hint of sulfur.
Overall: Our Stone 14th Anniversary Emperial IPA may defy today's expectations of a British-inspired IPA. It's not a "maltier" IPA, and no crystal malts were used in the brewing of this beer. British brewers in the 1800's made their IPA's as light in color and as dry as possible, and that was our inspiration. And though we still like to encourage everyone to drink our IPA's fresh, this one may be interesting to age.
SUGGESTED PAIRINGS
Appetizers: Pork belly "char siu," avocado "tots," salt and pepper shrimp, edamame hummus, spring roll
Soups & Salads: Toasted barley and spinach salad, Caesar salad, menudo, split pea soup, chili con carne
Entreés: Jerked spiced pork chop, tempeh "fuego burger," bangers and mash, roasted chicken, ginger veggie stir fry
Cheeses: Fiscalini Bandaged Wrapped Cheddar, Colston Bassett stilton, Montgomery cheddar, Beecher's Flagship, Bismark
Desserts: Blueberry blue cheese jalapeno cheesecake, carrot cake, apricot tart, pecan sandies, crème brulee