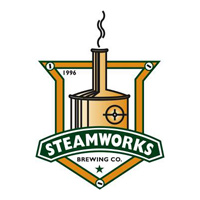 DURANGO, CO — Steamworks Brewing Co. has presented a $500 check to Annie's Orphans, the non-profit sanctuary for abandoned, neglected and abused dogs, proceeds from the "Happy Hour" fundraiser held on Nov. 7, 2012, during Firkin Friday. Annie's Orphans also enjoyed and additional $230 in donations that evening from Steamworks' patrons.
"We are happy to help support the pups that Anna and Bill Anderson and their team care for at Annie's Orphans," said Kris Oyler, Steamworks co-founder. "Winter is the most challenging time for the shelter, with increased heating costs, plus I know my dog is always hungrier in the winter months."
While Annie's Orphans had its genesis as a home for retired sled dogs in 1985, the scope quickly grew to include all breeds. The goal is to help them find "their families;" but if they aren't so fortunate, they live out their lives at Annie's Orphans, certified as a non-profit, private shelter.
Annie's Orphans is located on the Anderson's property in the Sunnyside area of La Plata County. Dogs in need enjoy open air pens, as well as shade and shelter from harsh weather. Volunteers walk and play with the dogs, help in socializing and training when needed, and maintain the facility, which can house some 70 canines. Many dog-loving people and businesses offer their time and talents.
"We truly appreciate Steamworks hosting the fundraiser," said Jola Schraub, Annie's Orphans board member. "Raising funds, we truly can help change the world for one dog at a time."
Steamworks Brewing Co. is located at 801 E. Second. Ave., Durango (970.259.9200) and open 11 a.m. until closing. For further information, visit www.steamworksbrewing.com.
Further information, including an opportunity to donate via the internet to Annie's Orphans, is available at www.anniesk9orphans.org.