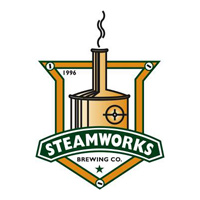 DURANGO, CO — Spruce Goose Ale has once again returned as a holiday seasonal beer at Steamworks Brewing Co. Literally brewed with fresh spruce tips harvested in the San Juan Mountains, the beer has become a winter favorite for craft beer aficionados.
A modern-day version of the spruce beer once brewed and rationed to Colonial Troops by General George Washington during the Revolutionary War, Steamworks' Spruce Goose is a darker beer that offers complex earthy flavors.
Sporting an ABV of 9 percent, the Spruce Goose received a bronze medal in the 2009 Australian International Beer Competition, and will be poured at Sorrel Sky Gallery (828 Main Ave.) on Friday, Nov. 9, 2012, during a special celebration of the arrival of the Capitol Christmas Tree as it passes through Durango on its way to Washington D.C. The theme for the tree's journey is "Celebrating Our Great Outdoors."
According to The Beer Enthusiast at Draft magazine, who rated the beer a 93, the Spruce Goose Ale "ÔǪis a wonderful introduction to the spiceÔǪ when you try Spruce Goose, don't be surprised if it doesn't seem much like beer. Your nose will be greeted by wafts of malt, followed closely by the unmistakable aroma of new growth spruce tipsÔǪ an enjoyable toffeelike malt flavor lingers on the tongue, finishing this beer off nicely."
Steamworks Co-Founder Kris Oyler credits Steamworks Brew Master and Certified Cicerone® Ken Martin with utilizing the young spruce tips and perfecting the time-honored recipe for contemporary palettes.
"We have found that, much like wine, the 'terroir' where we harvest the spruce tips and the current climate conditions matter in the beer, making the Spruce Goose varietal," said Martin. "A dry spring this year led to smaller, more delicate tips, making the beer more delicate and accentuating the dark caramel flavors from the premium malts."
The limited release Spruce Goose Ale is available only at Steamworks Brewing Co. in 750 ml. bottles, as well as on-tap.
Steamworks Brewing Co., open 11 a.m. to closing seven days a week, is located at 801 E. Second. Ave., Durango (970.259.9200). For further information, visit www.steamworksbrewing.com.
Learn more about the Capitol Christmas Tree and its journey from Meeker, Colo. to the lawn of the United States Capitol at www.chooseoutdoors.org or www.durango.org.