More than 4,000 people converged on Washington, D.C., this past weekend for the Brewers Association's annual craft beer and food pairing event, Savor. Brewbound caught up with several breweries over the weekend to get the scoop the latest trends, distribution and packaging updates, and what to expect for the remainder of 2017.
Here's what we learned.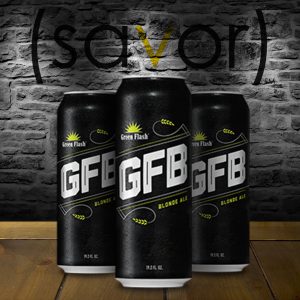 Green Flash Introduces Single-Serve 19.2 oz. Cans
In May, San Diego's Green Flash launched single-serve 19.2 oz. cans of GFB blonde ale in 7-Eleven and AM-PM convenience stores in California and Texas.
Brewmaster Erik Jensen told Brewbound that Green Flash was looking to capture impulse buys at c-stores by offering a lower-alcohol beer (4.8 percent ABV) at an attractive price point (two for $4). The move gives Green Flash a piece of a small but growing 19.2 oz single-serve market that already includes craft offerings from Oskar Blues, Founders and New Belgium, among others.
The beer is expected to be released in other states soon, and Jensen is exploring future single-serve releases.
"We'll see how they turn out,' he said.
Meanwhile, Green Flash, which sold just over 91,000 barrels of beer last year, is hoping to brew more than 100,000 barrels of beer in 2017 with added capacity from its new Virginia Beach production facility, which opened in November.
Crux Fermentation Phasing Out 12 oz. Bottles, Focusing on Cans
Oregon-based Crux Fermentation has stopped packaging its beer in 12 oz. bottles, instead focusing on 12 oz. cans and larger format 500-and-750-mL bottles for special release beers such as the "Fabled Grapes" series of barrel-aged sour beers.
Crux, which sold 9,300 barrels of beer in 2016 and brews on a 10-hectoliter brewhouse at its Bend pub and a 40-hectoliter brewhouse at its production facility, has doubled its production each year since opening in 2012. The company plans to produce about 17,000 barrels this year, according to founder Larry Sidor.
The company plans to operate at maximum capacity (17,000 barrels) in 2017, and Sidor told Brewbound that his brewery is in "desperate need" of a canning line — something he'd rather invest in over additional fermentation capacity.
"Adding a canning line is almost as good as putting in a tank or two," Sidor said, noting that beer would have to sit longer in tanks while the company waited for a mobile canning operation to package its products.
"By waiting, you lose capacity," he added.
Crux currently sells Crux Pilz, Gimme Mo IPA, PCT Porter and Cast Out IPA in six-packs of 12 oz. cans.
Last month, Crux added East Coast distribution to Washington, D.C., northern Virginia, New York City, Vermont, Maine, British Columbia and Alberta, Canada.
Crux marketing and branding manager Jason Randles told Brewbound that those markets were "hand selected" but they'll each receive a limited about of beer.
"It's not even a truckload," Randles said of the shipments.
"We don't want to overcommit and under deliver," Sidor said.
Six-packs of the company's Cast Out IPA, meanwhile, are being sold in Boston for $19.99.
Following Packaging Redesign, Cape May Looking into Cans
Last month, New Jersey's Cape May Brewing Co. unveiled a complete rebrand of its bottled offerings. Now the company, which sold 6,500 barrels last year and is projecting sales of about 9,000 barrels in 2017, will consider adding aluminum to the mix.
Cape May is looking into the possibility of 12 oz. six-packs to its lineup, according to director of brewing operations Jimmy Valm.
Initially, the company expects to work with a mobile canning company before eventually investing in adding a line.
Currently, the company sells 70 percent of its product on draft, but Valm said he expects that figure balance out over time. After several upgrades to Cape May's brewhouse, including the addition of a centrifuge, the company has seen a 10 percent increase in packaged beer production, Valm said.
Nevertheless, Valm said Cape May doesn't intend on opening new markets, despite the persistent allure of expanding distribution into neighboring New York.
"There's no rush," Valm said.
Schlafly Tests Local On-Premise Can Sales
The Saint Louis Brewery, maker of Schlafly beer, has made a foray into cans, releasing three 16 oz. offerings: White Lager, Kolsch and Expo IPA. But you'll have to go on-premise to get 'em.
"Part of our reintroduction of cans was to make sure that folks could get Schlafly cans at the baseball games," Schlafly brand specialist Wil Rogers told Brewbound.
According to Rogers, the company does not have immediate plans to expand distribution of the cans to off-premise retailers.
"Someday we'll look at off-premise," he said. "We want to be able to be sure that we approach the market in the right way."
Last year, Schlafly produced 52,000 barrels of beer — a 13 percent decline from the year before, according to Brewers Association data. When asked how many barrels he expects the company to produce, ambassador brewer Stephen Hale said, "Hopefully 50,000. You see what's going on out there."
Meanwhile, the Missouri beer company's home base remains its stronghold.
"70-to-80 percent of our sales are within a couple hours of St. Louis," Hale told Brewbound.
For now, Schlafly plans to focus on pushing its "From the Ibex Cellar" series of barrel-aged beers, released in four packs of 11.2 oz. bottles. The most recent release is a gooseberry gose.
"We make awesome big beers," Rogers told Brewbound. "Big in taste, not in ABV."
Melvin Brewing to Double Production
Up-and-coming Melvin Brewing is increasing production capabilities again with the addition of two, 240-barrel brite tanks, according to brewery representative, Will Morrow.
The Wyoming brewery, which sold 7,896 barrels last year, also recently doubling its cellar space and now has room for 2,700 barrels.
"Every month in 2017 has been bigger than our biggest month in 2016," Morrow said.
The company also recently hired four new brewers, including Greg Papp, the former brewmaster at Tallgrass Brewing Co. in Kansas.
"[Melvin founder] Jeremy [Tofte] is all gas, and I hate being the brake," Morrow said.
But Tofte sees opportunity and chases it forcing the rest of the staff to "get our shit together," Morrow added.
Melvin, which has been known for making coveted IPAs, is also dipping into two increasingly popular styles with summer releases of Hey Zeus Mexican-style lager and Killer Bees blonde ale.
Additionally, Tofte told Brewbound via email that the weekend opening of Melvin's Bellingham, Wash., brewpub was "the biggest night in my long restaurant career" with a "100 person line out the door before we opened and the line was constant to the bar for the first four hours."
"We broke every sales goal we ever imagined," Tofte wrote. "Now I know what it feels like to live in a town where people actually give a shit about beer. I love Jackson Hole but most of the townsfolk are not savvy beer drinkers."
Tofte is now planning to open three additional taprooms and brewpubs before the end of the year.
Large Format Slump Hasn't Impacted Perennial Sales
Perennial Artisan Ales growth hasn't been stunted by slowing 750 mL. bottle sales. The St. Louis microbrewery, which relies heavily on sales of 750 mL bottles, actually grew 11 percent, to more than 3,300 barrels last year.
"We do hear that they're starting to fall off, but our sales are there," co-founder Emily Wymore told Brewbound. "That tell us that our beers work in that format, but we're always looking at the market."
The company recently released the first of three brettanomyces-conditioned beers, Owen (a dry-hopped saison), in St. Louis. Shipments to the 13 additional states where it has distribution are forthcoming, Wymore said.
This year, Perennial is projecting to sell in excess of 5,000 barrels of beer, she added. The company recently installed a 15-barrel brewhouse dedicated to the production of clean beer. (Perennial also maintains a 8.5 barrel brewhouse for beers with brettanomyces as well as other test brews.)
Wymore also said there's room for additional growth, adding that future expansions would be modest.
"We don't want to get too much bigger," she said. "But we get bigger and bigger every year."
Perennial is also experimenting with taproom can releases. In April, the brewery released Cave Torch tropical IPA, and a second release, Keith's Korner, is slated for July. But Wymore said the experiment with 16 oz. aluminum is just a dalliance.
Meanwhile, Perennial will focus beer aged in three, 60-barrel foeders that were acquired from a Napa winery. And a fourth is on the way, Wymore said.
Pfriem Plans for Future Growth Opportunities
Similarly, Oregon-based Pfriem Family Brewers is attempting to grow in a more controlled fashion, even as demand for its beer increases. Last year, Pfriem sold about 10,000 barrels of beer (a 62 percent increase from 2015). In 2017, the company is projecting sales of 16,000 barrels.
"We feel like we have a hold on the growth," Annie Pfriem, the wife of brewery co-founder Josh Pfriem who attended Savor as a representative of the brand, told Brewbound.
The Hood River brewery, known for its premium bottles with cork and cage, will eventually consider canning its beer to meet consumer demand for portable, sustainable packaging in their outdoorsy home state.
"We are working on more capacity and future packaging opportunities, but plans are not finalized," she said.
Editor's Note: An earlier version of this story suggested that Josh and Annie Pfriem were purposely stunting their company's growth in an effort to strike a more sustainable work-life balance. This was inaccurate. The Pfriem's are currently looking into opportunities for continued growth, while remaining true to a business model that was never predicated on rapid or uncontrollable sales.
This story has also been updated to reflect the correct brewhouse system size for Crux Fermentation.