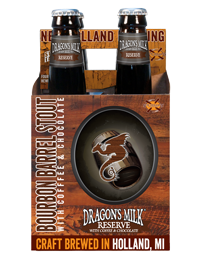 Holland, Mich. — New Holland Brewing Co. has taken its top-selling year-round bourbon barrel stout – Dragon's Milk – and gotten creative, four times over. The Michigan-based brewery is releasing its 2015 "reserve" batches of Dragon's Milk to markets around the country with four variations; Dragon's Milk Reserve with Coffee & Chocolate, Dragon's Milk Reserve with Raspberries, Dragon's Milk Reserve with Toasted Chilies, and Dragon's Milk Reserve Triple Mash. Four packs and draft will be shipping from New Holland's production facility mid-October and hitting stores & local bars soon after.
"This batch of Dragon's Milk reserves is our most ambitious yet, but we wouldn't have it any other way," says Brett VanderKamp, president of New Holland. "The rich vanilla and chocolate notes of Dragon's Milk continue to keep us inspired and dreaming up endless ways to complement them and find flavors that are simply delicious."
This year's reserve release builds on the 2014 batches, which found a huge demand from passionate fans and industry alike. 2015 batches with four incarnations of the popular stout include:
Dragon's Milk Reserve with Coffee & Chocolate Dragon's Milk, aged with coffee and chocolate. Rich, indulgent chocolate flavors are seductively punctuated with dark and roasty coffee bitterness.
Dragon's Milk Reserve with Raspberries Dragon's Milk aged with local raspberries added to the final stages of conditioning. The raspberries' depth, brightness and unique fruit character harmonize beautifully with roasty tones of malt, bourbon, and oak.
Dragon's Milk Reserve with Toasted Chilies Dragon's Milk, barrel-aged with Chili de arbol peppers. The peppers lend an earthy spice character which mingles with the dark roasted tones of Dragon's Milk as they slowly warm your palate, pleasantly contrasting the deep malt character.
Dragon's Milk Reserve Triple Mashed Triple-mashed Dragon's Milk, aged in New Holland Artisan Spirits oak barrels. Intense malt character is paired with compelling whiskey character and the toasted notes of American white oak. Robust, yet balanced, an experience all its own.
First released in 2001, Dragon's Milk was one of the early bourbon barrel-aged stouts in the US. The barrel-aging scene has since exploded. Once a single-batch annual release, Dragon's Milk has become New Holland's largest selling year-round beer, gaining accolades and recognition internationally, including a silver medal in the 2013 Brussels Beer Challenge.
In 2015, New Holland renovated its north Holland production facility a second time to further expand its Dragon's Milk cellar where more than 4850 beer-barrels worth can reside at one time.
"These incarnations of Dragon's Milk make for an exciting and busy time in the brewhouse," says VanderKamp. "Having fun with small runs of Dragon's Milk both satisfies the creativity of our brewers, and also the palates of our fans. We think both will be extremely pleased with the results. In the upcoming year we look forward to continuing to pursue creative flavor combinations that are sure to excite the true beer fan."
To celebrate the release of the Dragon's Milk reserves, New Holland Pub on 8th presents "Day of the Dragon" on Saturday, Oct. 31. This event will take place in Sidecar (New Holland's retail space at 72 E. 8th Street in Downtown Holland) and at the Pub (66 E. 8th Street in Downtown Holland). During this event, the public will be able to sample the releases plus special Sidecar-only flavors, buy 4 packs to go, or simply sit and enjoy a glass or two of the beer.
About New Holland Brewing Co.
New Holland Brewing Company's deep roots in the craft industry go back to 1997. Our role as an integral member of the artisan approach is something we take seriously, yet engage in lightheartedly. We believe the art of craft lives in fostering rich experiences for our customers, through creating authentic beer, spirits and food while providing great service. Recognized for our creativity and artistry, our mission to improve the lives of craft consumers everywhere is seen in our diverse, balanced collection of beer and spirits.