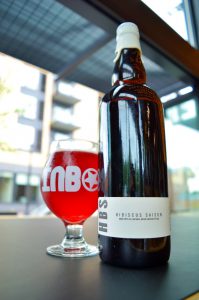 Minneapolis, MN — Inbound BrewCo, the hottest brewery in the North Loop of Minneapolis, will be releasing a Hibiscus Saison on draft and in 750ml bottles this May.
Hibiscus Saison is a unique offering from Inbound.  All natural dried hibiscus flower petals are used throughout the process starting with additions in the boil kettle and finally in the fermenter as a tea to produce a deep ruby red color.  The dried petals impart a light tartness and cranberry-like fruitiness to this Belgian-style brew. The end results is pleasantly tart, floral, and supremely drinkable.  It finishes with a dryness that makes it especially refreshing in the summer months to come.
"As brewers and consumers, we are always looking at what is happening in other parts of the beverage and culinary industry.  The flavor profile you find in hibiscus flowers is unique and are typically far removed from what you find in beer.  CombiningHibiscus with beer requires the right balance of ingredients.  We choose to use a medium dry saison yeast for its floral aromatics, tart fruit, and spice flavors.  The final product is a uniquely balancedBelgian-styled ale," said Inbound BrewCo Co-owner Jon Messier.
Hibiscus Saison will be released in 750ml bottles and on draft at the brewery on May 19th.  The bottle label showcases a letterpress design from local print house Angel Bomb. The low profile label features inset lettering and a thick soft stock.  The minimalistic design is purposeful, intending to draw the consumer's attention to the beer over the label and get them to interact with the product by touch and feel – ultimately creating a greater craft experience.
About Inbound BrewCo
Inbound BrewCo opened in 2016 just blocks from Target Field in the North Loop of Minneapolis. Inbound BrewCo opened with the vision of constantly rotating offerings and small batch brewing.  With beers likeApricot Pale Ale, Wild Rice Porter, Mango IPA, and Nitro Milk Stout InboundBrewCo has quickly become the go to destination for craft beer aficionados and novices drinkers alike.  Find more about InboundBrewCo, see upcoming beer releases, event and food truck schedules at www.InboundBrew.com.