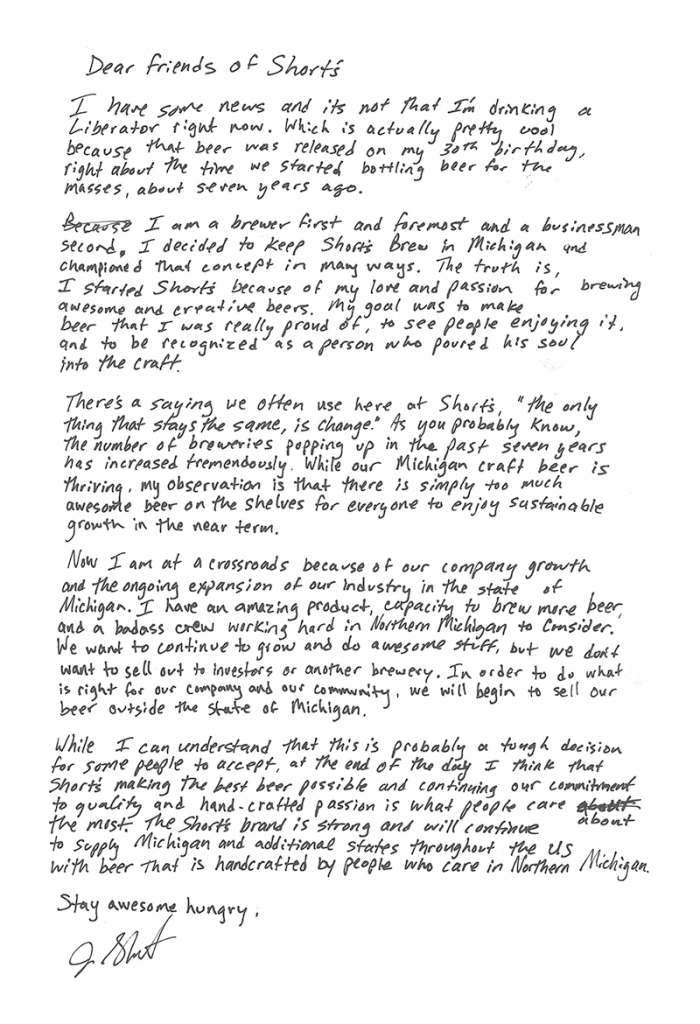 For the first time in 12 years, Michigan's Short's Brewing Company will add permanent distribution to markets outside of its home state.
The move, made in part by a desire to fill excess production capacity, will bring Short's beer and Starcut Cider brands to two new markets by mid-March: Illinois and Pennsylvania.
A press release indicated that out-of-state distribution would begin on Feb. 5, but brewery founder Joe Short told Brewbound the company has yet to make final distributor selections and is currently interviewing potential partners, a process that could extend the original timeline.
"The idea is to become more regional, send out this extra product, monitor it and watch how it performs over the next couple of years," Short said of the decision to cross state lines.
Also driving the decision to adapt what Short once believed would be a Michigan-only distribution model — his company trademarked the phrase 'Michigan Only, Michigan Forever' — is the need to continue achieving "sustainable growth" amongst an increasing number of small competitors entering the fray.
"In the last five years, in Michigan, a lot of breweries have popped up and a lot of them are packaging," he told Brewbound. "Now that we have this extra capacity and an amazing crew, we decided we wanted to use it to keep our company healthy and strong."
It's not the first time Short's beers have been available outside of Michigan, however. The company has, over the years, sent one-time shipments to Denver and Boston for limited distribution during the respective Great American Beer Festival and Extreme Beer Festival events.
Nevertheless, the decision to add permanent distribution outside of its home state represents a distinct but necessary pivot: in order to continue growing at a double-digit clip, the company must look elsewhere for shelf and tap space.
It also illustrates just how competitive the craft segment has become since Short's opened its doors in 2004. At the time, there were only 1,468 breweries in the U.S., according to the Brewers Association; there are now more than 4,100.
Short's, which grew 50 percent in 2014, expanded distribution about 24 percent in Michigan last year and expects that to slow in 2016. Toward the end of the last year, however, the company was only growing at about a 15 percent clip.
"With the market getting more competitive, we aren't sure what Michigan will take," said CFO Brian Beckwith. "It could be 8,000 or 10,000 barrels more."
"I think we are going to grow in Michigan, as well as some new markets, just not as much as we've been used to in Michigan," Short added.
Short's produced about 40,000 barrels in 2015 and has the ability to scale capacity to 75,000 barrels with the addition of new fermentation vessels, Short said. But that doesn't necessarily mean they'll continue to open up new markets just to fill the tanks.
"I think we are just going to be in constant evaluation mode," Short said. "We have a lot of great feedback from our fans in other states and that gives us an interesting indication of where people want to see our beer."
Beckwith also said any additional distribution and facility expansions would continue to be financed through a combination of bank debt and cash flow.
The company is currently determining its rollout strategies for both markets and deciding if it will hire sales managers to represent the brand in the new states.
"The industry is in a really interesting place right now and this will give us a good pulse," Short said.