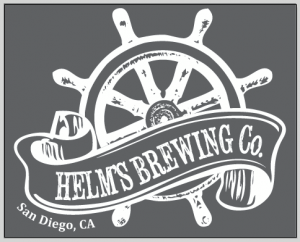 San Diego, CA — Helm's Brewing Company is bringing their award winning San Diego craft beer to the East Coast when they launch in Maryland and Washington, D.C for 2016. This continues the expansion outside of California in recent months for Helm's Brewing after announcing debuts in Denver, Ohio and North Carolina. Washburn Wine Company, based out of Baltimore, Maryland, will be the exclusive distributor of Helm's Brewing products in the state of Maryland effective immediately.
Washburn Wine Company will be selling 22-ounce bottles of Captain's Pale Ale, Batten Down Brown, Wicked as Sin IPA, Beeruccino Coffee Porter and Hop the RIPA. Seasonal offerings such as Samuin Harvest Pumpkin Ale, Chocolate Night Stout, En Garde and O.G Wheat will be available in the future.
"Partnering with Washburn Wine Company is a great opportunity for us to continue our expansion in select markets outside of California," said Matt Johnson, General Manager at Helm's Brewing Company. "We are excited to share our beer and nautical brand with an up and coming craft beer region in Maryland and D.C."
Washburn Wine Company adds Helm's to their already growing craft beer portfolio to compliment their domestic and import wine line-up. "Washburn Wine Company is excited to help launch San Diego's Helm's Brewing Company in Maryland and Washington D.C," said Tom Washburn, CEO at Washburn Wine Company. "We expect these outstanding craft beers to become a highlight of our growing craft beer portfolio".
About Helm's Brewing Company
Helm's Brewing Company produces high quality and innovative craft beer designed not only to impress the connoisseur beer drinker, but also provide a fresh and local beer experience for the average consumer. The tasting room is part of the San Diego community brewery concept where people can stop by after work, grab a beer on the weekend and enjoy conversation with friends. Helm's Brewing Company is distributed in Southern California, Denver, Ohio, Maryland and North Carolina.
About Washburn Wine Company
Washburn Wine Company is a boutique distributor of fine wines, beers and spirits serving the Maryland, Virginia and Washington D.C. markets. By working in close partnership with producers and customers alike, we focus our attention on interesting products within all geographical regions and price points. Most of our producers are family-run businesses and we love sharing their stories while helping them reasonably grow their sales over the long-term. Our customers love working with us as they know we have spent a lot of time searching out really good products to show them.