Several beer companies throughout North and South Carolina have temporarily halted operations in preparation for Hurricane Florence, which is set to make landfall over the next 24 hours, bringing with it wind gusts exceeding 74 mph and days of storm surges, flooding and double-digit rainfall.
States of emergency have been declared in the Carolinas, and the governors in those states have urged more than 1 million residents of coastal towns to evacuate. Georgia, Virginia and Maryland have also issued emergency orders.
Palmetto Brewing Co., which was acquired in late 2017 by Catawba Brewing Co., shut down on Wednesday, with its 20 employees being encouraged to evacuate the area. On Tuesday, workers "battened down the hatches," tying down anything that could fly away, boarding up windows and shoring up the facility with sandbags, Catawba co-founder Billy Pyatt told Brewbound. He added that the safety of his company's employees is his first priority.
"In essence, I've asked the guys to turn everything off, shut off the power, lock the doors and leave," he said. "My direction to the guys has been, we can't do anything about this. It's going to be a mess in and around the brewery. We'll deal with whatever we find when we go back there, but we won't go back there until it's safe to go back there.
"There's no romance in riding out a hurricane," he added. "It's a bad scene."
The Palmetto facility, with its 20,000 barrels of capacity and focus on Catawba's core draft brands, has quickly become an integral part of the company's operation. However, Pyatt anticipates Palmetto being shuttered until at least September 18.
"Theoretically, about half of our business comes out of Charleston," he said.
"I'm a lifetime North Carolinian and I've seen it many times," Pyatt added. "When that happens, the storm comes inland and it sits and it just rains and rains and rains. If that's the case, we could be shutdown in Charleston for a week."
The Palmetto brewery, located in downtown Charleston, is in an area prone to flooding from high tides, Pyatt said.
"We're lucky in that the brewery is about five feet above street level, which puts it about seven or eight feet above sea level," Pyatt explained. "So it would take a storm surge of seven or eight feet to get water into the brewery itself. But all the roads and all the neighborhoods around the brewery are positioned to be affected by any storm surge."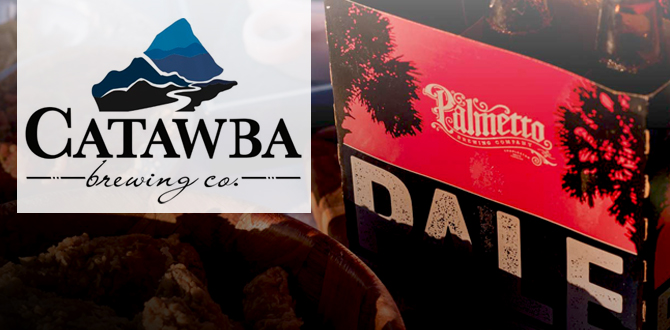 If Charleston is closed for a week, Pyatt said the company would need to "crank up" production at its production facilities in Asheville, Morganton and Charlotte, North Carolina. Although those facilities are facing threats of strong winds and heavy rain, Pyatt said he doesn't anticipate them flooding.
Meanwhile, Georgia's Red Hare Brewing Company, which recently opened a second brewery called 34 North Experiment Station that is dedicated to producing barrel-aged sour and wild ales in Shallotte, North Carolina, is also bracing for Hurricane Florence. The 34 North facility, which sits between Wilmington and Myrtle Beach, is in the path of the storm, Olivia Caldas, Red Hare marketing and events manager, told Brewbound.
Caldas said the facility was boarded up and shut down on Wednesday, and the company expects it to be closed through at least Saturday. It could potentially open on Sunday, she added, but it depends on how much flooding occurs in the area and if the building maintains electricity.
"It's really hard to tell," she said.
In order to prepare for the hurricane, she said the company's two North Carolina employees boarded up the windows and doors to the building and elevated barrels in case the brewery floods.
"We've prepared as much as we can, we've protected as much as we can, and we're going to hope that this doesn't hurt us too hard," she said.
The Weeping Radish Farm Brewery, located in Grandy, North Carolina, has survived about eight hurricanes since opening in 1986, owner Uli Bennewitz told Brewbound. He said his brewpub and butchery, which is located about 10 miles inland, last brewed on Tuesday and won't resume production until next Tuesday.
"That's subject to everything else working out," he said. "We're still going to get flooded, obviously, but I think we're going to be fine."
Bennewitz added that his brewpub has "stable power" and has never lost a batch of beer in its 32 years of operation. He added that very few of his 25 employees have evacuated the area.
"We're going to get whacked, but nowhere near as bad as Wilmington is," he said.
Meanwhile, in Kinston, North Carolina, Mother Earth Brewing has suspended production from today until at least Monday, director of sales Travis Quinn told Brewbound. He added that the company's 18 employees are "hunkered down," with a few moving further inland.
"The safety of our employees is first and foremost," he said, "and we want to make sure if there is storm damage, we can get that sorted out."
Mother Earth's facility is located a few blocks from a river, which flooded during Hurricane Matthew and Hurricane Floyd. Although the brewery itself didn't flood in either of those instances, the roads in and around the brewery were inaccessible, Quinn said.
In preparation for the storm, Quinn said workers filled empty kegs with water to keep in reserve and harvested hops that were growing outside of its facility. The company also fired up a generator in order to maintain power in the event of an outage, protecting already fermenting beer from spoilage.
Meanwhile, Anheuser-Busch, MillerCoors and the Can'd Aid Foundation have each pledged to donate clean drinking water to the relief efforts. Additionally, small North Carolina breweries including Fullsteam (Durham) and Wrightsville Beach Brewery (Wilmington) have been giving away water and ice, while Good Hops Brewing (Carolina Beach) has been accepting donations for an emergency shelter.