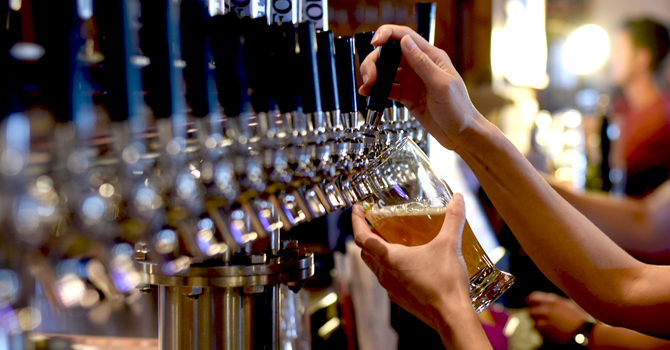 California lawmakers are considering two new pieces of legislation — one that would expand retail sales privileges for the state's brewpubs and another bill, backed by Anheuser-Busch InBev, that would allow beer manufacturers to give away glassware to bars and restaurants.
Senate Bill 1283 would allow brewpubs with "Type 75" licenses — retail restaurant licenses with brewing privileges (between 100 and 5,000 barrels annually) — to sell their products for off-premise consumption. The bill would also give brewpub operators the chance to donate product to nonprofits, for beer festivals and other community events. The measure would also tighten the requirements for obtaining the license, however.
Meanwhile, under Assembly Bill 2573, on-premise retailers would be allowed to accept up to 10 cases of free glassware per year from beer manufacturers. The bill caps the amount of glassware a bar or restaurant could accept at five cases per brewery, and prohibits retailers "from conditioning the purchase of a beer manufacturer's product or products on the giving of retail advertising glassware."
Both bills passed out of committee this summer and were referred to the Committee on Appropriations. They are expected to be taken up when the California Legislature reconvenes in early August.
Speaking to Brewbound, Cary Berger, general counsel for Artisanal Brewers Collective, said his company has been lobbying for off-premise sales privileges for about a year. He added that similar licenses exist in at least a dozen states. The restaurant and brewpub group was started by former Golden Road Brewing co-founder Tony Yanow, and currently operates brewpubs in Los Angeles (The Stalking Horse Pub, 6th and La Brea, and Bluebird Brasserie) and San Diego (The Bell Marker).
"Our focus has been on establishing parity with states that have these types of licenses," he said. "This bill is intended to rectify that situation."
Berger said the changes would also give consumers "a consistency of experience" when visiting California's brewpubs and manufacturing breweries. In addition to the Type 75 brewpub licenses, California offers two manufacturing brewing licenses — Type 1 (production of more than 60,000 barrels) and Type 23 (production below 60,000 barrels) — both of which permit to-go sales.
The proposal would also make it more difficult to obtain a Type 75 license, since it would require licensees to operate at least a 7-barrel brewing system, and produce and sell at least 200 barrels a year. Currently, Type 75 licensees are required to produce at least 100 barrels (and up to 5,000 barrels) annually, but there is no language mandating the beer be sold. That's led to abuse, according to Tom McCormick, executive director of the California Craft Brewers Association.
"What we've seen, particularly over the course of the last couple of years, is a huge influx of people applying for this license," he said, estimating that 170 Type 75 licences have been issued since the mid-1990s.
McCormick told Brewbound that some people have used the license to avoid paying hundreds of thousands of dollars on the open market to purchase Type 47 liquor licenses, which the state's Department of Alcoholic Beverage Control has capped by population in each county.
"They've essentially figured out that they can get a liquor license for $13,000 instead of $250,000, but the license does require that they manufacture beer," he said. "So what they're doing is installing very inexpensive, cheap systems, brewing with a malt extract and sometimes not brewing at all. Sometimes brewing and just dumping it down the drain because the benefits are so obvious."
McCormick said the CCBA worked with Artisanal Brewers Collective to add language into the bill to curb abuse, adding that the CCBA is "neutral" on the proposal, which he expects will pass.
Meanwhile, Anheuser-Busch InBev has been lobbying for the right to give away glassware to retailers. In an email to Brewbound, A-B spokesman Josh Gold wrote that "beer drinkers are better served when the glassware enhances their experience."
"We are working with our wholesaler partners to support the ability for wholesaler and manufacturers to provide branded glassware to retailers at no cost," he wrote. "We believe the ability for the beer industry to provide retailers branded glassware will elevate consumers' enjoyment of different styles of beer and increase interest in beer in a competitive marketplace."
In California, the CCBA had opposed A-B's efforts to change the law before reaching a compromise on the current bill, McCormick said.
"Generally speaking, we are strongly opposed to any attempt to erode tied-house laws because tied-house laws protect our members in the marketplace," he said.
McCormick said the current incarnation of the bill has been watered down from previous attempts that would have allowed A-B to give away thousands of cases of glassware, including a proposal that would have allowed the company to give up to $50 in advertising specialties per brand, per account each year.
"We did the math on that and Anheuser-Busch has over 100 brands that they sell in California, so that's $50 times over 100 per retailer," he said. "So that was way over the top."
McCormick said the CCBA and its members "put a lot of pressure on the legislators" to oppose the bill. Finally, the bill's author, Assemblyman Evan Low, agreed amend the measure to its current form, allowing a retailer to accept up to 10 cases of glassware a year and capping a beer supplier at giving away no more than five cases.
"They [retailers] are going to have to pick and choose who they want to accept that glassware from," McCormick said. "We feel in most cases that it's going to be from craft breweries and not from major global beer companies. So we're not perfectly happy with it, but we're content with it, and feel dramatically better than how it was originally written."
A-B successfully lobbied for a similar glassware bill in Florida, which passed in March. The new law, which goes into effect October 1, will allow wholesalers to give on-premise retailers up to 10 cases of branded glassware a year.
Joshua Aubuchon, general counsel and lobbyist for the Florida Brewers Guild, told Brewbound that the guild opposed the bill, but was able to get it "watered down from what Anheuser-Busch had been pushing."
"I think it limits the ability of A-B to just flood free glassware and say put our stuff on tap," he said, adding that A-B appeared to be pushing the giveaways in order to promote its Stella Artois brand in bars and restaurants.
However, the guild fears A-B will attempt to change the law even further in order to give away bigger ticket items, such as coolers and refrigerators.
"Our fear is this is too easy; they're going to come back and push something more egregious that would hurt us," he said. "So we're going to keep up the fight."