Anheuser-Busch InBev today announced it would acquire fast-growing hard seltzer producer Boathouse Beverage LLC., which makes and markets the SpikedSeltzer brand.
SpikedSeltzer will join A-B's rapidly expanding "High End" division, which already includes eight U.S. craft breweries — Goose Island, Blue Point Brewing, 10 Barrel Brewing, Elysian Brewing, Golden Road Brewing, Four Peaks Brewing, Breckenridge Brewery and Devils Backbone — as well as the Stella Artois and Shock Top brands. The High End also owns a stake in Michigan's Virtue Cider.
A final acquisition price was not disclosed, but Boathouse co-founders Nick Shields and Dave Holmes described the deal as a 100 percent equity purchase.
"We are fully partnered with The High End at this point and we intend to stick around and lead this brand with the help of The High End into the future," Shields told Brewbound. Shields comes from a brewing family: his grandfather was T.C. Haffenreffer, Jr., who was the last brewer to own the Jamaica Plain, Mass. brewery that Boston Brewing Company famously took over in the 1990s. He had worked for several beer and beverage companies before starting Boathouse.
Launched in 2013, Boathouse Beverages is sold in 14 states and is currently on pace to produce as much as 40,000 barrels of SpikedSeltzer in 2016. Made with alcohol from cold-fermented dextrose and available in cranberry, lime, grapefruit and orange flavors, Boathouse was the first-to-market creator of the hard seltzer category. Since its debut, it has faced stiff competition from an onslaught of new category entrants — some of them nationally distributed — which led Shields and Holmes to pursue a strategic partnership.
"We were running this with our own resources and realized that if we wanted to grow and meet the demand, we were best served in finding a partner that would help us," Holmes said.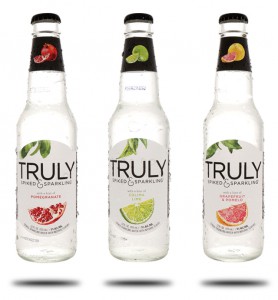 Already this year, Boston Beer Company, Mark Anthony Brands and Wachusett Brewing have introduced their own lines. Smirnoff is also reportedly working on its own "spiked sparkling seltzer" line.
Those forays prompted Anheuser-Busch to look more seriously at the category; It had been developing its own "Two Cents Spirited Seltzer" concept before pivoting and purchasing Boathouse.
"SpikedSeltzer is our choice for the segment," Felipe Szpigel, president of The High End told Brewbound.
Boathouse, and its eight full-time employees, will fold into The High End Division, Szpigel added.
It's also worth noting that ZX Ventures, another division of Anheuser-Busch, recently acquired a stake in Owl's Brew, makers of a line of cocktail mixers as well as flavored radlers.
In a press statement, A-B said production would gradually shift from Boathouse Beverage's current production partners – North American Breweries and Blues City Brewery – to the larger company's Baldwinsville, N.Y. brewery.
First Beverage Group, which has worked on many of the recent craft brewery deals, acted as the financial advisor to SpikedSeltzer.
Additional information is available in the press release below.
New York and Norwalk, CT. [Sept. 9, 2016] – Today, Anheuser-Busch announced its acquisition of SpikedSeltzer from the owners of Boathouse Beverage LLC, the innovator and creator behind the hard seltzer category. SpikedSeltzer will be the first non-malt, flavored alcohol beverage to join The High End, Anheuser-Busch's business unit comprised of leading craft and import brands.
SpikedSeltzer is a naturally cold fermented, low-carb, gluten-free alcohol beverage with six percent alcohol by volume that borrows from the disciplines of brewing and winemaking. Made exclusively from purified water and simple ingredients, it appeals directly to carb-conscious, active consumers looking for a product that tastes great.
"SpikedSeltzer is the original hard seltzer and its light and distinct flavor is more approachable than wine and more versatile than spirits," said Felipe Szpigel, president, The High End. "SpikedSeltzer is a great addition to our portfolio and enables us to offer a wider variety of great beverages that are perfect for more occasions, while delivering new flavors as consumers taste profiles expand. We're excited to be tapping into this growing market with such a strong team."
Founded by Nick Shields and David Holmes in 2013, SpikedSeltzer has grown from five gallon batches to more than 500,000 case equivalents and is now distributed in 14 states. The partnership will provide SpikedSeltzer with the resources it needs to expand capacity and meet current demands.
"This partnership with The High End is an exciting next step for SpikedSeltzer and for the category, as we begin to build out this novel drink together," said Nick Shields, founder and brewer, SpikedSeltzer. "Through the work of our small-but-mighty team, we've been able to build a loyal following throughout the Northeast and beyond. Working with The High End will allow us to protect what we have built and focus on the part of brewing and building the business that makes this fun for us."
Production will gradually shift from Boathouse Beverage's current production partners – North American Breweries and Blues City Brewery – to Anheuser-Busch's Baldwinsville Brewery. First Beverage Group acted as the financial advisor to SpikedSeltzer and Spencer Fane LLP provided legal counsel.
ABOUT SPIKEDSELTZER
SpikedSeltzer is 6% alcohol by volume and naturally gluten-free, with only 5 grams of carbohydrates per 12 oz. serving. The alcohol comes from a cold-fermentation of sugar combined with purified water and fruit flavors. Champagne-like bubbles give SpikedSeltzer a crisp, dry finish.
Adult-seltzer has been dubbed the next stage of flavored alcohol beverage innovation, into which SpikedSeltzer was the first entrant. Inaugural flavor West Indies Lime launched in 2013; Indian River Grapefruit, Valencia Orange, and Cape Cod Cranberry rounded out the lineup soon after. With SpikedSeltzer, founders Nick Shields and Dave Holmes created an alcohol category that did not exist prior to its arrival on the market. SpikedSeltzer is available throughout New England (Connecticut, Massachusetts, Maine, New Hampshire, Rhode Island, and Vermont), New York, New Jersey, Pennsylvania, Virginia, North Carolina, Tennessee, Northwest Florida and San Diego.
ABOUT ANHEUSER-BUSCH
For more than 160 years, Anheuser-Busch and its world-class brewmasters have carried on a legacy of brewing America's most-popular beers. Starting with the finest ingredients sourced from Anheuser-Busch's family of growers, every batch is crafted using the same exacting standards and time-honored traditions passed down through generations of proud Anheuser-Busch brewmasters and employees. Anheuser-Busch owns and operates 19 breweries, 21 distributorships and 22 agricultural and packaging facilities, employing more than 16,000 people across the United States. For more information, visit www.anheuser-busch.com.
ABOUT THE HIGH END
The High End is a business unit of Anheuser-Busch, created to provide its unique craft and European import brands with autonomy and support for growth, while fostering a collaborative environment for the brightest brewers in the beer community. The High End brings dedicated resources to support the growth of its brands, create successful partnerships and deliver more variety to consumers. Established in 2015, The High End includes brands such as Stella Artois and Shock Top, along with craft breweries Goose Island, Blue Point, 10 Barrel, Elysian, Golden Road, Virtue Cider, Four Peaks, Breckenridge Brewery, and Devils Backbone