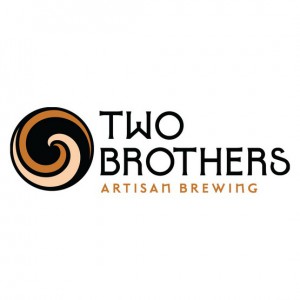 Warrenville, IL — Two Brothers Brewing Company launches Pinball Pale Ale, its newest craft beer and most recent addition to their year-round lineup, hitting the market in early February. Pinball is a juicy hop pale ale that brings the same great taste, integrity and high quality Two Brothers is known for, with a unique twist that echoes the heart-pumping rush of playing the actual game. With all five hop varieties used after the boiling process or in the fermenter, Pinball offers a blend of sweetness and bitterness that allows it to stand out from traditional pale ales.
From the moment Pinball Pale Ale is shot out of the can, this pale ale bolts through tropical and citrus fruit notes including orange, pineapple, passion fruit and grapefruit. Sessionable and highly hopped, Pinball's fruit-forward characteristics add a refreshing sweetness that finishes with a kick of mild bitterness to clean off the palate for a perfect finish.
"We wanted to bring back the classic pale ale style to our lineup, but as with any of our beers, we wanted to push the envelope a bit and put our own signature on it," explained Jason Ebel, co-founder of Two Brothers Brewing Company. "We played with all sort of hop varieties and brewing techniques and ended up with a profile and flavor that's truly unique. Adding the hops post-boil allowed us to perfect the balance between malty and hoppy. I think we've created a great pale ale while delivering something new and still maintaining the values upon which we pride ourselves."
Sharing a hometown with the pinball machine, Two Brothers plans to celebrate the release of Pinball Pale Ale with beer release events at arcades and bars throughout the Chicago area. Pinball will be offered in 6-pack cans, ½ and 1/6 barrels and on tap throughout all Two Brothers distribution areas. The arrival of Pinball Pale Ale launches a series of new products, events and announcements to help celebrate Two Brothers' forthcoming 20th Anniversary this March.
About Two Brothers Brewing Company
Two Brothers Brewing Company was founded by Jim and Jason Ebel in late 1996. In the past 20 years, the brand has expanded to include a 40,000-square- foot brewing facility in Warrenville, Illinois, Two Brothers Tap House adjacent to the brewery, the 70,000-square- foot Two Brothers Roundhouse in Aurora, Two Brothers Tap House and Brewery in Scottsdale, Arizona, and most recently, The Craftsman by Two Brothers in downtown Naperville, Illinois. Two Brothers Brewing Company offers eight year-round beers, 12 seasonals and a number of artisan project releases throughout the year. Other Two Brothers ventures include Two Brothers Coffee Roasters, which produced 120,000 pounds of small-batch roasted, specialty-grade coffee in 2016 and Arizona Beer and Cider distribution company out of Phoenix, Arizona. Producing award-winning products with equal parts craftsmanship, creativity and conscience, Two Brothers Brewing Company remains 100% family owned and staunchly independent.