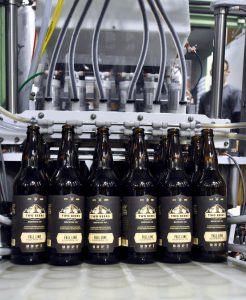 Seattle, WA – Two Beers Brewing Company is excited to announce the return of its award-winning Fall Line Russian Imperial Stout, part of the brewery's popular Alta Series. A style born out of the cold north and the Russian courts desire for rich, toasty brews, Fall Line Russian Imperial Stout has been barrel aged in brandy barrels for six months, coming in at an impressive 12 percent ABV. A deep, multilayered beer, its thick, smooth body carries immense, complex flavors of coffee, plums, chocolate, vanilla and highland peat under a deep milk-chocolate creamy head.
"This big beer is one we look forward to every year," said Joel VandenBrink, founder and CEO of Two Beers Brewing Co. "I always encourage everyone I know to pick up three bottles. One for now, one for a friend, and one for aging!"
Hitting taps at The Woods tasting room beginning this Thursday, February 23, wax-dipped bottles will also be available for purchase. With only 30 cases available in-house, craft beer lovers are encouraged to take advantage of the Washington Beer Open House this Saturday, February 25 from 12-5pm to pick up their bottles, enjoy tours, specialty taps and more.
Featuring a collection of bold, complex ales – each reaching above 12.0 percent ABV and boasting its own distinct personality – the Alta Series has been handcrafted to offer a unique twist with every sip. Whether its the complexity obtained by aging in brandy barrels or unique twist provided by a complex blend of ingredients, the Alta Series sets out to distinguish itself from the others and reach the upper limits.
All Two Beers Brewing products can be found at retailers, bars, and restaurants throughout Washington, Oregon, Alaska and Idaho. They can also be enjoyed at The Woods tasting room in SoDo (4660 Ohio Ave S), shared with Seattle Cider Company, where craft beer lovers can enjoy pints, tasters, packaged products and more. For more information, follow Two Beers Brewing on Facebook, Twitter and Instagram (@twobeersbrewing), or visit www.twobeersbrewery.com