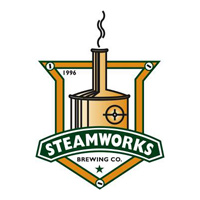 DURANGO, Colo. – Steamworks Brewing Co. continues its special monthly "firkin" tapping on Friday, July 3, 2015, with a patriotic-inspired brew, "Red, White and Blueberry." The cask will be tapped at 3 p.m.
"We've taken our award-winning Colorado Kölsch as a base and infused it with blueberry," said Steamworks Brew Master and Certified Cicerone® Ken Martin. "It's a light and refreshing brew, but we'll have some additional fireworks included with delivery of the pints to celebrate the holiday."
"Fruit beers are great for summer," added brewer Spencer Roper, Certified Cicerone®. "We're incorporating some fun surprises to represent the 'red and white' as in the name in addition to the 'blue,' to make this firkin a special treat to kick off Independence Day weekend."
By definition, a firkin is an old English unit of volume, typically a wooden cask equal to approximately one-quarter of a regular barrel, or nine/ten gallons. The word "firkin" is derived from the Middle Dutch word vierdekijn, which means "fourth" as in one-fourth the size.
In the United Kingdom, firkins, or cask-conditioned beer, are known as "real ale." Authentic cask ale must be kept at "cellar temperature" – about 54 degrees – as it's conditioned in its cask, and Steamworks' basement provides the perfect "mock cellar."
In cask conditioning, the yeast transforms the sugar into alcohol within the cask, and the natural carbonation results from the trapped carbon dioxide occurring as a byproduct. Firkin beer is unpasteurized and unfiltered and served at cellar temperature – cool but not cold.
Steamworks initiated its Firkin Fridays to introduce unusual, specialty craft beers to patrons, and augment its regular, award-winning offerings. Steamworks, open 11 a.m. to closing seven days a week, is located at 801 E. Second. Ave., Durango (970.259.9200). For further information, visit www.steamworksbrewing.com.