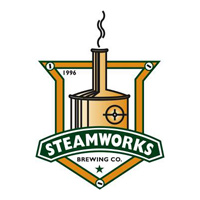 DURANGO, Colo. — Steamworks Brewing Co. continues its special monthly "firkin" tapping Friday, July 5, 2013, with a post Independence Day "Pi├▒a Colada" brew. The cask will be tapped at 3 p.m.
"We're using our Hefeweizen as a base and have flavored it with toasted coconut, pineapple juice and brown sugar," said Steamworks Brew Master and Certified Cicerone® Ken Martin. "And perhaps we'll add a maraschino cherry garnish? It should taste like a Piña Colada, a nice tropical brew."
"Nothing says America's birthday like the Puerto Rico national cocktail," joked Steamworks Brewer and Certified Cicerone® Spencer Roper. "But, seriously, if you like Piña Coladas, you're going to enjoy this beer. We're looking forward to it."
A firkin is an old English unit of volume, typically a wooden cask equal to approximately one-quarter of a regular barrel, or nine/ten gallons. The word "firkin" is derived from the Middle Dutch word vierdekijn, which means "fourth" as in one-fourth the size.
Firkin beer is unpasteurized, unfiltered and naturally carbonated, or conditioned, it its cask. The yeast transforms the sugar into alcohol within the cask, and carbonation results from the trapped carbon dioxide occurring as a byproduct. Firkin beer is served at about 55 degrees – cool but not cold.
"Firkin beers are growing in popularity in major cities across the country, especially New York City, as people learn more about and grow to appreciated hand-crafted beers," said Martin. "People are still learning, and we sometimes need remind our patrons that firkin beers are not as carbonated and they are not served ice-cold. We here at Steamworks are being true to the whole firkin concept."
Because it contains no preservatives, a firkin is also designed to be consumed after tapping, which with the growth in popularity of Firkin Fridays, hasn't been an issue at the monthly events.
Steamworks initiated its Firkin Fridays to introduce unusual, specialty craft beers to patrons, and augment its regular, award-winning offerings. Steamworks, open 11 a.m. to closing seven days a week, is located at 801 E. Second. Ave., Durango (970.259.9200).