In a move that underscores the ongoing tension between beer wholesalers and brewers in Massachusetts, up-and-coming Night Shift Brewing has launched a full-scale distribution business aimed at challenging what the brewery calls an anti-competitive and archaic system.
Last week, the Everett-based craft brewery — which expects to produce about 10,000 barrels in 2016 — officially began operations via a recently acquired Night Shift Distributing LLC wholesale license. The company has opened a 30,000 sq. ft. warehouse in Chelsea and plans to eventually distribute beer from about 25 craft breweries, according to the Boston Globe.
In a press release from the brewery, Night Shift promised not to enforce the controversial franchise laws that lock breweries into nearly unbreakable lifetime contracts with beer distributors. The brewery's owners also said they wouldn't be paying bars for tap handles or showing brand favoritism.
"We think we can make a better mousetrap and treat people fairly versus the status quo," Night Shift co-founder and president Rob Burns told Brewbound. "If we don't get a single brand, and we just piss off the wholesalers and get them to change their ways, we've succeeded. At the end of the day, the business can survive just distributing Night Shift."
Since the story broke late last night, Burns has been inundated with calls, texts and e-mails from prospective clients, he said.
But even with the increased interest, Night Shift Distributing won't immediately add "a whole ton of brands" to its roster, Burns noted. He said the company would be selective and look for "like-minded" breweries — both locally and nationally — that "care about quality" and want to be placed with the right accounts.
Night Shift obtained a $5,000 distributor license on August 16, according to Massachusetts Alcoholic Beverages Control Commission records, but the idea of getting into the wholesale business has been gestating for much longer, Burns said.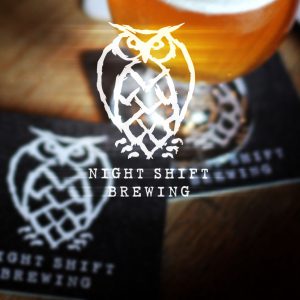 "We've had this idea for about three years now," he told Brewbound. "It just didn't necessarily make sense at time."
The brewery had already been self-distributing its own beers using a farmer-brewery license, but the opportunity to transform into a full-fledged distribution company arose when Night Shift began running out of space at its Everett brewery. In August, Night Shift signed a 10-year lease on a 30,000 sq. ft. Chelsea warehouse that features 10,000 sq. ft. for cold storage, 10,000 sq. ft. for dry storage, and 10,000 sq. ft. for office space.
The decision to open a distribution company comes about five months after Night Shift secured a $3 million loan, which, at the time, the brewery said would be used to more than double its size.
Burns estimated that the brewery has already spent about $1 million to start its wholesale division, which includes the addition of refrigerated trucks, forklifts, coolers and new employees. The company is still only distributing its own brands, however.
During a Brew Talks event held on Monday night at Jack's Abby Craft Lagers, Burns discussed how changing the state's franchise laws would benefit small brewers.
"Breweries need distributors; we need to get our beer to market," Burns said. "It's really expensive, even with self-distribution. For example, we have $300,000 worth of trucks. I would have loved to have spent that money on more tanks like Jack's Abby has behind me, but I didn't feel comfortable in the landscape signing or working with a distributor. I don't think it has anything to do with size; it has to do with if things go sour that we have an opportunity to keep our brands alive and to keep the jobs that we have going."
Beer Distributors of Massachusetts President Bill Kelley, who also participated in Monday's Brew Talks, released a statement to the Globe saying:
"We expect NSD will experience the challenges of running a multi-brand distribution business effectively, efficiently, and profitably — without giving any unfair preference to the brands from their own brewery — to the detriment of their competitors and new partners. While it's peculiar to see this announcement being used as a vehicle to attack the very industry they are entering, we are hopeful that one day NSD achieves sufficient growth and success to be considered for membership in this association."
In Massachusetts, a permit to sell all types of alcohol costs $10,000 a year. Permits to sell wine and malt beverages cost either $3,500 or $5,000, depending on the volume of liquid a company distributes. The cheapest permit offered by the Alcoholic Beverages Control Commission is a $22 farmer-brewer license, which enables brewers to self-distribute 50,000 gallons of beer (about 1,600 barrels) annually. As of October 4, 91 of the 122 active brewing permits were farmer-brewery licenses, according to state records.
Several other Massachusetts breweries have obtained distributor permits, and one notable craft producer — Harpoon Brewery — last year began offering wholesale services to other craft brands. Harpoon had long-distributed its own products throughout the greater Boston area via "Harpoon Distributing Company," a wholly owned subsidiary of the beer manufacturer.
In addition to Night Shift, four other Massachusetts breweries — Entitled Beer Company, Maynard Brew LLC, Medford Brewing Company and the White Lion Brewing Company — have obtained first-time wholesaler licenses this year. Berkshire Brewing Company, Boston Beer Company, Brazo Fuerte Artisanal Beer, Down the Road Beer Co. and Percival Beer also have wholesale permits.
Though rare, there are examples of U.S. craft breweries that operate wholesale divisions and distribute for other craft brands: San Diego-based Stone Brewing launched its Stone Distributing arm in the late 1990s, and has recently partnered with Maui Brewing for a wholesale business in Hawaii. Crooked Stave, which is known for its sour and barrel-aged offerings, also distributes for a variety of small brands throughout Denver.
Night Shift's move into wholesaling also comes as John Connell, a Boston-based alcohol attorney who represents clients across all three tiers of the industry, revealed details about the makeup of the Massachusetts Treasurer's Office's task force to examine the state's alcohol laws.
Speaking at Brew Talks on Monday night, Connell said the proposed task force will be charged with examining every aspect of Chapter 138 (Alcoholic Liquors) of the Massachusetts General Laws. It will also be asked to review how the state's Alcoholic Beverage Control Commission (ABCC) operates and interprets the law, he said.
"They are going to research manufacturers; they are going to research the ABCC; they are going to research filing fees; they are going to research every issue that we now know in liquor licensing," Connell said.
Although specific individuals have not been named, the task force is expected to be made up of a volunteer group of "five to seven people of learned backgrounds, perhaps retired lawyers or retired judges or people in the industry," he added.
The group is expected to meet for as long as one year and then make recommendations to the Treasurer's Office, which will then push those proposed changes to the Legislature, Connell said.