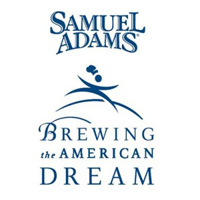 CHICAGO – The Boston Beer Company announced that it is continuing to support Chicago small businesses through the national expansion of its Samuel Adams Brewing the American Dream(R) program. With a focus on helping small businesses related to food, beverage, craft brewing, and hospitality, Brewing the American Dream provides loans, as well as coaching, mentoring, and educational resources for business owners who find it difficult to access the funding and guidance needed to sustain and grow their businesses.
As part of the expansion, Brewing the American Dream is increasing funding for small businesses in the region and nationwide, and will also be hosting its second speed coaching event for Chicago's small business community with Samuel Adams founder and brewer, Jim Koch, at Kitchen Chicago on Thursday, June 7. The event is comprised of various Samuel Adams employees (i.e., from marketing, finance, packaging, etc.) as well as local area experts who spend 20 minutes in a series of one-on-one sessions addressing specific problems and issues facing the participating small business owners.
"We're excited about continuing Brewing the American Dream in Chicago and are anxious to attract more recipients from this great food and beverage town into the program," commented Jim Koch. "Our goal is to work with the true small businesses that are often viewed as too risky by traditional banks — yet at the forefront of job creation and growth within their local communities — and where relatively modest loans and one-one-one coaching can have a meaningful impact."
Koch added that supporting small business is about more than just slipping a check under the door. "It's critical that funding go hand-in-hand with actionable mentorship and coaching to help small businesses succeed after they receive a loan," he said. "That's why we've worked with nearly 3000 small business owners since the program began to share in-depth expertise and advice."
The success and impact of Brewing the American Dream has also resulted in recognition by the Clinton Global Initiative (CGI) America, an annual event focused on finding solutions that promote economic development in the United States. Taking place in Chicago on June 7 and 8, CGI has invited Jim Koch to discuss the program as part of a session on sustainable and innovative financing initiatives. Brewing the American Dream will also announce at the event details about a commitment to work with CGI America.
BTAD's Growth and Evolution
While in the past only a handful of regions had access to the program, the 2012 national expansion of Samuel Adams Brewing the American Dream seeks to provide at least $1 million in new loans to small businesses across the country, and will also continue to offer access to the initiative's high-impact one-on-one coaching activities in cities like Chicago as well as in several new metropolitan areas.
Additionally, the nationwide program includes the introduction of the new Brewing the American Dream Online Community, the first online resource to provide small business owners in the food, beverage, and hospitality sector with a comprehensive platform of tools and information to help their businesses succeed.
Working in partnership with Accion, the country's only nationwide microlender, Brewing the American Dream has already provided more than $1 million in micro-financing to close to 150 businesses, and created or saved nearly 1,000 jobs. Food, beverage, craft brewing and hospitality small business owners can apply for loans ranging from $500 to $25,000 to be used for a variety of business purposes including expansion, equipment, and marketing, with all loan payments recycled back into the fund.
Chicago Success Stories
Since being introduced in Chicago eight months ago, Brewing the American Dream has provided loans to 10 local small businesses in the surrounding area totaling almost $75,000. Highlights of some of the businesses that the program's worked with and supported include:
— Pecan & Charlie's Mobile Cupcakery–Colleen Gallagher and Annetta Stella quit their day jobs as professional chefs to pursue their dreams, and worked with Samuel Adams Brewing the American Dream to launch their business after being turned down by banks for a small business loan.
— Gourmet Gorilla–Frustrated with her child's limited and unhealthy dining options at school, Danielle Hrzic identified the need for healthy, local and organic food at schools in Chicago. Danielle's initial success and the desire to grow her business led her to Brewing the American Dream, which provided expansion funding and has helped Gourmet Gorilla employ 15 hard-working Chicagoans.
The most recent program recipients include the new Peruvian restaurant, 4 Suyos, in the Logan Square neighborhood, as well as an up-and-coming microbrewery called Big Shoulders.
"We understand the challenges these small business owners are facing because we've been there; I've been there," said Koch. "From being turned down by banks 28 years ago when I was just starting out and desperately needed funding, to figuring out how to distribute my product, I know firsthand what these small business owners are going through, and sincerely believe that Brewing the American Dream can help them overcome many of their obstacles so they can be successful and grow."
About The Boston Beer Company
The Boston Beer Company began in 1984 with a generations-old family recipe that Founder and Brewer Jim Koch uncovered in his father's attic. Inspired and unafraid to challenge conventional thinking about beer, Jim brought the recipe to life in his kitchen. Pleased with the results of his work, Jim decided to sample his beer with bars in Boston in the hopes that drinkers would appreciate the complex, full-flavored beer he brewed fresh in America. That beer was aptly named Samuel Adams Boston Lager(R), in recognition of one of our nation's great founding fathers, a man of independent mind and spirit. Little did Jim know at the time, Samuel Adams Boston Lager soon became a catalyst of the American craft beer revolution.
Today, The Boston Beer Company brews more than 30 styles of beer. It relentlessly pursues the development of new styles and the perfection of classic beers by searching the world for the finest ingredients. Using the traditional four vessel brewing process, the Company often takes extra steps like dry-hopping, barrel-aging and a secondary fermentation known as krausening. The Company has also pioneered another revolution, the 'extreme beer' movement, where it seeks to challenge drinkers' perceptions of what beer can be. The Boston Beer Company has been committed to elevating the image of American craft beer by entering festivals and competitions around the globe, and in the past five years has won more awards in international beer competitions than any other brewery in the world. As an independent company, brewing quality beer remains its single focus. Although Samuel Adams(R) beer is America's largest-selling craft beer, it accounts for only one percent of the U.S. beer market. The Boston Beer Company will continue its independently-minded quest to brew great beer and to advocate for the growth of craft beer across America. For more information, please visit www.samueladams.com
About Accion
In seeking a partner for Samuel Adams' Brewing the American Dream, The Boston Beer Company turned to Accion to facilitate lending to hardworking business owners seeking to grow. Since 1991, Accion has built the largest microfinance network in the U.S., comprised of five members, that have collectively provided loans and support to over 500,000 enterprising individuals. Accion provides affordable financing and support to everyday businesses, establishing a relationship with each customer and considers personal character alongside credit history in its lending process. Each Accion loan–which averages $7,500–fuels the creation and retention of more than two jobs, extending the organization's impact beyond the borrower's business to the community as a whole. To learn more about Accion's work in the U.S. please visit us.accion.org.