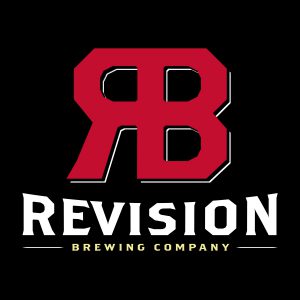 Sparks, NV – This marks a huge month for Revision Brewing Company out of Sparks, Nevada. Revision Brewing Company brewed their first batch of beer out of their facility on March 2nd. The test batch went smoothly and allowed for the core beer production to start on March 6th.  Jeremy Warren, Founder and former Brewmaster of Knee Deep Brewing Company out of Auburn, CA sold his shares of Knee Deep back in July of 2015. He and his team have been diligently working on starting Revision Brewing Company ever since and now this dream is coming to fruition.
Revision Brewing Company is a large production brewery with an industrial yet friendly feel. The entry opens to a taproom that is virtually split into two sections. Patrons can sit on the enclosed side of the taproom which can be reserved for private parties or they can sit in the indoor beer garden that opens up to the warehouse and brewery side. Here, patrons will get to watch the whole brewing process. Along with a great view of the brewhouse and large stainless steel fermenters, there is a giant graffiti mural that also brings life to the warehouse. As far as food goes, there will be a weekly rotation of local food trucks at the brewery to meet everyone's munchie needs.
Revision Brewing Company will celebrate with a two-day long grand opening party on May 6th and 7th. Craft beer fans are invited to come indulge in Revision's beer line up while enjoying great local bands perform live music on both days. Saturday will be an evening of blues and rock music whereas Sunday is all about the Reggae vibe. For those who don't want to wait for the big party, the timeline for a soft opening will be around the end of March. Revision Brewing Company's doors will be open as soon as a few of their core beers are ready.