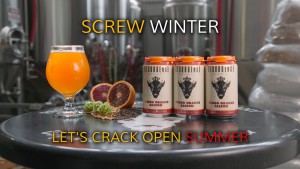 Buffalo, NY – Resurgence Brewing Company will send its popular Blood Orange Saison to the market in cans starting March 1, delivering a taste of sunshine to rescue drinkers from the dark days of late winter. This fresh, fruit-forward saison is ripe with orange, lemon peel and tropical flavors, with a zesty, effervescent character to wake up the palate. Fans of this popular style will be able to purchase it across Western New York, as well as at RBC's West Side taproom.
"Blood Orange Saison has been one of our most popular styles since we first started making it about a year ago," said RBC owner Jeff Ware. "It's light enough to enjoy a few on the back porch or in the beer garden on a warm spring day, and we're sending it out now to remind Buffalo that spring really is on its way, and with it, those nice, bright beers."
This is RBC's second beer to hit the market in cans, following the raging success of its first six-pack release, the brewery's signature Resurgence IPA. The IPA hit the market in September, and brewers are working around the clock to keep up with demand.
Head brewer Dave Collins created Blood Orange Saison with lots of big, bold flavors and that citric saison profile to satisfy a wide range of beer drinkers. IPA fans will enjoy the kick of citrus reminiscent of popular Citra and Mosaic hops, while those who usually go for lagers will like the light body and easy drinking style. As for that pop of orange color, that's for everyone!