Mikkeller Leases New York Warehouse Space
Danish craft brewery Mikkeller has signed a lease for a 7,500 sq. ft. warehouse in the Queens borough of New York, the company said via a press release. The brewery plans to use the location as a beer distribution warehouse and storage space for bottles and ingredients as it prepares to open a 20-barrel brewery and restaurant inside Citi Field — the home of the New York Mets — in 2018.
Mikkeller announced plans for the 10,000 sq. ft. ballpark brewery and restaurant in July. Mikkeller, which was founded in Copenhagen in 2006, was once considered a nomadic brewer but has since opened a brick-and-mortar brewery and taproom in San Diego, California. The company operates 33 locations worldwide, many of those satellite facilities are bars, tasting rooms or bottle shops.
Surly to Hire COO
Minnesota's Surly Brewing has initiated the search process for the company's first chief operating officer.
"Today, we're looking to add a COO that moves us into our next phase of growth and supports the culture that makes Surly, well, Surly," founder Omar Ansari said in a press release.
The COO will join the company's leadership team and "play a defining role … in building consensus on strategy and business operations," the company added.
Throughout the search, and once a COO has been named, Ansari will continue to shape the company's "strategic initiatives and thought leadership."
Ahead of Las Vegas Convention, NBWA Releases Statement on Recent Tragedy
The National Beer Wholesalers Association (NBWA) issued a statement expressing sadness and shock over Sunday night's mass shooting on the Las Vegas strip that killed 59 people and injured more than 500.
The NBWA, whose 80th annual convention and trade show is scheduled to take place October 8-11 at Caesars Palace, said it has been in contact with Caesars Palace security officials and management and will be "taking measures to ensure" the safety of attendees.
"Las Vegas has some of the most highly trained security and law enforcement professionals in the country, and safety is the city's highest priority every day," NBWA president and CEO Craig Purser wrote in a message to members. "Should we receive updated information from our partners in Las Vegas, we will be sure to share it with you. Thank you for your continued support. We look forward to being with some 4,000 members of the beer family in a few days and show our support for the great city of Las Vegas."
Wynwood Donates $2 Per Pint to Hurricane Maria Relief Effort
Miami's Wynwood Brewing Company is donating $2 for every pint sold in its taproom "for the foreseeable future" to the Hurricane Maria relief effort in Puerto Rico, according to the company's social media channels.
"Puerto Rico is the home to both of our founders, some of our co-workers and a place that is extremely personal and important to Wynwood Brewing Company," the company wrote on social media.
Wynwood said it would be seeking other ways to raise awareness and money as well as collect supplies for Puerto Rico. UPDATE: Wynwood's $2 per pint fundraiser closed Monday, October 2, with the beer company raising more than $3,000 for the relief effort.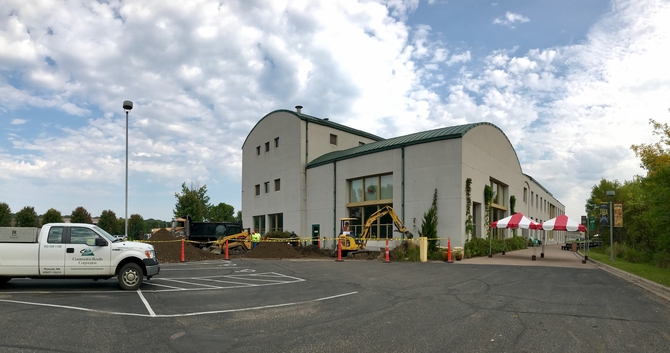 Summit Brewing Begins Construction on Beer Hall
Minnesota's Summit Brewing Company has begun renovating its St. Paul beer hall, according to a press release. The company plans to keep the space open during the construction work, however.
"As more changes take place in the coming weeks, rest assured the construction activity is temporary, beer production will not be affected, and we have obtained all necessary permits from the City of St. Paul," the company said in the release.
Summit declined to offer a timeline or specific project details. However, the company said it is working with David Heide Design Studio and Construction Results Corporation on the renovations.
Eight Colorado Breweries for Sale
As the U.S. beer industry readies for the annual Great American Beer Festival in Denver, local alt-weekly Westword examined the state of the craft brewing industry throughout the state. Among the outlets findings: At least eight breweries are are currently for sale, with several of them located in the Denver metro area. All of the listings are anonymous with only hints at who they might be.
The breweries range in price, from a $2.7 million "well-established" Denver-area brewery to a $225,000 brewery in "a very popular central Denver neighborhood." Take a look at some of the listings here.