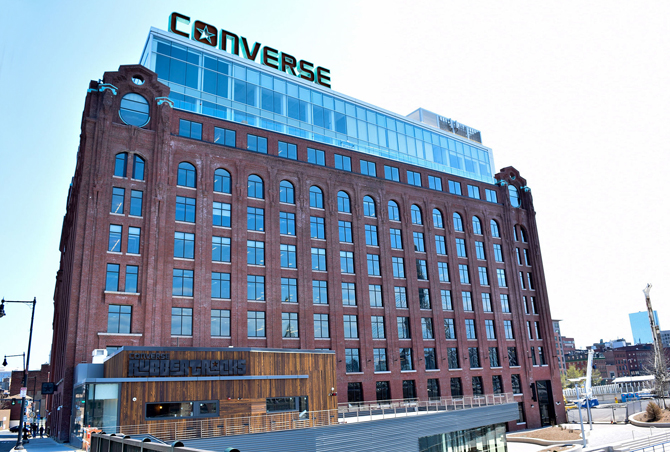 Fast-growing Massachusetts-based Night Shift Brewing will open a second brewery and taproom on the first floor of the building that houses the Converse World Headquarters, Brewbound has learned.
Located at 1 Lovejoy Wharf, the new location will include a 10-barrel brewing system and have the capacity to produce upwards of 2,500 barrels, co-founder Michael Oxton told Brewbound.
Oxton confirmed that a lease has been signed and that Night Shift intends to open the new location in late 2018.
The new brewery and taproom will span 12,000 sq. ft., include a kitchen and serve a variety of Night Shift beers made onsite.
Investment and lease figures were not disclosed, but the entire building was sold in 2016 for about $700 per sq. ft., according to The Boston Globe.
At least one other craft beer company, Michigan's Atwater Brewing, had been eyeing the Converse building as a potential out-of-state location, Brewbound understands.
Night Shift's original brewery and taproom, located in Everett, Massachusetts, is capable of producing about 20,000 barrels. The company also produces a portion of its beer under contract at Isle Brewers Guild in Rhode Island and operates a beer, wine, spirits and non-alcoholic beverage distribution company called Night Shift Distributing.
The Boston brewery and taproom will increase Night Shift's owned capacity by about 10 percent, and, more importantly, give it a physical Boston address.
"We have a lot of fans that live and work in Boston," Oxton told Brewbound. "This is a huge opportunity for us to have a place where people can connect with the brand in Boston Proper."
Night Shift, which distributes across Massachusetts, Maine and in parts of New York, expects to produce about 30,000 barrels of beer this year, Oxton added.
"We are poised to have our biggest sales year yet," he said.
The company yesterday hosted a release party for its new light beer offering, Nite Lite, at The Sinclair music venue in Cambridge, Massachusetts. Signage hung at the party indicated that the brewery had "signed the lease for a second brewery and taproom location in downtown Boston."
More details about the project are expected next week.